Scotland's wintersports are the best way to enjoy the snow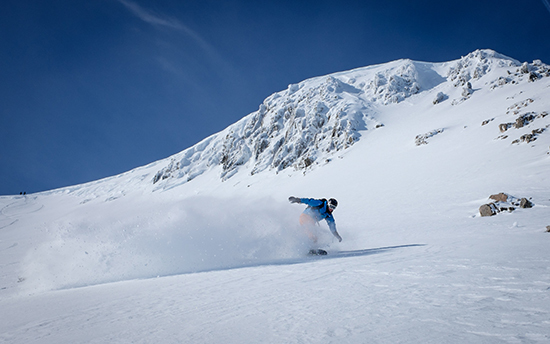 The Beast from the East brought plenty of snow to Scotland last week, giving the country's winter sports industry a boost.
Scottish Field presents some of the winter activities and events which can be enjoyed in Fort William and Lochaber, the Outdoor Capital of the UK.
Skiing and Snowboarding
Nevis Range Mountain Experience
With skiing up to 1190 metres (3,900 feet) Nevis Range reaches high on to the mountain of Aonach Mor – Scotland's eighth highest mountain – and offers skiing and boarding late into spring.
The base of the snowsports area is accessed by the UK's only mountain gondola taking visitors from the car park just above sea level to 650 metres (2,150 feet). The beginner's area is literally a stone's throw away from the Snowgoose restaurant at the top station, with a variety of easy green and blue graded runs. An artificial slope also provides skiing opportunities when snow is lean.
Further up the mountain is an extensive network of red and black runs, as well as the acclaimed Boardwise terrain park.
Here you'll also find the imposing off-piste expanse of the Back Corries with steep runs to challenge even the most experienced of skiers. Nevis Range also has a wide range of alternative winter activities to offer, from sledging to snowshoeing.
If you've not skied or snowboarded before? Not to worry, you can take lessons with experienced instructors.
The resort is situated in an area of outstanding natural beauty on Rannoch Moor and offers stunning views of Glencoe's iconic Buachaille Etive Mor. The onsite campsite boasts a large camping area, hook-ups and micro lodges.
In winter skiing, snowboarding, sledging and avalanche rescue training are available and the resort has both the longest and the steepest ski run in Scotland.
Not skied or snowboarded before? Not to worry, you can take lessons with experienced instructors.
In summer the centre offers chairlift rides, mountain biking (Downhill and XC), tubing, hill-walking, climbing, photography and great home cooked food in the panoramic log cabin cafe.
Winter Skills with Snowgoose Mountain Centre 
Winter mountaineering and ice climbing courses are run in the Scottish Highlands by Snowgoose Mountain Centre at this fantastic time of year when the hills and mountains are covered with snow and ice. The skills based winter courses for climbing, mountaineering and guiding are delivered in the mountains around the Ben Nevis and Glencoe areas in a convenient location four miles from Fort William.
Snowgoose deliver courses from ice axe and crampon techniques, avalanche awareness, to advanced winter climbing courses. We introduce complete winter novices to the basic winter walking skills needed to travel in the mountains of the Scottish Highlands safely in winter giving a solid skills base to those who wish to extend their summer mountain walking into the winter.
They also provide private winter guiding and bespoke individually tailored courses to clients' exact requirements.
Guided Walks with The Highland Mountain Company
Having a guided winter walk up onto Scotland's winter Munros and lower peaks is a great way to experience the Scottish mountains, wilderness landscapes and stunning views.
Hiring a local, experienced instructor to be by your side is a great asset to have. By handing over the organisation, safety, navigation and route choice to a professional instructor means that you can focus more on your enjoyment without the stress of making the right decisions. It is also a great opportunity to ask questions, get advice, increase your mountain knowledge and practice any winter skills along the way.
Having a private guide is great for those who want to be flexible with how long to spend in the mountains and maybe looking for top tips and advice along the way.
Popular winter guided peaks in The Outdoor Capital of the UK are: Ben Nevis; The Grey Corries; The Ring of Steall (Glen Nevis); Stob Ban (Mamores); Aonach Mor/ Aonach Beag; Glen Coe Peaks; Corryhully horseshoe (Glenfinnan); Buachaille Etive Mor; North and South Glen Shiel Ridges; Creag Meagaidh.
Winter Climbing with Abacus Mountain Guides
Scottish winter climbing is a unique combination of climbing style, variable conditions and weather and spectacular scenery, all within reach from a warm hotel in Fort William! The demands are very high on your skill, stamina and equipment, and therefore the rewards are equally high. Scottish winter climbing is pure adventure!
From classic gullies and snowed-up rock climbs to water-ice and thin face snow-ice climbs, or a mixed climb with a bit of everything, it's all within reach from the town.
Whether you are just reaching out from classic grade I and II gullies and ridges, learning to lead your own climbs or want to be challenged by a route you wouldn't usually climb on your own, Abacus Mountain Guides can do it all.
Sledging at Glencoe Mountain is great fun for the whole family and what's even better is that it's free!
Take a fantastic ride on the Chairlift and enjoy the views before taking the short walk to the Plateau Cafe and collecting your sledge from the bunkers just outside the cafe.
Then you can enjoy racing down the 75 metre slope before nipping in for a hot chocolate to finish off a fun day.
The Ski-An-Duro with No Fuss Events 
Fort William -based No Fuss Events and Nevis Range Mountain Experience are to stage what they say is their first ever ski/board and mountain bike Enduro race.
The race, open to 150 Individuals and a limited number of teams, from the summit of Aonach Mor to the Nevis Range Gondola base station is scheduled to take place on 17 March.
The format for the Ski-An-Duro is simple; two initial timed stages with the combined time giving racers a grid position for the final mass start race:
Stage One – A classic mountain bike enduro stage utilising one of the many legendary trails at Nevis Range.
Stage Two – A snow sport timed stage. This challenging stage, for skis or boards, will present a course as demanding as conditions allow, fully utilising the Nevis Range's mountain terrain and maximising the snow cover on the day.
Stage Three – Following a Le Mans style mass start on foot from as high up the mountain as conditions will allow, participants will run to the first designated transition area to pick up skis and boards. They will rapidly descend the mountain on a thrilling route incorporating the ski areas' many features before switching to mountain bike. From transition number two racers will have to ride an Enduro style stage incorporating sections of the world famous mountain bike downhill course and other classic Enduro routes all the way to the base station, where the podium awaits!
Wildlife Watching with Wild West
Wild West offer a selection of wildlife safaris from four hours to a full day. Transport is by comfortable minibus. On a Wild West safari not only will we be looking for the iconic species such as Red deer, golden eagles red squirrels and osprey but you will learn where, when and how to look for all these species, to greatly improve your chances of finding them on your own. You'll also learn about the history, culture, language and geology as well as the ethnobotany of the region
Wild West are open all year round and winter offers some of the best wildlife watching opportunities with less cover on trees to hide animals and sunrise/sunset at times that suit humans.
Do you love walking and love the snow? Then snowshoeing is a must for you! Strap on a pair of snowshoes, grab some poles and get walking across blankets of pure white snow.
It's a magical way to explore snowy forest tracks and hillsides. Nevis Range or Glencoe Mountain Resort are the perfect places from which to get started, from where you can also hire the snowshoes and poles.
Clay Pigeon Shooting
Crombie Clay Shooting's centres are set amongst some of the most beautiful scenery in the Highlands. Brackletter, near Fort William, Ardtornish Estate and Ardnamurchan Estate each boast their own unique scenery and setting.
They offer Clay Pigeon Shooting, Air Rifles, Archery, Crossbows, Tomahawk throwing and SlingShots, all available for complete beginners to enthusiasts, from age 8 years and upwards and for individuals, groups, families and corporate events.
All of the instructors have a minimum of 10 years experience in the outdoor industry and a minimum of 10 years in shooting. The organization has BASC Coaches and SCTA Coaches and we will deliver the best training needed for your target activity experience, whether it is in instruction, training or just a taster.
For Clay Pigeon Shooting they use Beretta 4.10, 20 and 12 gauge over and under shotguns to shoot at Laporte clays which are released from new Promatic traps. For all the activities on offer they supply the equipment needed for clients to have a safe and enjoyable experience.
For more information on The Outdoor Capital of the UK,  click HERE.