Restoring the past at Sir Walter Scott's old stamping ground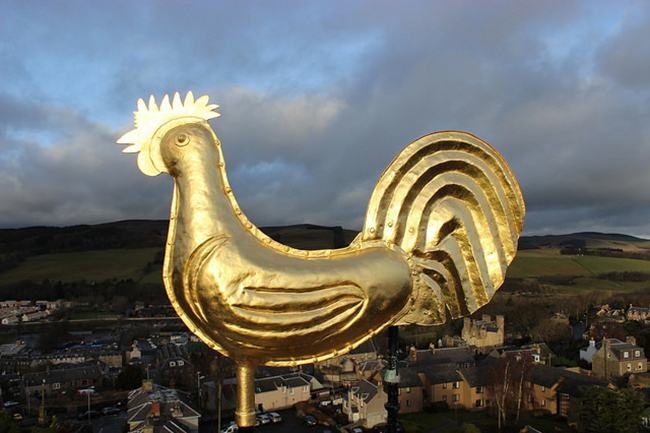 Repairs to an iconic Scottish building are continuing, following the re-installation of its weather vane.
The refurbishment of the iconic Sir Walter Scott Courthouse steeple continues, with the repaired weather vane being put back on top of the Selkirk building.
The cockerel weather vane, which was removed at the start of the project for repairs and re-gilding with gold leaf, once again sits atop the Courthouse, the town's main civic building.
The works to the weather vane were carried out as part of the wider £300,000 repairs to the steeple which is the centrepiece of the Selkirk Conservation Area Regeneration Scheme (CARS) and will include refurbishment of the clock faces on the historic building and repairing high level defective stonework.
Work began in October and is expected to last until spring this year, with scaffolding in place throughout to allow the works to take place safely.
Information boards with details of the repairs project are on display in the Courthouse Coffee Shop to keep the public up to date with the project.
Pedestrian access is being maintained throughout the works, which are also co-ordinated with the ongoing Selkirk Streetscape Scheme, the £450,000 initiative to improve the town centre.
Further refurbishment works will be carried out to other buildings in the town centre ahead of the completion of Selkirk CARS in March 2018.
Built in 1803 as the Sheriff Court, the Courthouse is where Sir Walter Scott dispensed justice to the people of Selkirkshire.
Selkirkshire Councillors Gordon Edgar and Elaine Thornton-Nicol said: 'The Courthouse is one of the most interesting buildings in Selkirk and its refurbishment is important to the history, and the future, of the town.
'The weather vane being repaired and returned to the steeple is a great milestone as we head into 2018, while the information boards in the Courthouse Coffee Shop will provide local people and visitors with the latest details on the scheme.
'While the Selkirk CARS and Selkirk Streetscape Scheme are progressing, the town remains open for business and we would encourage local people to continue to support our local shops, pubs, cafes and restaurants over the festive period.'
Selkirk Conservation Area Regeneration Scheme (CARS) is a partnership project developed along with the community-based Selkirk CARS Steering Group.
Funding was successfully obtained from Historic Scotland in January 2013 and the project will run until March this year.