Re-opened Forth bridge will offer road relief to commuters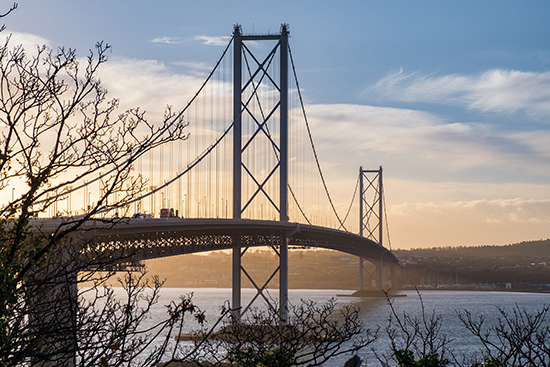 The Forth Road Bridge will fully reopen tomorrow (Thursday) as a dedicated public transport corridor, giving passengers a head start on their journeys between Edinburgh and Fife.
The news means buses and taxis are now able to enjoy dedicated lanes between the M9 near Newbridge and Halbeath in Fife. This will be particularly welcome at peak times when public transport passengers will be given priority, making their journeys quicker and more reliable.
The reopened bridge also marks the launch of a new campaign, Fife in the Fast Lane, promoting smart public transport journeys in and around Fife.
The collaborative marketing campaign by Transport Scotland, Stagecoach and ScotRail highlights using smart tickets for travel on either bus or train, providing more options for buying, collecting and storing your travel tickets.
Routes for walking and cycling across the bridge will also be opened, allowing for active travel participants to enjoy a cleaner, quieter crossing, without the regular vehicle traffic experienced previously.
The move also signals the 'Managed Crossing' vision for cross-Forth travel being realised in full. First announced by the Scottish Government in December 2008, two years before the £1.35 billion Forth Replacement Crossing was approved by the Scottish Parliament, the Queensferry Crossing and connecting road upgrades aim to substantially improve the reliability of the M90 for cars and HGVs, providing a resilient route for cross-Forth traffic.
This new structure replaces the existing Road Bridge, without attracting additional traffic to the area. It has always been envisaged that any demand for extra capacity on the route would be met by sustainable forms of transport.
With the road orders approved for the Queensferry Crossing for it to officially become a motorway, there are changes to the type of vehicles that can use the new bridge, with non-motorway traffic no longer allowed access to the Queensferry Crossing, instead using the Forth Road Bridge as an alternative.
Transport Minister Humza Yousaf said: "It is tremendously satisfying to see our vision for a managed, dual-bridge strategy come to pass just over nine years after it was first announced.
'As the Forth Replacement Crossing project winds down – with this news and motorway status on the new M90 across the stunning Queensferry Crossing bridge – we can start to see the full benefits of this once in a lifetime infrastructure project and the true value of such a significant piece of investment in the national infrastructure.'
Paul Thomas, managing director, Stagecoach East Scotland said: 'Our Express City Connect services crossing the Forth are such a key part of our network in East Scotland, connecting our customers in Fife, Dundee, Perthshire and beyond, to the capital as well as our regular journeys to Edinburgh Airport.
'We're delighted to now see the full benefit of the Queensferry Crossing, in creating dedicated bus lanes on the Forth Road bridge, with the aim of reducing congestion for part of the route and improving journey times for public transport users.'
Mark Powles, ScotRail Alliance commercial director, said: 'We're building the best railway that Scotland's ever had – and that applies to all of Scotland. Fife is a key part of our network, with direct services to six of Scotland's seven cities and easy access to the rest of the country.
'To make travel even simpler, we've invested in our ScotRail Smartcard – which offers our best value fares, and no more queuing for tickets.'
John Lauder, national director of Sustrans Scotland said: 'The re-opening of the Forth Road Bridge as a sustainable transport corridor is a hugely positive development that sets a precedent within Scotland and acts as an example to the rest of the UK.
'"It will benefit not just those commuters who choose to travel on foot or by bike, or those who choose sustainable modes of travel, but outside peak times, it will provide an attractive resource for walking and cycling, providing unparalleled views of the Scotland's magnificent new bridge.'