Outlets join forces to clean up Scotland's streets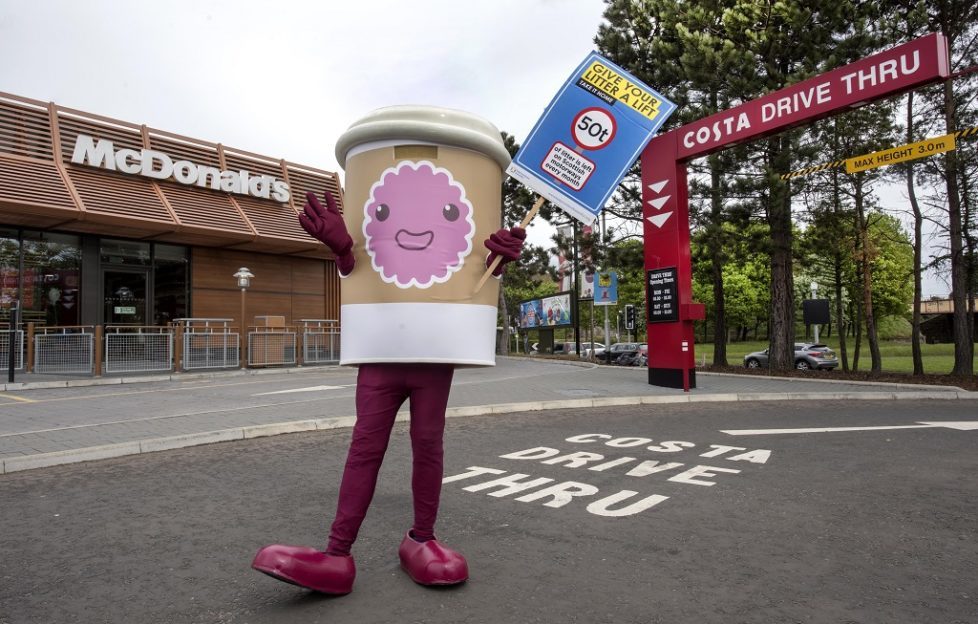 Two major retailers are backined a campaign to clean up Scotland's roads.
Costa and McDonald's have joined forces to kick start a national week of action to clean up Scotland's roads. The initiative, led by environmental charity, Keep Scotland Beautiful, will bring both companies together to promote the charity's Give Your Litter A Lift campaign, running until 20 May.
The roadside litter campaign aims to tackle the growing problem of litter ruining Scotland's main highways and iconic routes and brings together government, industry, charity and the public sector in partnership to drive forward innovative Scotland-wide programmes and raise awareness of the impacts of roadside litter.
As part of the Week of Action, Costa and McDonald's will display campaign materials in a total of 27 drive-thru branches throughout Scotland – encouraging customers to get involved and to 'give your litter a lift, take it home'.
Team members from Costa and McDonald's at Cameron Toll, Edinburgh gathered to launch the partnership with a litter pick in the car park.
McDonald's operations consultant, Martin Lomax, who operates the restaurant at Cameron Toll said: 'McDonald's are proud to be involved in the Give Your Litter a Lift campaign, tackling the growing problem of litter on the roads and on iconic routes.
'As a business we understand the important role that we play in making the local area a cleaner place for everyone and involvement in this campaign, encouraging customers to take their litter home, is a perfect example of that.'
Signing up to the campaign demonstrates the commitment from both companies to keeping Scotland beautiful.
Victoria Moorhouse, Costa's head of sustainability added: 'We're delighted to be teaming up with Keep Scotland Beautiful for this week's Give Your Litter A Lift campaign, helping to raise awareness of the impacts of roadside litter.
'At Costa Coffee we are committed to making a positive impact in the local communities we serve, which includes daily litter picks across all our Drive-Thru stores. We hope customers will help support their local Drive-Thru teams and work together to make this campaign a huge success.'
Everyone is invited to take part in the Roadside Litter of Week of Action – helping to raise awareness of the issue of roadside litter and spread the campaign message: Give your litter a lift, take it home!
Georgina Massouraki, roadside litter campaign officer at Keep Scotland Beautiful, said: 'We are really pleased to secure the support from these two very significant brands. Costa and McDonald's are ideally placed to engage customers who consume food and drink on the go, and help them to consider how they can dispose of their rubbish responsibly.
'The Roadside Litter Week of Action has captured a lot of attention from across the country, with more than 6000 people committing to take action – but you can still take part. We are calling on businesses, communities and individuals to help bring attention to the 50 tonnes of litter landing on our motorways each month as a result of bad habits. Working together we can send the message that littering is not acceptable in Scotland, in order to have a long-term positive impact on the cleanliness of Scotland's roads.'
Further information can be found HERE.