Meet the man who's on the hunt for Nessie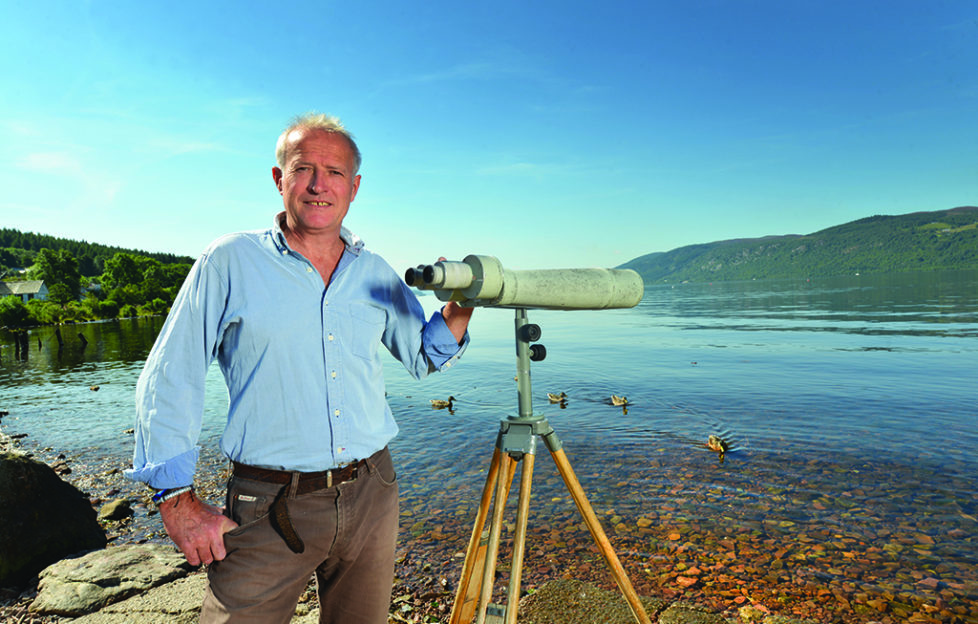 Every morning Steve Feltham wakes up and stares out over Loch Ness, watching and waiting for ripples from the deep.
His remarkable quest began 25 years ago, when he quit the rat race and moved to the Highlands in search of the Loch Ness monster.
He always has one eye on the water as the seasons change, but by his own admission he has come no closer to uncovering the legend that brings thousands of tourists to his door every year.
While many might ridicule his obsession and pass off his basic way of life as madness, Steve has never been happier. He believes he has found something far more remarkable than a mythical creature – indeed, he admits that if he were finally to be rewarded with a glimpse of Nessie, he might well keep the sighting to himself so that he could protect his kingdom on the rugged Dores shore.
The decision to walk away from his relationship, home and job has become part of a much greater quest which goes beyond Nessie, and has delivered a life many people might secretly envy.
'People always ask me if Nessie exists and I always find that unimaginative. It is the questions which follow that are the interesting ones,' he says.
'There always seems to be a formula to my story which I wish people would see beyond. Nessie is only the starting point.'
Steve was 28 when he came here. 'I was very stressed, paying a mortgage and working in a job I didn't much like. My decision to move here has changed me beyond all recognition, because in the Highlands there is a very different pace of life. Freedom, adventure and this world-class mystery are what drive me,' he says.
'I don't plan ahead and I think people would be amazed at how this attitude attracts so much unpredictable fun.'
Living with such a lack of routine is something others struggle to understand, but Steve believes thousands of people secretly want to shrug off the shackles of responsibility. 'I love the unpredictability and would never give that up, particularly now I am in my fifties,' he says.
'I cherish it. It's what makes my heart sing and it has become a quest for me to always have an adventure – which is very easy to do in the Highlands.'
Steve had fallen in love with Loch Ness on childhood holidays, and despite living in Dorset made repeated visits there over the years, armed with his grandfather's Second World War binoculars.
His life felt mapped out for him once he joined the family firm and the routine he fell into proved to be the catalyst for his Highland journey.
'I remember elderly people saying to me that they wished they visited a certain country or lived differently but that it was now too late. I really didn't want to have those regrets. Everybody has a different dream, but few people actually get up and do it.
'I don't want to be just the man who is searching for Nessie; I want to be proof that however far-fetched your dream may be, it is possible to follow it if you just try.'
Steve makes a living selling figurines of the monster and is now considered the go-to man when it comes to all things Nessie-related.
His life may seem idyllic, but he lives at the mercy of the Highland weather with few home comforts. He has seen the temperature drop to -17°C and his shower consists of water from the loch heated in a saucepan, but he doesn't care.
'Nessie has enabled me to live this glorious life and I am living proof that it is possible to follow your dream. I am sure most people think I'm absolutely bonkers and I don't mind that one bit. I think I am one of the sanest people I know. I've learnt that in the grand scheme of things, people really don't care about the life choices of others. There's this expectation that we must live life a particular way, but it will only be you waking up with regrets.'
He found himself at the centre of a media storm in 2015 after he said that the monster might be nothing more than a large catfish, a relic from the Victorian era, when the species was introduced into Britain's waters as sport.
After a wave of requests to appear on radio shows and in national newspapers, life for Steve quickly returned to normal.
'I've become used to the attention – it gets whipped up into a frenzy every now and then, and it's just another example of how people miss the point. Everyone is incredulous that I've spent all this time here when there might not be a Nessie after all, but I've gained so much by giving up my old way of life. I don't see the life I lead as a hardship in any way.
'I'll continue to wait and watch, but even if Nessie turns out to be a catfish, I'm still having a ball while others return to routine and forgotten dreams. It's not the conviction that Nessie exists that keeps me here, but the energy that I feel around these waters, and I know the people who live in these hills feel it too.
'I've travelled round this loch and stood at its various vantage points thousands of times, I've watched it change year after year, and get frustrated at people who come here and disrespect it.'
There is no routine to Steve's day and he does not have a particular method for catching Nessie. He may even have lived in complete obscurity had it not been for the BBC, who gave him camera equipment to record his journey in 1991.
The result was a documentary called Desperately Seeking Nessie, which focused on his first year living in the Highlands. Within weeks of it being aired, people began arriving on his doorstep eager to know more, and it was in this moment he realised his lifestyle would be sustainable.
'I started to make my Nessie models and was more than happy to answer people's questions,' he says.
'I never set a time limit, but I remember thinking I'd see something within three years. The loch, though, is more than 23 miles long and realistically you can only ever look at one mile of it at a time, so my original prediction was maybe slightly unrealistic.
'I've tried using various technology over the years, but I think the ultimate is to stand on the shoreline. I'll regularly be chatting away to people but one eye is always trained on the loch, just in case.'
Steve's life isn't all about Nessie. He enjoys taking off around the Highlands and hearing about other people's encounters.
'My real joy comes from standing here at night when everyone has left. Perhaps I'll see the Northern Lights, or maybe nothing at all, but I feel the energy that pours off the water. Then I'll watch the night sky and feel a true sense of contentment. People spend their whole lives searching for that. I pay my council tax, I have no electricity and I'll never have enough money to retire, but I don't know how you retire from a lifestyle as sedate as this one. I cherish the contemplative side of being a monster hunter; it's a meditation.'
Steve might never have arrived at Loch Ness at all had it not been for the first recorded sighting of Nessie. George Spicer and his wife claimed to have spotted the monster in 1933 when they saw a hump-like creature crossing the road in front of them between Dores and Inverfarigaig. The first photograph was then taken by Hugh Gray, who snapped a writhing creature in the water.
There have been hundreds of sightings across the decades, some credible and some which even Steve has denounced as fake, with theories repeatedly proven and disproved. A dedicated team of Nessie hunters swap stories and diligently record sightings, alongside the booming tourist industry where people remain fascinated by Nessie's potential existence.
Decades on from Steve's arrival in Scotland, life remains one big adventure and he has vowed to soak up every last second.
'The way I see it, only you can get to the end of your life, look back and wonder if it has all been worth it. It's not the length of life that is important – it's the width of life, the amount of adventures that you can squeeze into any given year. That's what matters.'
This feature originally appeared in October 2016.