Maintenance will ensure that Falkirk is still the Wheel deal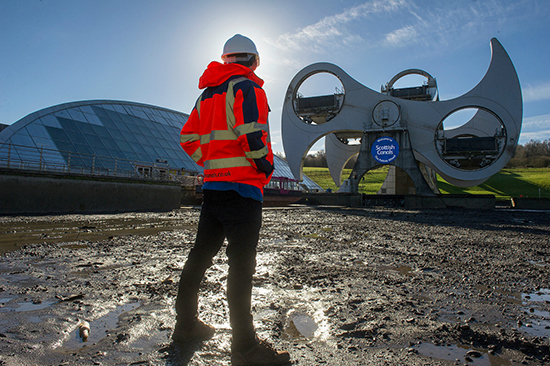 The Falkirk Wheel is set to be drained of water as annual maintenance works get underway to ensure the world's only rotating boat lift keeps on turning in 2018.
The works, which will run from 5 February until 7 March, will see Scottish Canals' engineering team carry out a programme of inspections, maintenance and replacements covering everything from the structure's mechanical and electrical systems to its surrounding infrastructure.
Richard Millar, director of infrastructure at Scottish Canals, said: 'The Falkirk Wheel is an incredible and unique feat of engineering as well as one of Scotland's top tourism attractions and it's essential we carry out regular maintenance to ensure it continues to operate safely for many years to come.
'Throughout February, our team will be inspecting, repairing and replacing many of the thousands of individual components that make up this amazing fusion of art and engineering, from the tiny nuts and bolts of its electric motors to the gates of its gigantic gondolas.
'It's an epic undertaking that will ensure the world's only rotating boat lift is ready to offer a revolutionary experience to visitors from all over the world come March.'
The project will involve the Wheel being drained of water so the teams can inspect each of its thousands of mechanical parts, many of which are bespoke.
The basin and aqueduct will also be drained to allow further inspection of the supporting infrastructure, such as the pumps and sluices, and dredging along their length.
Boat trips will recommence at the Falkirk Wheel on Wednesday March 7.
Transforming the contaminated site of a former tar works, the Falkirk Wheel opened in 2002 and replaced a flight of 11 locks that once stepped the Union Canal down to the level of the Forth & Clyde, more than 100 feet below. Whereas weary travellers once had a day's heavy work opening and closing 44 lock gates to complete the journey between the two canals, the Falkirk Wheel allows vessels to transit between the two waterways in just a few minutes.
Now one of Scotland's busiest tourist attractions, the Falkirk Wheel attracts around 500,000 visitors each year.
The Wheel has transformed Falkirk into a key tourism destination, with visitors traveling from all over the world to marvel at the working sculpture which combines modern engineering and technology with ancient principles set out by Archimedes more than 2000 years ago.
When one of the structure's gondolas is lowered, the opposite one rises, keeping the vast, 1800 tonne boat lift in perfect balance as it carries canal barges 35 metres into the air in a matter of minutes. Incredibly, the structure uses just 1.5kWh – the same power as it would take to boil eight domestic kettles – for each rotation.
For more information on the maintenance and winter opening hours, click HERE.