Magical light trail proves a hit at Glamis Castle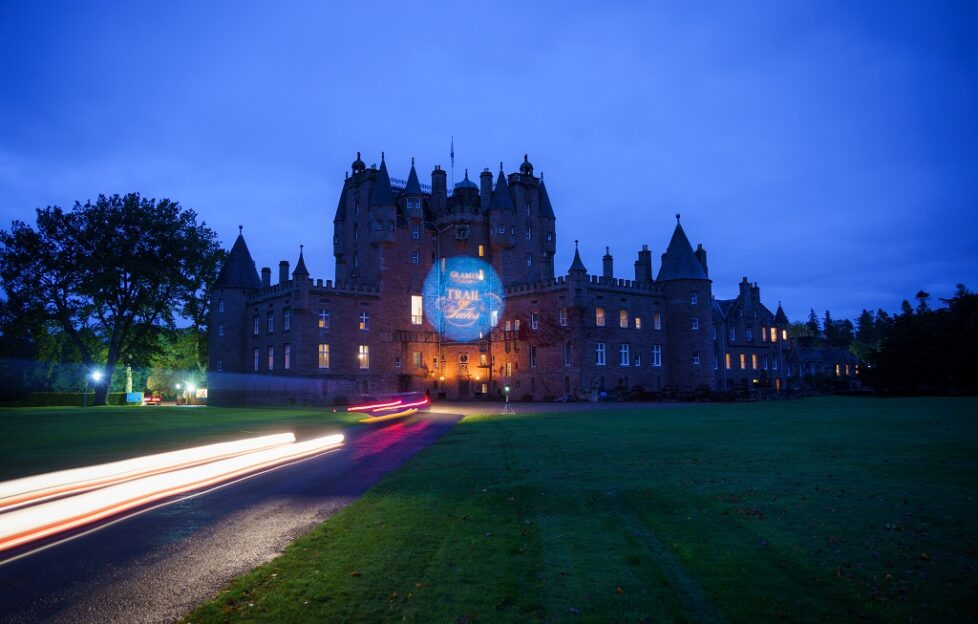 The gardens at Glamis Castle are illuminated in shimmering light for the next week as A Trail of Tales at Glamis Castle, a brand-new light show combining light installations and classic children's stories, has launched.
Running until November 7 from 4pm-8.15pm each night, the family friendly event is offering visitors a special opportunity to see the historic castle's spectacular ground and gardens under moonlight.
Last night, members of the local community in Glamis, including the Provost and local school children, were invited for a special preview of the new event. As they explored the Trail, comments included: 'it's magical', 'atmospheric' and 'spectacular'.
Beginning the light show route close to the Castle and moving towards the Walled Garden, visitors will discover an array of magical installations amongst the trees including a Troll Bridge, a Peter Pan themed performance and illuminated greenhouses inspired by Jack and the Beanstalk.
Organising the show has been a collaborative project with the team at Glamis Castle working closely with Angus-based events company Strathmore Events Services and Dundee-based lighting company AM Lighting to produce the event. All involved are excited for people to see and experience the Trail for themselves.
Helen Buchanan, general manager at Glamis Castle, said: 'It's always a great feeling seeing so many visitors coming to Angus and experiencing our beautiful castle and gardens, so it will be particularly special welcoming so many visitors at night.
'Our gardens are remarkable in the daylight, but a light show combined with classic story telling under moonlight is going to be pure magic. Tickets are selling fast so I'd recommend to anyone thinking of coming along to buy now to avoid missing out.'
While walking the trail, there will a number of refreshment stations for visitors to warm up with a hot drink or a snack. The Hub Café and Castle Kitchen Restaurant will also be open and serving their seasonal menus during the event.
There are still tickets available but they are selling fast! To book, visit https://www.glamis-castle.co.uk/event/a-trail-of-tales-at-glamis-castle. Car parking is included in the price of tickets.
Please note, all castle visits must be pre-booked to allow Glamis to monitor visitor numbers while Covid-19 safety measures are in place. 'Friends of Glamis' annual passes for the 2021 season are now available. These special passes offer unlimited access and exclusive discounts to regular pass holders. For more information visit https://www.glamis-castle.co.uk/event/friends-of-glamis-season-tickets/
To find out more about Glamis Castle and for the full event calendar visit www.glamis-castle.co.uk