Mackintosh inspires a new train of thought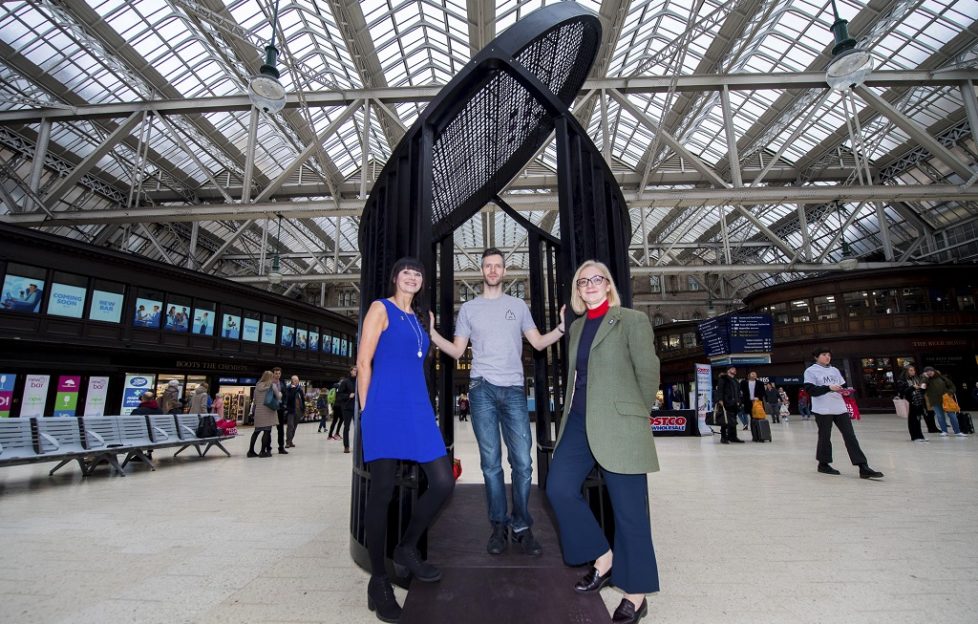 A huge pavilion inspired by Charles Rennie Mackintosh has been unveiled in Glasgow's Central Station this week.
Standing 15ft high and more than six-feet wide, the Light Pavilion, situated on the main concourse under the station's clock, has been created by Glasgow-based designer Scott Jarvie.
Commissioned by Glasgow Life, it is the latest activity as part of Mackintosh 150 – a year-long programme throughout 2018 celebrating the 150th anniversary of Mackintosh's birth and his remarkable architectural, artistic and design legacy.
Mackintosh was a master of light, pattern and form, which was the starting point for Scott's stunning and unique artwork.
Consisting of two seating areas that support an elliptical grid featuring intricate stained glass detailing, the structure combines traditional fine woodworking craftsmanship with cutting-edge modern manufacturing techniques.
Housed under Central Station's magnificent glass roof, the Light Pavilion draws on Mackintosh's magnificent stained glass panels and ingenious use of geometric pattern to bring the space alive with light, which changes with the movement and location of the sun throughout the day.
Designer Scott Jarvie said: 'It's been a privilege to work on this project as part of the city's Mackintosh 150 celebrations. Thousands of people travel through Central Station every day and the Light Pavilion is aimed at providing a place for quiet contemplation within a busy space, where travellers can relax and enjoy the changing light.
'It's also about inspiring the public to learn more about Mackintosh and the importance of his techniques and his creative legacy.'
Born in Glasgow on 7 June 1868, Charles Rennie Mackintosh is regarded as one of the most creative and influential figures of the 20th century and a leading figure in both the Scottish Arts and Crafts Movement and European Art Nouveau.
An architect, designer and artist, Mackintosh left a critical legacy of magnificent works and is considered one of the principal exponents of the Glasgow Style.
Councillor David McDonald, chair of Glasgow Life and depute leader of Glasgow City Council, said: 'Charles Rennie Mackintosh is part of the very fabric of Glasgow and his buildings, art and design are of global significance.
'It's absolutely fitting that in this landmark year the city is celebrating the genius of his work, which will safeguard his legacy for generations to come and hopefully inspire more young people to take an interest in art and design. It's through talented contemporary designers, like Scott Jarvie, that Mackintosh's rich heritage lives on and this outstanding new Light Pavilion is a wonderful example of that.'
Susan Holden, Glasgow Central station manager, added: 'Network Rail is proud to be the custodian of one of Glasgow's icons, in the form of Central station, and we're delighted to be able to help celebrate another by supporting the Mackintosh 150 programme.
'The Light Pavilion is a stunning addition to Central's main concourse and we hope that it will provide a unique place for some of the thousands of people who use the station to take time out and relax during their busy day.'
Mackintosh 150 is being co-ordinated by Mackintosh heritage partners from across Glasgow and beyond, who have come together to create a year-long programme of exhibitions, events, seminars and tours throughout 2018 marking the 150th anniversary of the birth of Charles Rennie Mackintosh.