Fund to boost investment in rural Scotland is launched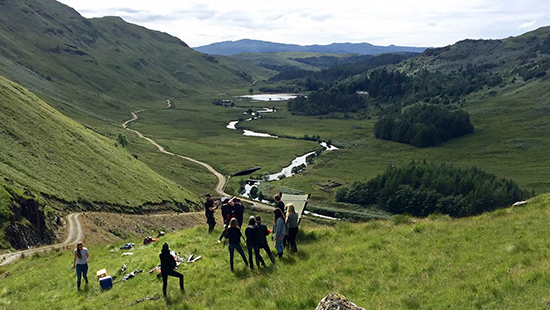 A new fund designed to help rural areas in Scotland invest in the quality of their tourism offering has opened for applications.
Administered by VisitScotland, the Scottish Government Rural Tourism Infrastructure Fund will support sustainable, well planned, inspiring and collaborative infrastructure projects to enable more visitors to enjoy Scotland's rural communities.
Last month, Tourism Secretary Fiona Hyslop revealed three pilot projects on Skye and Orkney were to be among the first to benefit from support. The famous Fairy Pools and Neist Point on Skye and the Standing Stones of Stenness on Orkney have received up to £480,000 towards the completion of urgent works ahead of the main tourist season.
Now, local authorities or National Park authorities have been invited to submit applications on behalf of their communities for a share of the £6m fund, which was announced by the First Minister last year and will run for the next two years.
It follows the growing popularity of Scotland's scenic areas, as well as increasing interest in film tourism, and successful initiatives like North Coast 500, which has led to an influx of visitors to some of the country's more remote destinations.
In order to secure funding, successful applications must demonstrate the following:
An enhanced visitor experience – through the provision of improved visitor facilities and infrastructure, particularly in areas that have experienced pressure from increased visitor numbers, leading to a positive impact on the local visitor economy.
A sustainable approach – take a strategic and long term approach to planning, use of materials, impact on the environment and legacy implications of the asset created after project completion.
Community capacity building – creating more resilient communities, more able to cope with peak tourism demands and the creation of new local business opportunities.
Effective partnerships and collaboration – engagement with local community groups, destination organisations and tourism businesses, demonstrating how partnership working can increase awareness, advocacy and the quality of the final project.
Project viability and deliverability – provide a clear strategic rationale for their proposed activity as well as a delivery plan, timescales, details of experiences and a budget outline.
Tourism Secretary Fiona Hyslop said: 'Tourism is a vital part of our economy, bringing jobs and investment to many rural communities across the country. While visitor numbers increase, it is important communities have the infrastructure to support this.
'The pilot project completed at Neist Point has been very successful, providing additional parking for visitors to the area. This fund will help more rural communities improve visitor experiences to ensure our world class destinations can be enjoyed for generations to come.'
Riddell Graham, VisitScotland Director of Partnerships, added: 'Many of Scotland's rural areas are home to the breath-taking scenery that helps attract thousands of visitors to our shores every year. Tourism is vital to the Scottish economy, creating jobs and sustaining communities.
'This fund will help these communities improve their facilities and enhance their offering to welcome more visitors in the future.
VisitScotland is committed to working closely with partners to identify appropriate infrastructure requirements to help improve the quality of the visitor experience.'
The deadline for final applications is 27 July 2018. For a full list of criteria, conditions and guidelines to apply to the Scottish Government Rural Tourism Infrastructure fund, go to visitscotland.org or contact rtif@visitscotland.com.