Falkirk Wheel ready to welcome special guest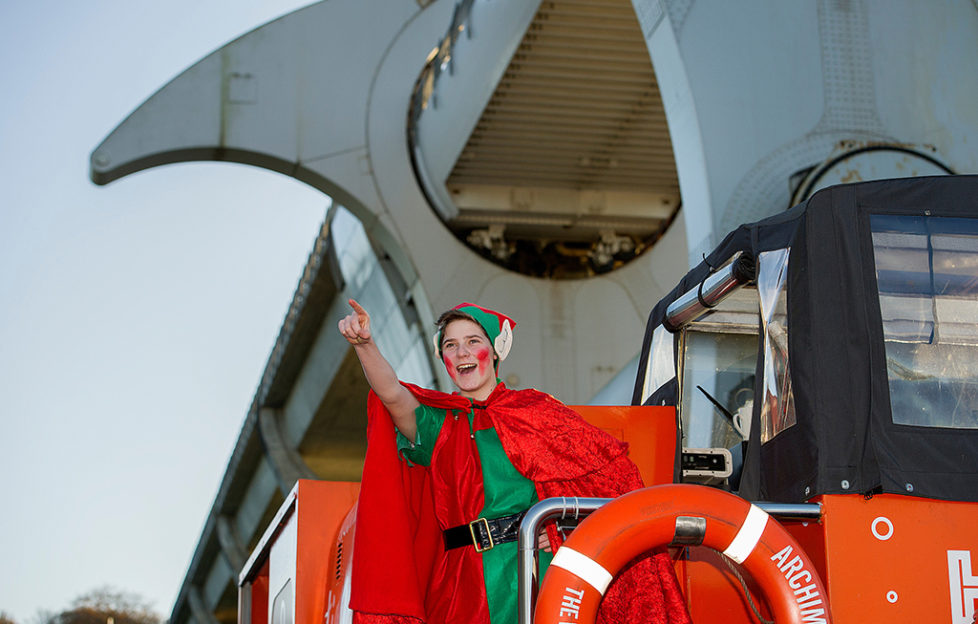 Everyone knows that Santa's the real deal – and over the next few weeks, he'll be the wheel deal too!
Santa Claus is taking time out of his busy schedule in the run-up to Christmas and offering families paying a visit to the Falkirk Wheel, the world's only rotating boat lift, for a magical journey to Santa's Grotto – relocated all the way from the North Pole to Falkirk.
Kids who've managed to stay off the naughty list are in for a treat as Father Christmas hands out presents to all the good girls and boys.
For those looking to make a day of it, The Helix and The Kelpies – the world's largest pair of equine sculptures – are just a canalside canter away.
Cara Baillie, senior destinations development manager, said: 'We've stocked up on cookies and milk, enlisted the help of some hard-working elves, and we're delighted to be welcoming Santa Claus back to the Falkirk Wheel this year.
'The trips really are something special, and places are going fast. Anyone interested in joining Santa on a one-of-a-kind boat trip should get in touch soon to avoid disappointment. After all, the man himself has a very important appointment to keep on the 24th.'
There's also lots of Christmas fun in The Wheel's activity zone, with face painting, gingerbread decorating, Christmas games and more to keep the little ones entertained.
Mums and dads can enjoy a non-alcoholic mulled wine and shortbread, and festive food and drink will be served up in the Wheel's winter café to take away any cold chills in the air. The gift shop is also on hand for any last minute Christmas presents.
Kids and parents can visit Santa at his magical grotto on:
• Saturday 15 December
• Sunday 16 December
• Friday 21 December
• Saturday 22 December
• Sunday 23 December
• Monday 24 December
Boat trips to Santa's Grotto run hourly from 12.30pm, with the last boat at 6.30pm. On Christmas Eve the last boat will be at 4.30pm.
Trips can be booked online at www.thefalkirkwheel.co.uk or by calling The Falkirk Wheel's booking line on 08700 500 208. To avoid disappointment, early booking is highly recommended. Tickets are £13.95 per person, and include a gift for each child.
Please note there is a £2 standard booking fee if booking by phone. In the event of unforeseen weather, the boat trip on the Falkirk Wheel may not be possible and we will provide an alternative Santa's grotto. No refunds will be issued.
One of Scotland's top tourism attractions, the Falkirk Wheel has attracted more than 7 million visitors since opening in 2002. A working sculpture that links the Forth & Clyde Canal to the Union Canal 35m (115ft) above it, T