Edinburgh hotel has a fine twist on the traditional Sunday lunch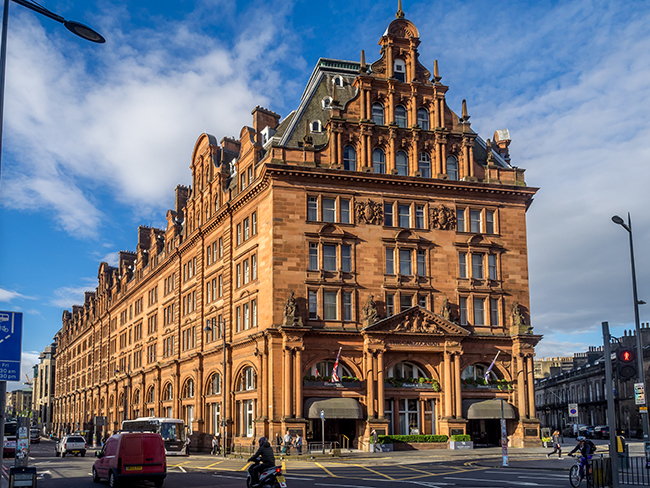 Edinburgh's first fine dining Sunday lunch has been launched.
The Pompadour by Galvin at the Waldorf Astoria Edinburgh – The Caledonian has unveiled an exquisite new fine-dining Sunday lunch experience, in a first for Scotland's capital city.
The beautiful restaurant, which holds three AA Rosettes, will be the only fine-dining restaurant in Edinburgh to open its doors on a Sunday for the extra special lunch experience. Surrounded by the timeless elegance and charm of the unique dining room, guests can now enjoy the indulgent daytime menu with panoramic views of the city for £29.50.
Crafted by head chef, Daniel Ashmore, the new three-course Sunday lunch offers a line-up of high-quality Scottish ingredients paired with the finest French fare.
The menu, which will change with the seasons, currently includes gin cured salmon, roast leg of Perthshire hogget, Loch Etive sea trout and salted caramel soufflé amongst other delicious dishes. Tapping into the ongoing trend for lunchtime cocktails, the menu also includes a refreshing Bloody Mary or non-alcoholic alternative.
To celebrate the launch, the Waldorf Astoria Edinburgh is offering guests complimentary late checkout up to 3pm when booking Sunday lunch at The Pompadour.
Daniel Ashmore, Head Chef, The Pompadour by Galvin said: 'As the farm to fork dining scene continues to grow and thrive in 2018, we wanted to create a fine-dining lunch that really showcases the best of Scotland's natural larder with a classic French twist.
'All of the other fine-dining restaurants in Edinburgh are closed during the day on a Sunday and our indulgent new lunch time dining experience aims to provide the market with something really unique.'
Sunday lunch will be served between 1–3pm every week with prices starting at £29.50 per person.
Bookings can be made online HERE.