Campaign urges visitors to drive on the left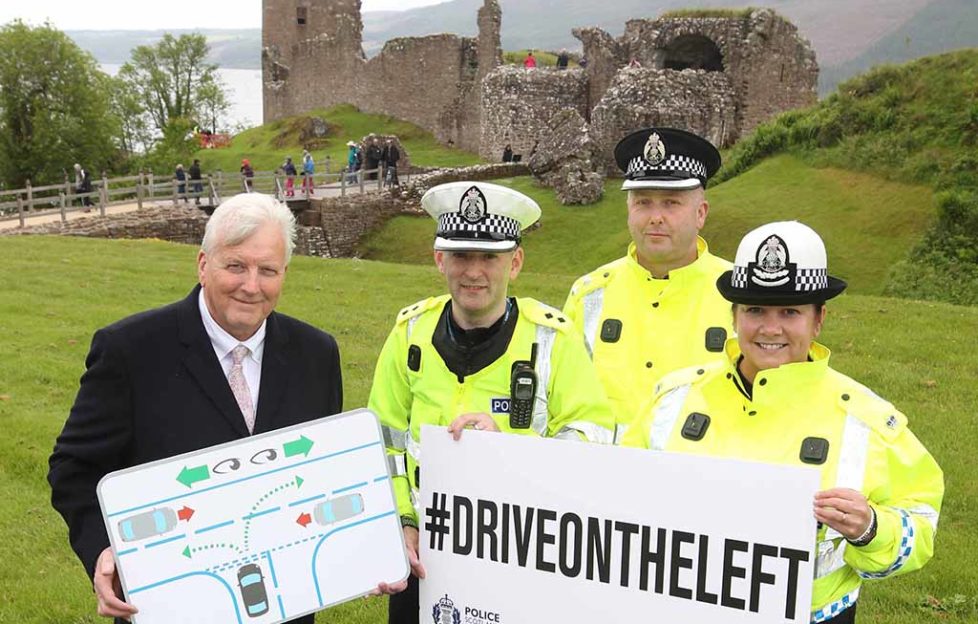 A new campaign urging tourists to drive on the left when visiting Scotland has been launched.
Police Scotland and Road Safety Scotland joined members of the British Vehicle Rental and Leasing Association (BVRLA), along with local MSP, Kate Forbes at tourist hotspot Urquhart Castle, Inverness, to launch a campaign to remind motorists to Drive on the Left during their vacations.
Latest figures record 'inexperience of driving on the left' as a contributory factor in 65 accidents and, following a number of serious collisions last year, the campaign is designed to coincide with the peak tourist season in Scotland, encouraging visitors to enjoy Scottish roads safely.
Road Safety Scotland produces a Driving in Scotland tourist information leaflet addressing the issues faced by those not used to driving on the left or the concept of single-track roads. Fifty thousand were distributed in the last year.
Building on this success, a nationwide partnership with BVRLA has been formed and a new look Driving in Scotland information leaflet will be distributed when picking up a hire car and an electronic version will also be issued at the time of booking.
In addition, Drive on the Left wristbands, to be worn on left hand of drivers, available in nine different languages, (English, French, German, Spanish, Italian, Dutch, Hindi, Japanese and Chinese) and in-car stickers, will be distributed via car rental companies to remind and prompt visitors to keep left.
Michael McDonnell, director of Road Safety Scotland said: 'We want all visitors to Scotland to return safely from their travels and the new campaign aims to raise awareness and remind people to drive on the left at all times, which is particularly important after they've taken a break or when the roads are quieter.
'With the tourist season upon us our new Driving in Scotland information leaflet also offers practical advice about looking both ways at junctions, driving on single-track roads and provides tips for planning your journey in advance, taking regular rest stops to avoid fatigue.'
Superintendent Louise Blakelock, Deputy Head of Road Policing in Scotland, said: 'Any serious collision on our roads is absolutely devastating and, while it may seem like a simple message, it's crucial to remind people of the differences of driving in Scotland and how to drive safely when they're visiting our beautiful country.
'We fully support this campaign and hope it helps to reduce the number of collisions caused by driving on the wrong side of the road.'
Road Safety Scotland is indebted to the support of the BVRLA and the companies who came together to bring the campaign forward: Arnold Clark Car & Van Rental, Avis Budget Group, Enterprise, Europcar and Hertz.
BVRLA chief executive Gerry Keaney said: 'This is a great road safety initiative and we are delighted to see so many of our Scottish based members getting behind it.
'With over a third of the UK's 11 million annual car hire transactions being with people needing a car whilst away from home, our members are ideally placed to promote the campaign to visitors before they set off on Scottish roads.
'We hope that the distribution of leaflets, wristbands and stickers will go some way towards reducing the number of accidents caused by overseas visitors driving on the wrong side of the road.'
For more information about Drive on the Left visit roadsafety.scot/driveontheleft