Cairn o' Claise may be the highest wall in Scotland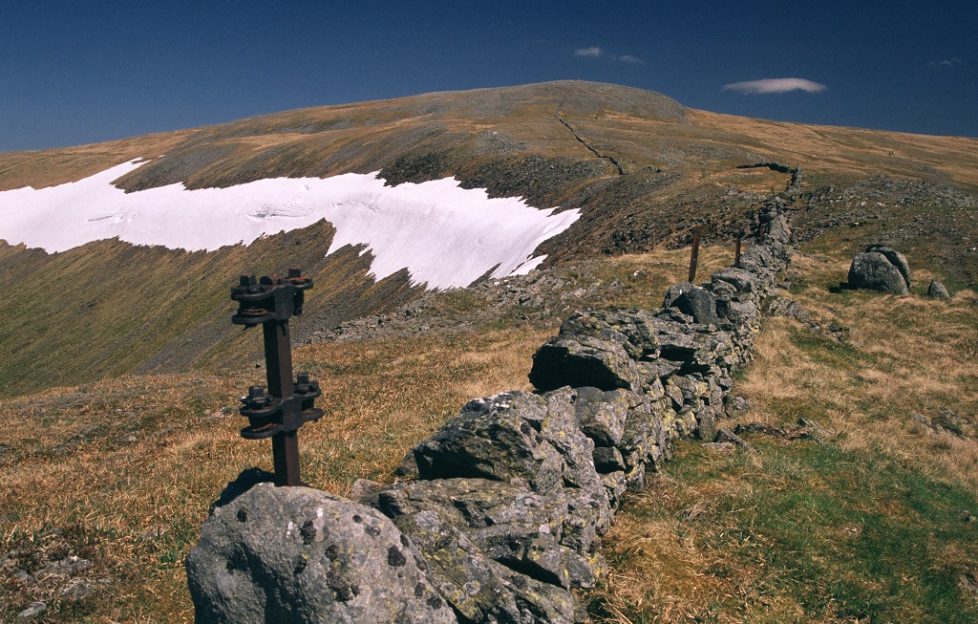 Reaching the 3,400ft summit of Cairn o' Claise is an achievement in itself but for a hardened group of skilled dykers it was all in a day's work.
Eastwards from the Devil's Elbow, the Grampians rise towards the grassy dome of Glas Maol. From there, a high plateau leads north to the stony crest of Cairn o' Claise. It's a remote place, even though it lies only a couple of miles beyond the Braemar to Blairgowrie road.
After you lace up your boots and don your rucksack, it's a real slog up the mountainside. Occasionally a ptarmigan bolts from cover, and mountain hares watch your slow progress then taunt you by bounding up the slopes in front of you.
Reaching the top is an achievement, yet people have been at work altering the landscape, even here.
A drystane dyke traverses the summit of Cairn o' Claise and forms the county boundary between Angus and Aberdeenshire.
It runs along the watershed which divides Caenlochan Glen from Glenshee and marks the division between neighbouring estates. The dyke runs for many miles and the remains of old iron posts stretch as far as the summit of Jock's Road.
At its highest point, the dyke reaches 3,400 feet above sea level, which must surely make it the highest wall in Scotland. It has an organic form which rises and falls over the contours in a sinuous line of grey, green and ochre and is topped with coping stones which are reticulated like a dragon's scales.
In certain lights, it looks like one of Andy Goldsworthy's sculptures. The technology of drystane walling is pre-historic – it was used in brochs and souterrains. Mortar was developed by the Romans, who used the ash from Vesuvius to create pozzolanic cement, but until then the stones had dry joints between them and were locked together using only gravity and pinning stones.
The dyke was built to prevent sheep from straying, and the coping is studded with rusty iron posts fixed into the stone, just to make sure.
The fence posts, strainers and coils of wire must have been carried up by hill ponies, and the coping stones were presumably drilled by hand using iron 'jumpers', just like quarrymen used in the old days.
The dyke was reputedly built in the mid-19th century by a hardened breed of men who worked on the mountain from spring through to autumn. They must have lived up there for weeks on end; it would have taken them too long to reach and return from their work each day otherwise.
They were skilled dykers, prepared to work in harsh weather and build something which has stood up to storms for a century and a half.
I've only known one calm day on the summit of Cairn o' Claise, with the sun beating down on an airless June weekend. Every other time I've climbed the Munros on either side of Glenshee, a cool breeze on the slopes became a gale when I reached the summit.
As there are no shielings on Cairn o' Claise, the dykers built temporary shelter and there still remains a stone igloo on the ridge of Bathach Beag, with a cleverly-constructed roof of overlapping stone slabs which would once have been turfed over.
Another shelter at the summit of Cairn o' Claise was likely built more recently by hillwalkers seeking a wee bit of shelter to rest their legs, brew up and eat their pieces.
Hillwalkers seek out the mountain's remoteness and tranquillity through choice, but the dykers had no option – this was their workplace.
As the naturalist Colin Gibson wrote, 'These men must have known mountain weather in all its moods; now the wind plays a coronach through the mossy stones that remain as their memorial.'