All change around Perth in a sign of the times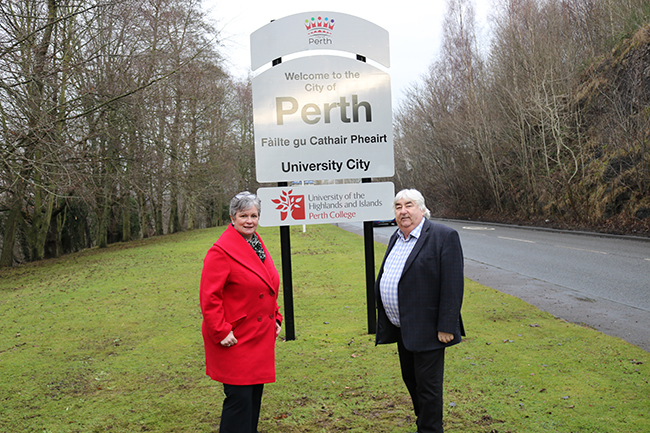 It's a sign of the times in Perth.
The establishment of the University of the Highlands & Islands (UHI) has granted Perth university city status, and as a result , boundary signs acknowledging the city's new rank have been installed on roads leading to Perth.
Offering further and higher education programmes, approximately 3000 students were studying in Perth last year.
The institution has been working closely with local authority to continue boosting economic, social and cultural growth in Perth. Moves to enhance the creativity of the city have started with the renovation of the disused St John's Primary school, soon to be a centre for creative productivity.
In turn, Perth and Kinross Council is aiding Perth College UHI in broadening its educational range to resource management, engineering and health industries, as well as furthering the college's influence in the city in order to encourage other institutions to offer remote learning in Perth.
The efforts are a result of Perth's 20 year plan to become a great European city.
Leader of Perth & Kinross Council , Councillor Ian Campbell said: 'Perth & Kinross Council values and recognises the contribution PerthCollege UHI and its students make to this community.
'It is very pleasing that so many young people have chosen to gain an education in Perth and we appreciate their contribution to the city in terms of investment, diversity and vibrancy making Perth an attractive place to live, work and study.'
Margaret Cook, principal of Perth College UHI, said: 'It was good to see the updated signs officially recognising Perth as a university city. It raises the profile both of the city and of Perth College UHI.'
John Bullough, chairman of Perth City Development Board, added: 'One of the key themes of the Perth City Plan, our 20 year vision to make Perth a great small European city, is to enhance our status as a university city.
'Every successful city in the world has a  thriving university at its heart and Perth City Development Board look forward to assisting Perth College UHI in the continued development of their further and higher education curriculum.'