A superb six events coming to the south of Scotland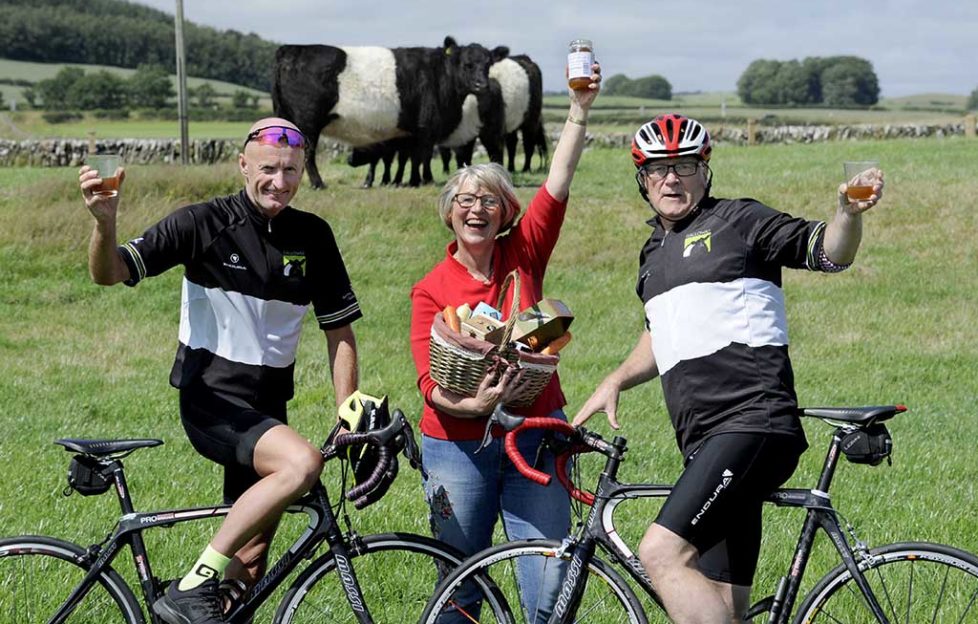 Six major festivals and sporting events will give visitors the chance to enjoy the food, drink, culture and countryside of Dumfries and Galloway in all its rich variety.
There's everything from top-flight cycle racing and motorsport through to the finest foods from farm and sea, plus literature and a festival of light.
These take place in picturesque places like Wigtown, Scotland's National Book Town, Castle Douglas Food Town, Kirkcudbright Artists' Town, at the
regenerated port of Stranraer and through the hills and lanes of Galloway.
The six attractions, which are all supported by Dumfries and Galloway Council's Major Festivals and Events Strategy 2018-21, are:
This year's first Stage of the OVO Energy Tour of Britain, the UK's blue riband cycling race and our equivalent to the Tour De France, is a testing slog of more than 120 miles between Glasgow and Kirkcudbright. More than 9,000 spectators are forecast to gather and enjoy the cycling festivities in anticipation of a heart-stopping sprint finish in Kirkcudbright town centre.
Peter Hodges, OVO Energy Tour of Britain PR and marketing manager, said: 'We are delighted to be bringing the tour to Kirkcudbright for the first time to conclude our opening stage. The first day of the race is always an exciting finish, so we'd encourage sports fans from across the south of Scotland and north of England to come and enjoy Kirkcudbright and celebrate what will be a great occasion.'
Two council officers, Stephen Martin from the grounds team and Derek Crichton director of communities rode the Dumfries and Galloway section of the Tour in advance to promote the event and encourage others to get on their bikes and enjoy the region's quiet roads and beautiful countryside.
They also sampled some of the fantastic food and drinks that will be available at the Castle Douglas Harvest Food Festival.
Sarah-Jane Allsopp, organiser of the third annual Castle Douglas Harvest Food Festival, said: "The produce from Dumfries and Galloway is simply amazing, we really want to shout about it. So we are inviting people along to celebrate a weekend of artisan food and superb cooking in the lovely town of Castle Douglas.
'Highlights include our fabulous beef, including from the region's distinctive Belties and our dairy – the chances are that any of the Scottish milk you drink today will come from our region.
'The festival is a chance to enjoy everything from cheese to chocolate and ice cream to scallops.'
Castle Douglas will be hosting events celebrity chefs like Masterchef winner Gary Maclean and Ian McAndrew, winner of Scotland's Chef of the Year.
The following weekend, the Stranraer Oyster Festival will be welcoming celebrity chef Tony Singh MBE – famed for his love of Scottish produce.
The oyster festival is now in its third year and is proving a huge success – in 2018 it attracted 14,000 people and has generated spend in the region of £900,000 to £1.1m for the area's economy.
Romano Petrucci, chairman of the Stranraer Development Trust, which organises the festival said: 'We have Scotland's last remaining wild, native oyster fishery – and these oysters are sought after around the world.
'Stranraer Oyster Festival has made experiencing our exceptional native oysters much more accessible, but the festival isn't just about the oysters themselves. It's a real celebration of the people and the place of Stranraer, and we've designed a programme that's packed with fun and flavour, in a beautiful central location with views up Loch Ryan and out to Ailsa Craig.'
This year's festival will combine food tourism experiences with family friendly entertainment, everything from silent discos to kite making and fireworks to live music.
Stranraer faced major economic challenges when the ferry terminal for Northern Ireland was moved out of town. The oyster festival was one response – a community-led tourism extravaganza, delivered with a passion and energy that makes the most of the town's natural assets.
The Wigtown Book Festival has been a leader in Dumfries and Galloway – showing how cultural festivals can help regenerate fragile economies (generating around £3.75m annually for the economy).
The event is now among the best-loved of its kind in Scotland, allowing visitors to meet some of the leading writers in the UK in the delightful and intimate atmosphere of Scotland's National Book Town.
George Moore, Wigtown Festival Company Trustee, said: 'This will be the 21st Wigtown Book Festival, and each year it is even more special. As a trailblazer for the region we are enormously pleased to see how many other autumn festivals and events have sprung up which help celebrate Dumfries and Galloway in their own individual ways.'
From the Book Town to the Artists' Town; this year will also see the second Illuminaire Festival in Kirkcudbright – the artists' town which is now home to the superb £3.2 million Kirkcudbright Galleries.
Colin Saul, from Illuminaire, said: 'Last year the community really got behind the idea of a Kirkcudbright Festival of Light, so we are very much looking forward to lighting up the town a second time.
'Autumn is a wonderful time to visit Kirkcudbright, to take part in the events we are setting up, explore the area and appreciate why so many generations of painters came here for inspiration.'
This year's Galloway Hills Rally, which is jointly run by Solway, Machars and East Ayrshire Car Clubs, will be especially exciting as it's the final round of both the Scottish Rally Championship and British Rally Championship.
Kirsty Riddick, a member of the organising committee, said: 'It's our 46th rally and is set to be the biggest yet. And the fact that it's the final round of the British and Scottish Rally Championships means the stakes will be very high for the drivers – and that we can all look forward to a hugely exciting event.'
Dumfries and Galloway Council is committed to highlighting all the south-west Scottish region has to offer through events and festivals – which allow visitors to experience its rich variety.
VisitScotland Regional Leadership Director, Paula Ward, said: 'Dumfries and Galloway's rich and diverse portfolio of events, including Wigtown Book Festival, OVO Energy Tour of Britain and the Stranraer Oyster Festival, continue to play a crucial role in the country's visitor economy. Not only do they generate both economic and social benefits for local communities, but further help to stimulate domestic tourism, as well as build on Scotland's strong reputation as the perfect stage for events.'