10 places you have to visit when you're in Stirling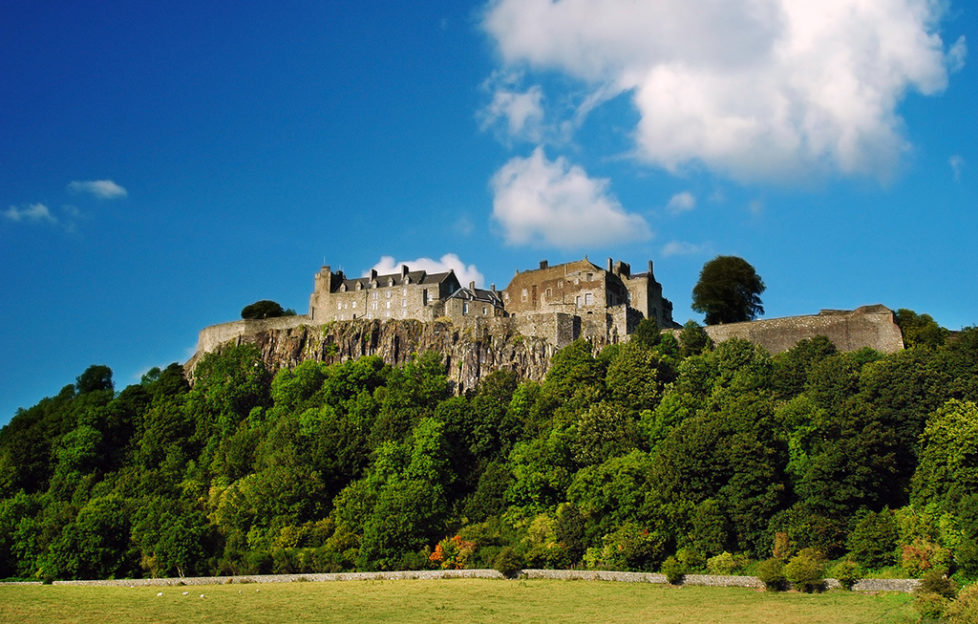 It's easy to forget that when living in a country like Scotland, there's no need far to find yourself by some fantastic sights.
All it takes is a couple of hours and some knowledge on where to go. We're equipping you with the latter. This summer, Stirlingshire is a place worth finding.
1. Stirling Castle
Why not begin with its most well-known gem? Stirling Castle is one of the largest castles in Scotland. Its size and beauty is impressive enough without the added factor of the Stirling Sill, a geological formation made from solidified magma which created the towering cliff the castle rests on. And it is not just the exterior that is worth a look: the interior will amaze everyone, from astonishing architecture and decorations, to lifelike figures depicting day to day scenes from life in the castle. There are even vaults beneath the palace designed for children to learn about the history of the castle through fun, interactive exhibitions. For the history enthusiasts who want more, there are also the stunning Buchanan Castle and the Doune Castle around the area to get lost in.
2. The Church of the Holy Rude
Apart from Westminster Abbey in London, this 15th century church is the only one still in use to have hosted a coronation, that of King James VI of Scotland in 1567. It's one of the most enchanting cathedrals to visit, the simple wooden roof juxtaposing with the stone arches, creating at once a sense of comfortable home and monumental awe. The story is completed for you with beautifully light-coloured stain glass windows. One comes for the church, and stays for the graveyard and labyrinth paths that wind down the Church's gorgeous grounds.
3. King's Park
There is no part of Stirling that does not have a story. King's Park is one of the city's largest and most beautiful parks. It is a beautifully kept field that used to be used as hunting ground by the Royal Court at Stirling. If the day is nice it is the perfect place to go for a picnic, or a relaxing stop before continuing with the day's trek. It is also perfectly located, a walking distance to either the Castle or the acclaimed Smith Art Gallery and Museum – brilliant to start or end your day.
4. The Old Town Jail
If you want to slip away from the picturesque history for a different experience, consider visiting what was deemed the 'worst prison in Britain' in the 19th century. They have highly popular performance tours, where you will learn the murder stories and secrets kept in those walls, the various characters that walked the halls on the different side of history. It is completely suitable for all ages as the actors use comedy to put everyone at ease, and there is nothing gruesome, but luckily, it doesn't leave any secret out. The beauty of the city doesn't manage to stay away for long though, as you can finish your visit at the Observation Tower and experience the most beautiful views of the Old Town and surrounding countryside.
5. The National Wallace Monument
We are not lacking in heroic stories here in Scotland. One of the most notable ones is the life of Sir William Wallace. Here you can rediscover a well-known story in the most personal way, even visiting the Wallace Sword which hangs in the monument's Hall of Heroes. Many events that are held here aim to bring history back to life, recreating scenes from iconic battles such as Wallace's victory at the Bridge of Stirling, which earned him the title of 'Guardian of Scotland'. You can arrive by bus or car, but there is also a scenic route you can take over the River Forth, through the idyllic countryside, for a lovely hour's walk to discover more of this wonderful area. On the walk you will also come across a bell-tower known as the Cambuskenneth Abbey, a great representation of 13th century architecture and the only one of its kind.
6. Finnich Glen
Descending down what are known as the Devil's Steps, this mossy glen strikes one immediately as otherworldly. Its narrow, 70ft rock walls create a surreal maze, with red-watered Carnock Burn coursing through it. Just a 30 minute drive away from Glasgow, this one is a must. Be cautious if going with children – it is quite steep and slippery. Its most famous attribute is the Devil's Pulpit, a large, green-topped rock inside the glen. Its past, as always, has a story – although debated. Some say it is the rock the Devil stood on to address his followers. Others say it was an execution block used by witches. Whatever it was, there is certainly a mystical feel that has lingered in those waters. Make sure to bring waterproof boots!
7. Loch Ard
This loch is located in the Loch Lomond and the Trossachs National Park. The Queen Elizabeth Forest Park encompasses the water, and the mountains surrounding the area can be seen beyond the loch. It is a heavenly area for a calm escape, ideal for day trips or equipped with hotels for longer stays. If you want a break from relaxating, parts of the area offer a variety of activities, from bikes for hire, sculpture trails, and horse riding, to Go Ape's high ropes adventures courses for adults and children. Go Country Adventure Park also offers water sports, gorge walking, and cliff jumping. There is something for everyone. Before beginning their journeys, many people stop at Callander, a beautiful town with an array of restaurants and niche shops, brilliantly located to plan your trip around Loch Lomond and the Trossachs National Park.
8. Darn Walk
This walk takes you from Bridge of Allan to Dunblane, two of the most beautiful small villages worth discovering in Stirlingshire. You'll be walking down an ancient path, said to date back to Roman times. You can find directions for the walk online and come across spots that Robert Louis Stevenson, acclaimed Scottish poet and writer, would explore during his childhood holidays at Bridge of Allan, as well as the cave that is said to have been the inspiration for Ben Gunn's cave in Treasure Island. It's an easy walk through woodland along the River Allan, with many picturesque sites, and you can finish it with lunch at Dunblane in one of its many restaurants.
9. Fairy Knowe, Aberfoyle
It will be difficult to find anything of the same sort as the Fairy Knowe wood trail, which is accompanied by a story as fantastical as the area. Minister Robert Kirk, who resided in Aberfoyle, was an avid believer in the existence of folkloric characters such as goblins and faeries, and the world in which they reside. He published books detailing the secrets of this world, arguing that Doon Hill – a hill near Aberfoyle – was a sacred location to the faeries. Kirk would walk the hill many times, and that is where, one evening in 1692, his body was found. The story goes that the faeries became angry at him for divulging their secrets, and kidnapped him as revenge. They took him to their realm, where he became 'Chaplain to the Fairy Queen', and left a changeling in human form to be found on the hill. We are left with his grave, the gorgeous views, and the many enchanting trees surrounding you as you walk – each originally and intricately carved with the intent of being the home of countless fairies. It is a perfect location to make memories, and make sure to leave a wish on a ribbon at the fairy tree on top.
10. The Deaston Distellery, Deaston
Described as fascinating, phenomenal and definitely recommended, the Deaston Distellery promises a learning experience on the making of their award-winning Highland Single Malt Scotch Whisky is made, from the correct way of picking ingredients to right on your lips, as the tour includes a tasting of some of their oldest whiskies. There is also a heritage tour to explore the roots of Deaston as you walk along the River Teith, and for the true hedonists, a wine and chocolate tour and tasting. Even if you are not a whisky drinker, exploring the process of making these spirits is captivating enough to see the art behind a drink.