There's no business like snow business in Vermont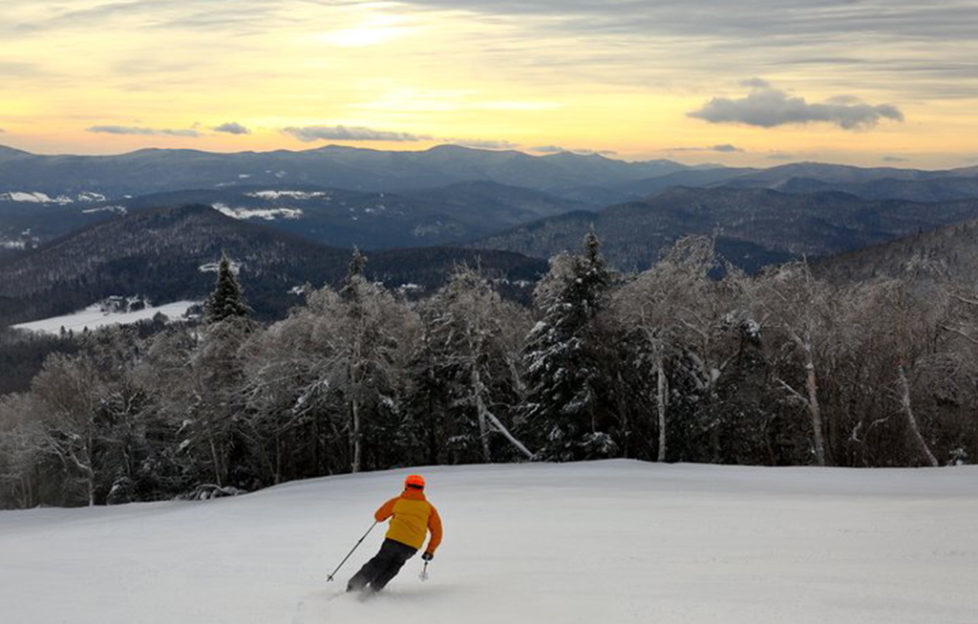 Stepping onto the ski slopes of Vermont was like finding my way through the back of the wardrobe and into Narnia's wintery wonderland of snow dusted forests and blanketed hillsides.
With my previous ski experience more or less limited to dodging the ice and rocks of Scotland's mountains, exploring the best resorts the Green Mountain State had to offer was better than I could ever have imagined.
A quick online search of Vermont throws up pictures of pristine forest, unspoiled lakes and dramatic snow-capped mountains so I jumped at the chance to jet across the Atlantic to sample three of the of the states finest ski resorts.
The most southerly resort in Vermont is Mount Snow and after flying into New York this was the first stop on our itinerary.
Jet lag worked in my favour and I was up bright an early for a lesson with the resort's ski school. My instructor put me through my paces on the resort's 'Launch Pad' nursery slopes with their own magic carpet and two-man chairlift which was super if, like me, you're a bit rusty.
Mount Snow is great for beginners or anyone who hasn't skied for a while. There is a 3.1 mile green run called Long John on the main face which stretches from the summit to the base lodge. This gentle run can be accessed from half way up the mountain, or you can take the high-speed six-passenger bubble Bluebird Express lift all the way up. There are plenty of blue runs criss-crossing over it so it's easy to weave in and out of the trail on the down the mountain adding a bit of variety whilst building up confidence.
But Mount Snow is not just for beginners. The north face of the mountain features more advanced skiing than the main face and features the double-black-diamond trail Ripcord. The resort also has Carinthia; 12 terrain parks spread over 100 acres for those looking for an extra thrill.
Snow shoeing is also on offer and we spent a wonderful afternoon exploring the nearby forest with a local guide. It was hard work ploughing our way through several feet of snow but we got to know the area a little better, learning about the native flora and fauna and spotting the various claw marks etched in the tree trucks left by the resident black bears who were thankfully hibernating during our visit.
We spent two nights at Mount Snow which was enough time to explore the resort although we could have easily stayed for another few days and still discovered new runs and sampled more of the activities on offer. We stayed at the ski-in/ski-out Grand Summit Resort Hotel which was wonderfully cosy with a huge fireplace in the reception, comfortable rooms and the fantastic Harriman's Farm-to-Table Restaurant.
Their on-site spa is well worth a visit and they offer a range of exercise classes, treatments and massages; perfect for soothing aching post-ski muscles. The hotel offers family rooms, studios and multi-bedroomed suites with prices starting from $182. The resort also offers a great range of lodging and lift ticket packages so check these out before booking as they can often save you money.
After our gentle introduction to the Green Mountain State's hills we moved north to Killington, better known by its nickname Beast of the East. With 154 trails arranged over six mountain areas and 1,500 snow guns covering 600 of the resort's 752 acres of ski area, it certainly has earned this reputation. Other accolades are that it has the highest skiing elevation in Vermont, the largest vertical drop in New England as well as the largest ski area and longest season on the east coast.
The trails are a fairly evenly split between beginner, intermediate and expert and there are also six terrain parks to while away the hours in. The resort also boasts the Juggernaut, the longest trail in eastern USA at 6.2 miles long. For beginners there is an onsite ski school with lessons for all ages and abilities as well as one of the best beginner areas in the state. For those looking for an extra thrill the resort is also home to the Beast Mountain Coaster, a 4,800-foot-long alpine coaster that twists and turns through the woods with 360-degree corkscrews guaranteed to thrill. Check ahead of your visit for opening times as the coaster only runs on certain days
Like all the resorts we visited there are accommodation options to suit most tastes and budgets. We stayed in the resort's main hotel, the upscale Killington Grand Resort. With the superb on-site restaurant Preston's, an outdoor pool and handy ski valet, it is perfectly positioned to make first tracks in the morning with the lifts accessed by a quick ski across a nearby bridge. Prices start from $230 per night with a variety of self-catering apartments and hotel rooms on offer.
A visit to Killington isn't complete without a visit to one of the nearby evening hotspots, some of the best in the state. Make sure you stop by the Wobbly Barn, a Killington institution that attracts great bands and people looking to indulge in a bit of lively après ski.
Our third and final ski resort of the trip was the upmarket Sugarbush nestled in the Mad River Valley area. The resort is split into two main ski areas; Lincoln Peak and Mount Ellen which are connected by the two-mile Slide Brook Express chairlift. The resort only grooms around a third of its slopes making it a great choice for the more experienced skier looking for variety. As well as the main runs there are a number of smaller areas for gutsier skiers and snowboarders including the steep runs of Castlerock and the forests of Slide Brook.
We decided to take a Meet the Mountain tour with one of the knowledgeable local guides. The Meet the Mountain Ambassadors are generally local volunteers who offer themselves as guides in the morning before enjoying the mountain for free in the afternoon. Our guide was great and showed us some of the easier runs to get started, as well as helping the beginner in our group navigate her way to the gentle nursery slopes.
A bit of local knowledge is great as the runs at all the resorts are graded by the resort themselves; there is no state-wide grading system. So a green at one resort could be an easy blue at another, a difficult blue at one could be graded a black elsewhere and so on. Each of the resorts we visited have an ambassador program and it's well worth a chat before hitting the slopes.
We stayed in the Claybrook Hotel. Constructed to look like a red barn complete with silo, the rooms are beautiful with four poster beds and jacuzzi baths. There are a great variety of places to eat and drink in the resort as well as a number of local restaurants. Make sure you check out Rumble's Kitchen set within the hotel which serves up the best of local food and drink as well as bringing in bands a few nights a week.
We skied at Sugarbush on a Friday and Saturday and definitely noticed an increase in waiting times for the lifts at the weekend. This is the same across all the resorts so if you want to avoid the crowds stick to the slopes during the week and plan your other activities such as snow shoeing, shopping and visiting some of the other local attractions for the weekend.
All in all, Vermont is great for skiing. The level of snowmaking here means that the bulk of runs at each resort will be open no matter when in the season you visit. The nightlife is perhaps more sedate than the big European resorts and things are very much geared to a more relaxed holiday, with a priority put on being up bright and early and ready to hit the slopes as soon as the lifts open.
A new flight run by Norwegian Air between Edinburgh and New York's Stewart International Airport makes getting to Vermont easier than ever. Prices start from £150 one way / £230 return including all taxes and charges with an additional charge of £45 to add food, checked luggage and seat reservations at time of booking. Norwegian Air is a budget option so to keep costs down everything that is not bolted down has been removed. The service is efficient but make sure you have an Ipad or good book to keep you entertained during the flight.
Stewart International Airport is just under three hours away from Vermont's closest ski resorts. Having a car is handy for moving between the ski resorts so hire from the airport and drive up. The flight gets in late at night but there are plenty of nearby hotels if driving in the dark isn't your thing.
Cheap flights and plenty of options in terms of eating and sleeping mean that you can ski Vermont on a budget or choose to ski in style at one of the luxury hotels. The food and drink were exceptional and always geared towards supporting local suppliers and serving up regional specialities.
All three resorts were friendly, inclusive and laid back. Go during the week and chances are you won't have to wait in lift line and at times, I found myself skiing without anyone else in sight. With such good value flights, Vermont is definitely on my radar for next winter.
Skiing was on top of my agenda but the state has so much more to offer. Every winter sport you can think of is on offer but the fun doesn't stop when the snow melts. Vermont has myriad spring and summer activities on offer including hiking, biking, fishing and plenty of wild swimming spots to cool off in not to mention the iconic golden scenery begging to be explored during the autumn. It truly is a state for all seasons.
For more information on skiing in Vermont visit www.skivermont.com .