North Coast 500 joins the fight against Scotland's litter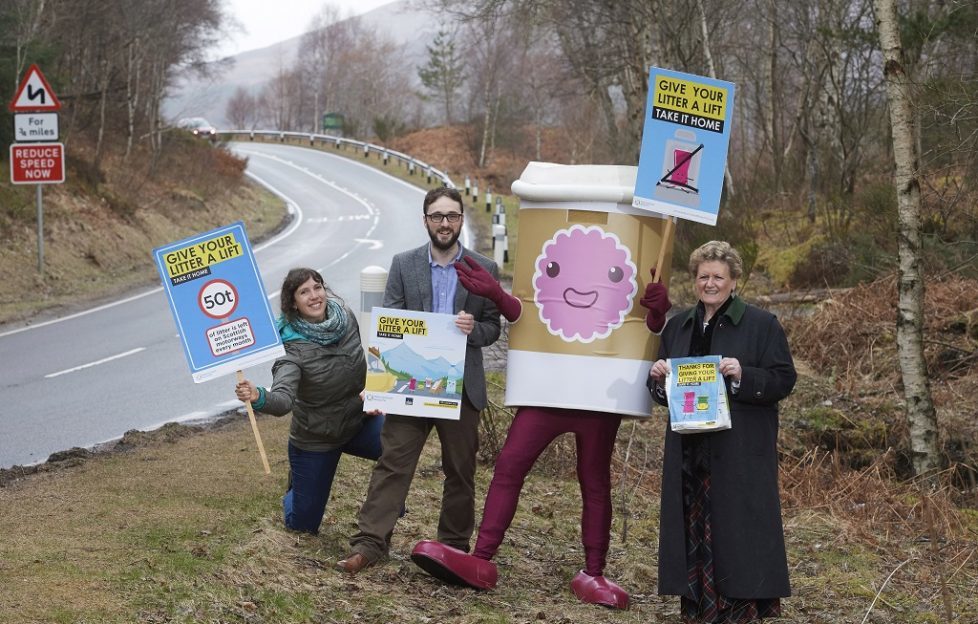 Scotland's iconic touring route along the country's northern coastline has joined a national campaign to clean up the nation's roads.
The North Coast 500 is now part of a national campaign to ensure the roads are kept clean, keeping the stunning natural beauty of the area intact.
This initiative, led by environmental charity Keep Scotland Beautiful and supported by North Coast 500 Ltd, the company behind the NC500, urges road users to 'give your litter a lift, take it home'.
With 88% of adults agreeing that roadside litter creates a negative impression of Scotland, the campaign aims to tackle the growing problem of litter ruining Scotland's main roads and iconic routes. It brings together government, industry, charity and the public sector in partnership to drive forward innovative programmes Scotland-wide and raise awareness of the impacts of roadside litter.
The North Coast 500 crosses some of Scotland's most rugged and rural landscapes and its popularity with visitors from across the world brings millions of pounds of additional visitor spend to the regional economy.
As part of the campaign, the North Coast 500 will be working with businesses and communities along the route to encourage road users to take personal responsibility for their litter and help preserve the majestic landscape.
Tom Campbell, managing director of the North Coast 500, said: 'In 2017 the North Coast 500 attracted an audience of more than 2.3 billion, creating a significant number of jobs and millions of pounds of additional visitor spend to the North Highland economy.
'We hope that, by working with Keep Scotland Beautiful, we can encourage drivers to take responsibility for their litter – helping to preserve this iconic landscape and continue to attract increased visitor numbers.'
The North Coast 500 team joined Keep Scotland Beautiful and vice convener Councillor Isabelle Campbell from Highland Council to launch the initiative at Rogie Falls near Contin ahead of the main tourist season commencing.
Visitors to the attraction were given a first taste of the campaign with take homes like car litter bags handed out by campaign character Beanie the Cup.
Georgina Massouraki, roadside litter campaign officer with Keep Scotland Beautiful, said: 'Keep Scotland Beautiful welcomes the support from the North Coast 500 for our roadside litter campaign. Tourism is vital for maintaining sustainable local communities along the route and protecting the natural landscape is central to this.
'This campaign is an excellent opportunity to reach out to road users and remind them to be considerate and take responsibility for their litter when travelling across our beautiful country. Roadside litter is difficult, dangerous and costly to clean up and throwing litter from your vehicle is an inexcusable and illegal habit. The message is simple – "give your litter a lift, take it home".'
Chair of the Highland Council's environment, development and infrastructure committee, Councillor Allan Henderson added his support to the campaign.
He said: 'Highland is no different from any city, town or community in the UK. It has a litter problem. Take a look the next time you walk outside – you'll see it. Cigarette butts, takeaway wrappers, crisp bags, cans and cartons, newspapers, chewing gum, discarded packaging. You name it, and it's on our streets and motorways, in our parks and our lochs, up our mountains and on our beaches.
'Highland receives many visitors from around the world every year, even more now the iconic NC500 route is getting more popular. We don't want littering to give a negative impression of our region to these visitors or among our local communities so the council is pleased to work with Keep Scotland Beautiful and the NC500 team to tackle this disgusting habit.
'A cleaner, greener Highland is good for us all; socially, environmentally, physically and financially so I urged people to take their litter home with them.'