Walkers and dogs want to put a Paws on Plastic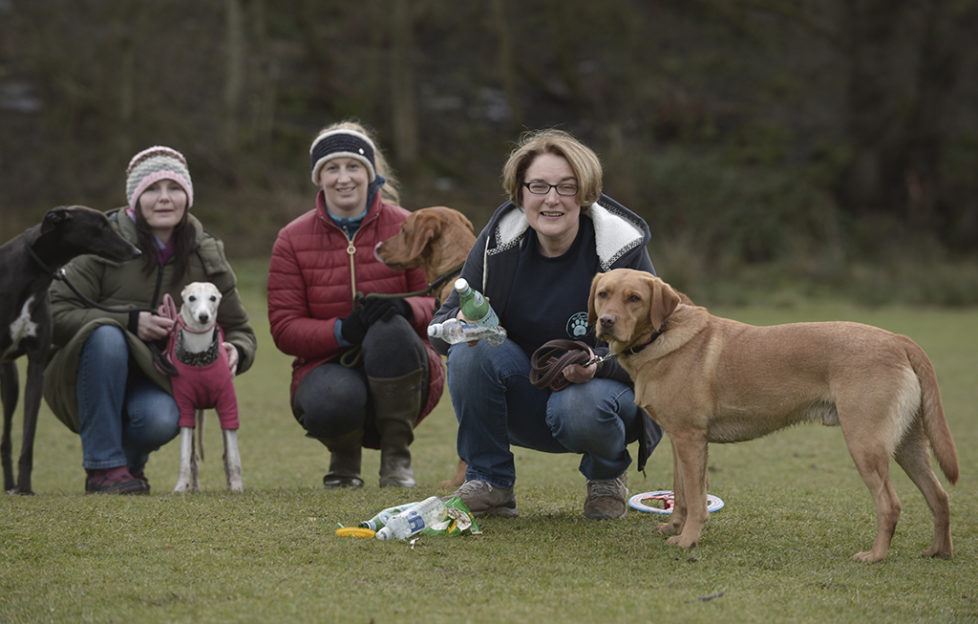 Primary school teacher Marion Montgomery and her beloved Labrador Paddy are cleaning up the north east one dog walk at a time.
From a dog's perspective, finding a water bottle on the beach is like finding a piece of gold.
Drawn like a magnet to anything that clicks between the teeth and bounces on the ground, they find hours of entertainment and joy from such simple pleasures.
But it is disheartening seeing rubbish strewn across our beautiful Scottish landscapes. Isn't there a simple solution?
Instead of walking by yet another plastic tub or shredded ball lying on the curb, why not just pick it up?
Urging dog walkers to take a stand against plastic pollution, Aberdeenshire primary school teacher Marion Montgomery has launched a campaign encouraging owners to pick up two pieces of litter during their daily dog walk.
'Paws on Plastic started because of my last dog Murphy. As with a lot of dogs, he was attracted to litter. If your dog picks up a bottle, plays with it and then drops it, what do you do? If you leave it there it becomes your responsibility,' explained Marion.
'Why not just take it home and recycle it?'
With nine million dogs living in the UK and a quarter of Scots owning a furry friend, around 18 million pieces of rubbish could be disposed of every day if everyone took part in the initiative.
Launching the campaign in November 2018 on social media, Marion's army of litter picking dog walkers is growing by the day – she now has over 2,300 Facebook group members and 500 Twitter followers. By encouraging walkers to post pictures of their dogs with their litter findings, the project is proving incredibly popular.
'That's the beauty of social media. You can share things so simply and quickly. We've now got members from America, Hong Kong, Canada, Taiwan, Uzbekistan, Kazakhstan, Norway – we've got people from every continent apart from Antarctica.'
Realising that not everyone has time to go on a day's litter pick at the beach, Marion believes it can be built into your everyday routine. 'It's the easiest thing to do – you're already out walking your dog, you've already got a bag in your pocket.'
Living in Stonehaven – a town of just 11,500 people – Marion has now convinced around 200 locals to take part. 'When I started picking up litter, I was doing it furtively. I was a bit embarrassed. But you get past that. It is totally addictive because you really start noticing the difference. Stonehaven's streets are so much cleaner.'
Paddy (Marion's three-year-old Labrador) has found everything from old tennis balls to 20-year-old cans. Old faithful Murphy has left behind a powerful legacy – maybe it's the old dogs that teach us the new tricks.