Landward highlights kids helping golden eagles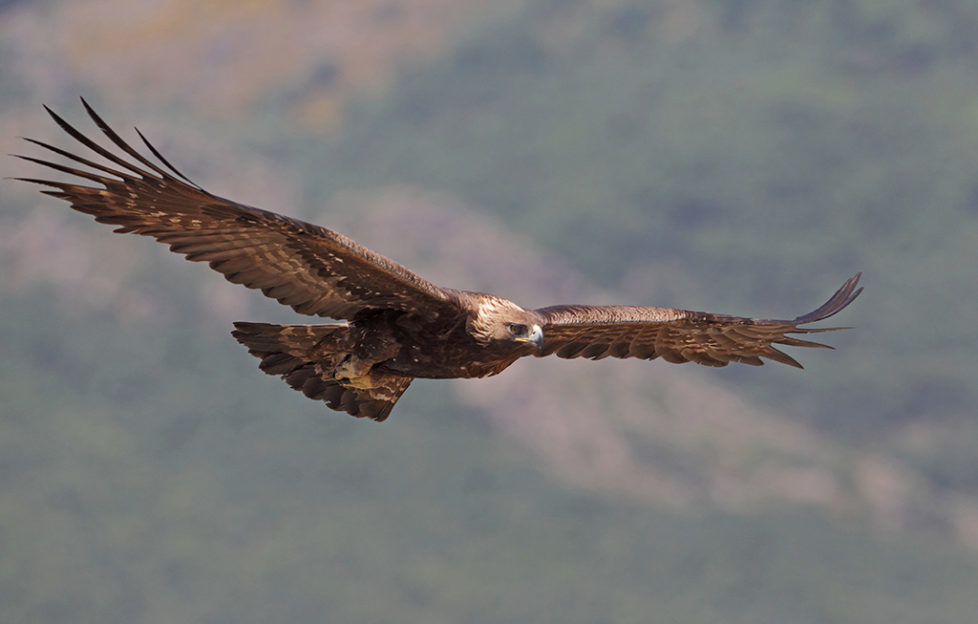 The first ever Scouts Golden Eagle Champions initiative to safeguard the future of Golden Eagles in the UK has been hailed a success.
It has been celebrated by project founders and the volunteers and Cub Scouts from the Scottish Borders who piloted the initiative.
The project, led by the groundbreaking South of Scotland Golden Eagle project, features on BBC Scotland's Landward this week (Thursday 16th May on BBC Scotland tonight, Friday 17 May, BBC1 Scotland at 7.30pm.
Working closely with the Project team, The Scottish Borders Innerleithen Scout Group became the UK's first ever Golden Eagle Champions, learning from experts and meeting one of the iconic birds for themselves.
Henry Happer (10) from the Borders' Scouts group also designed a special badge for each of the group members to earn as part of their work on this project.
Speaking as the first Cub Scouts were presented with their badges in the grounds of Traquair House in Innerleithen, following a day of tree climbing and eyrie (nest) building on the estate with Wild Tree Adventures, Philip Munro, community outreach officer for the South of Scotland Golden Eagle Project said: 'It was fantastic to work on the UK's first ever Golden Eagle Champions initiative with the Scottish Borders Innerleithen Scouts Group and their inspiring volunteers.
'The future of conservation depends on initiatives like this that encourage young people to get involved and make a difference.
'Volunteers with the Scottish Borders Scouts make a huge contribution to helping to safeguarding the future of iconic species like the Golden Eagle in the south of Scotland and beyond. We would encourage anyone interested in supporting their local community and conservation initiatives to get involved with the Scouts. It is an incredibly fulfilling and worthwhile cause.
'There will also be some opportunities to volunteer with the South of Scotland Golden Eagle Project and we would be delighted to hear from anyone interested in getting involved.'
Chris Kennedy, a volunteer with Scouts Scotland, currently leading their Innerleithen Scout Group, added: 'We are really excited to be part of this incredible project to help protect Scotland's Golden Eagles.
'This has been a fantastic opportunity for our Scouts to take a hands-on approach, working together with other people across our community as well as some of the country's leading wildlife and raptor experts on such a hugely important issue. The young people involved will impact on our natural heritage for generations to come. It is a real example of how Scouts can make a difference in the communities they live in.
'It was also a great opportunity for our adult volunteers at our Innerleithen Group to get involved in the project. If this sounds like something you would like to help with then we'd love to hear from you."
10-year-old Cub Scout Jeigha McCulloch-Graham, from Innerleithen, said: 'Learning about the Golden Eagles has been an honour. It's been a big opportunity for Innerleithen Scouts to actually get to meet a Golden Eagle, and it's been so much fun.'
Steve Backshall, BAFTA-winning naturalist, writer and television presenter, and Scouts Ambassador said: 'This is an amazing opportunity for Scouts in the Scottish Borders to be a part of the South of Scotland Golden Eagle Project. They will be playing a vital role in the continued protection of many unique and important species, such as Scotland's Golden Eagles.'
Francesca Osowska, Scottish Natural Heritage's chief executive, said: 'Congratulations to Innerleithen Scout Group for being the UK's first-ever Golden Eagle champions! This is a wonderful programme. It was fantastic to hear that the children really relished seeing and learning about these magnificent birds right in the Borders. We're delighted that the golden eagles are doing so well in South Scotland, and thrilled to help them return to places where they were once an important part of our wildlife.'
The pioneering South of Scotland Golden Eagle Project has been set up to address low numbers of Golden Eagles in the South of Scotland. Project partners RSPB Scotland, Scottish Land & Estates, Forestry Scotland, Scottish Natural Heritage, and the Southern Uplands Partnership, have been working together for more than eleven years to bring it to fruition.
Funded by The National Lottery, project partners, the Scottish Government and local LEADER Programmes, the initiative is a key project under the Scottish Government's 2020 Challenge for Scottish Biodiversity (which sets out a route map to protect and restore Scotland's biodiversity).
For the latest news on the project visit www.goldeneaglessouthofscotland.co.uk