How one woman's vision became a reality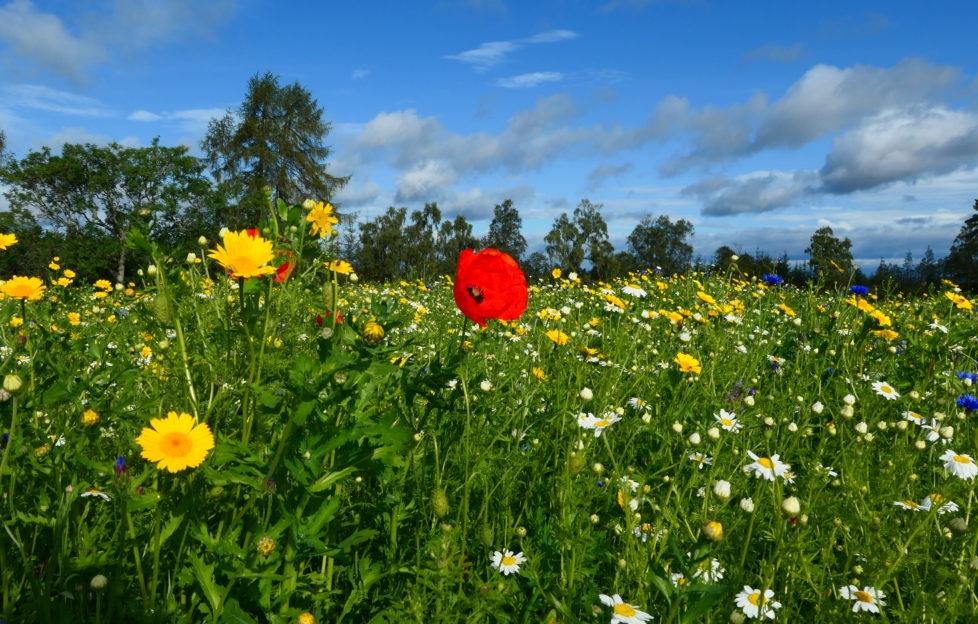 The loss of her father has inspired a Scotswoman to create a healthier environment by planting a wildflower meadow.
Lindsay Gale, who lives near the hamlet of Dunphail in Morayshire, put the idea to the owner of the nearby Altyre Estate, Sir Alastair Gordon Cumming, to transform a small plot of land into a meadow.
Their collaboration is an example of how one person can engage local business and create a sustainable project that will benefit the environment and local wildlife as well as create possibilities for future community engagement.
For Sir Alastair, the wildflower meadow is yet another example of the estate's: 'approach to heritage and conservation, a passion for enterprise and innovation and a deep commitment to the environment and learning,' an example being its recent conversion of one of its farm steadings into a world-class creative campus for the University of Glasgow's Centre for Design Innovation.
Lindsay's wildflower meadow is yet another extension of Sir Alastair's commitment to biodiversity and a healthy environment.
The Altyre Estate website stated: 'Every fallow field has the potential for re-use and new life.'
And this is where Lindsay's vision is being turned into a reality.
Lindsay said: 'My inspiration for this project came from my absolute love of nature, which emerged while spending many wonderful hours as a child with my father in the wilds. His favourite past time was to sit, observe nature, photograph and draw what he saw. He was an amazing artist.'
Lindsay's father, Michael Dolby, passed away last year. She was wondering how to create a memorial for him.
She explained: 'I was just sitting still one evening and it came to me. My strongest connection to my father had been through nature and one of my fondest memories of a child was being surrounded by bees, hoverflies, butterflies and a myriad of other insects in a wildflower meadow.
'Nature was calling out for help, a place where pollinators could collect nectar to aid their recovery.' That connection, Lindsay added, made her 'feel happy and calm.'
Lindsay approached Sir Alastair with her vision. He saw that it fit with his vision for the Estate and after several meetings, he agreed to let Lindsay use a piece of land next to her home for the project.
Lindsay has planted two separate areas – a larger perennial meadow with a first year of cornfield mix and a smaller winter bird feed mix. The smaller area has bloomed all summer long and attracted a large number of pollinators.
She said: 'I couldn't believe how happy I felt to stand there and witness nature responding to such little effort. It gave me true hope for the future.'
The seed pods are now full and drying out ready to feed the birds in the winter.
Then came the cornfield mix which has been flowering since August'
Of course, as any Scottish gardener will tell you, the weather has been the greatest challenge. Wet weather meant that the field couldn't be ploughed until late spring and seeds not planted until June.
Then Lindsay broke her ankle which caused further delay. But neither inclement weather nor a broken ankle has prevented Lindsay from getting the work done. She has been showing professional photographers, artists and local community groups the meadow getting ready for next year.
Lindsay envisions a workshop space for educational events to teach visitors about biodiversity and a sustainable environment, along with a range of creative and well-being workshops.
In effect, Lindsay's meadow could become an important outdoor classroom as well as a peaceful centre for respite and calm, while keeping with Sir Alastair's vision of the estate being a world-class learning centre and a possible eco-tourist destination in Moray.
For further information about the Altyre Estate, go to www.altyre-estate.co.uk