Cameron McNeish wins 2018 Scottish Award for Excellence in Mountain Culture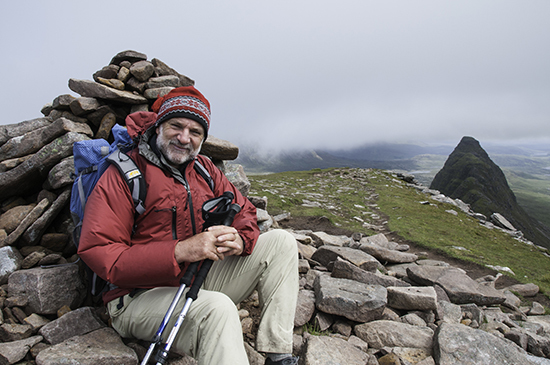 Scottish mountain walker Cameron McNeish has won the prestigious Scottish Award for Excellence in Mountain Culture in 2018.
Nominated by the public and his peers as a mountain hero who celebrates achievement, accomplishment and the spirit of adventure, Cameron – also a wilderness bikepacker and adviser to various organisations on outdoor pursuits, in his field as an author, broadcaster and magazine editor – joins the Fort William Mountain Festival Hall of Fame as the 2018 recipient of The Scottish Award for Excellence in Mountain Culture in the Fort William Mountain Festival prestigious award's 11th anniversary year.
Cameron, whose fields of interest include mountaineering, hill-walking, backpacking and bikepacking, joins previous esteemed winners such as Dr Adam Watson, Jimmy Marshall, Myrtle Simpson and Ian Sykes.
He said: 'I'm thrilled that there is now a national recognition of the direct link between our hills and wild places and the social history, folklore, traditional music and culture of Scotland.
'And I'm delighted to be joining a very special group of people who have, in many different ways, contributed so much to all these aspects of our national heritage. I'm genuinely humbled.'
Through his highly successful television programmes, numerous books and magazine articles Cameron McNeish has become one of the most recognisable figures in the British outdoors scene.
For 25 years Cameron has been involved in making numerous television programmes for the BBC, ranging from mountaineering and rock climbing films to his own highly personal accounts of long backpacking trips through the highlands and islands, routes that include the Sutherland Trail, the Skye Trail and the Scottish National Trail.
A former chairman of the Nevis Partnership, Cameron is an Honorary Fellow of the Royal Scottish Geographical Society and is Patron of Mountain Aid and Scottish Orienteering.
A Festival spokesperson said: 'Cameron McNeish embodies the passion and the excitement that exploring the wild Scottish landscape entails, and the great desire to share this sense of adventurous wonder with others.
'Although Cameron has travelled extensively throughout the world and has led numerous treks to Nepal, India, Morocco, Turkey, Russia and Jordan, it is for his passion and enthusiasm for the mountains and wild land areas of Scotland that he is best known.'
The award is sponsored by leading Highland employer, Liberty British Aluminium, whose smelter is located at the foot of Ben Nevis just outside Fort William.
Brian King, managing director of Liberty British Aluminium at Fort William, said: 'As an employer whose home is at the foot of Scotland's tallest mountain and right at the heart of the Highlands, we are very proud to be associated with an award which promotes the rich and distinctive culture we enjoy here.
'Cameron has done a huge amount over the years to highlight our unique environment and way of life and we applaud him for his work that richly deserves this special honour.'
In 2010 Cameron was given a Lifetime Achievement Award by PPA (Periodical Publishers Association) Scotland for his services to magazine publishing. In 2015 he was given a Lifetime Achievement Award by the National Adventure Awards. In 2016 Cameron was presented with the Oliver Brown Award by the Scots Independent newspaper for his work in showcasing Scotland.
Cameron lives in the Scottish Highlands in the shadow of the Cairngorms with his wife Gina.
The award will be presented to Cameron at a special ceremony during the Fort William Mountain Festival 2018 which runs in and around Fort William and Lochaber, The Outdoor Capital of the UK, from 21 to 25 February 2018.
To find out more about the full Fort William Mountain Festival programme for 2018 click HERE.