New bothy combines both art and architecture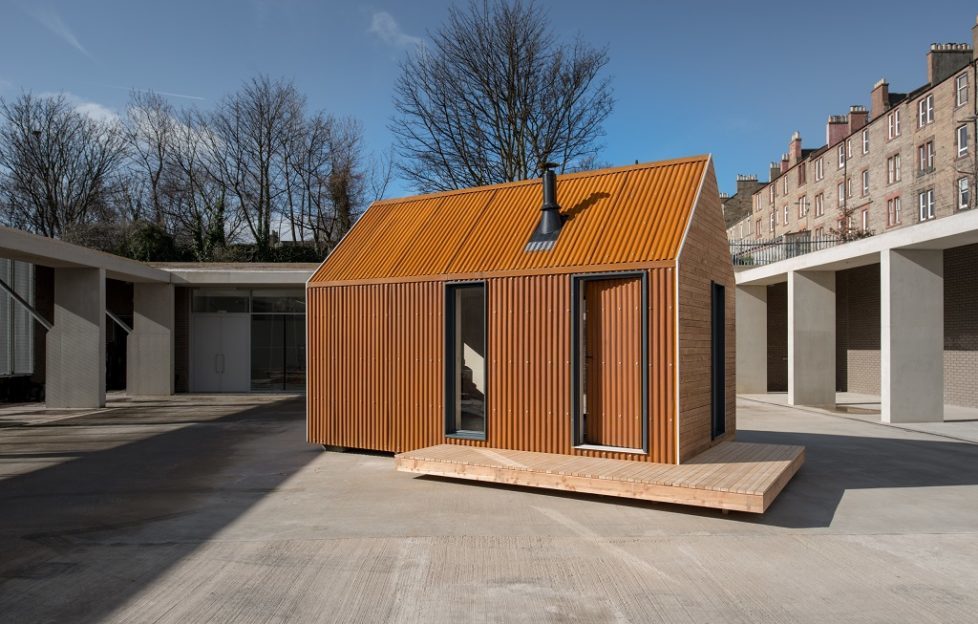 Art meets architecture in a stunning new piece of Scottish design.
In a unique collaboration between artist Bobby Niven and architect Iain MacLeod, they have taken hutting and the simple cabin to a new level, to create the Artist Bothy.
This is a prefabricated multipurpose space designed to bring its owners closer to nature.
Built in Scotland from sustainable materials, it is inspired by an artist residency space conceived by Niven and MacLeod in the Scottish Highlands.
Created to work either as an off-grid space or be connected to electricity and water services, the classic design evokes traditional agricultural dwellings designed to blend into their surroundings.
Taking its name from the Scottish term for a small hut used as a mountain shelter, the Artist Bothy takes this a step further by combining striking contemporary design with a hand-crafted purpose-built structure, creating a space suitable for longer stays.
The story of the Artist Bothy began back in 2011, when the old school friends teamed up to work on an idea for a remote residency space in the Scottish Highlands. The simple shelter they designed was installed in a traditional woodland area in the Cairngorms National Park.
It has since welcomed many artists looking to experience off-grid living in a spectacular and isolated setting. That initial structure marked the beginning of the Bothy Project – a non-profit organisation that operates an expanding network of unique residency spaces created in collaboration with artists, designers and makers.
The Artist Bothy is an evolution of the Bothy Project's mission to enable artists and researchers to explore the history, landscape and people of the areas surrounding its bespoke shelters. Sales of the Artist Bothy help the Bothy Project to partner with a broad range of organisations, artists and sponsors to grow the network and develop more artistic residency opportunities across Scotland and beyond.
With an internal space of 12.25 sq.m, and a 5.5 x 3m footprint, the Artist Bothy is constructed from cross-laminated timber panels clad in Corten corrugated metal and Scottish larch. The Bothy has a fully insulated envelope and is double glazed. Installed on site in just a number of hours, the Bothy's clean outline conceals a drainage system, 100mm of wood-fibre insulation and an internal mezzanine making an ideal sleeping space.
The Artist Bothy is a pioneering piece of low-impact architecture that is designed to enhance the experience of spending time in nature. An intense process of research and refinement has culminated in an innovative, contemporary cabin that is firmly rooted in the traditions of rural living.
Co-creator and artist Bobby Niven said: 'The success of Bothy Project showed us how much artists benefited from residencies and access to nature in our Bothies, and the continuous demand for holiday stays confirmed that everyone, not just artists, benefited from time in these special spaces.
'As a result Iain and I sat down to look at how we could improve on the original Inshriach Bothy design and create a prefabricated Bothy, removing the headache of a complex build and install, and taking the ethos of simplicity and functionality even further.'
Architect Iain MacLeod added: 'As a design challenge, the Artist Bothy was a dream brief, to create a flexible space that could feel connected to nature in a rural environment yet also look at home in a more urban context.
'The result is a paired down vernacular form that although appears very simple is full of considered decisions to make this a unique and very functional space. It has also been built to dimensions designed to ease the statutory permission process for prospective owners.'
The Artist Bothy is prefabricated in the Highlands and is available to purchase from £39,000.
Click HERE for more details.