Motorsport's Jimmy McRae has mud, sweat and tears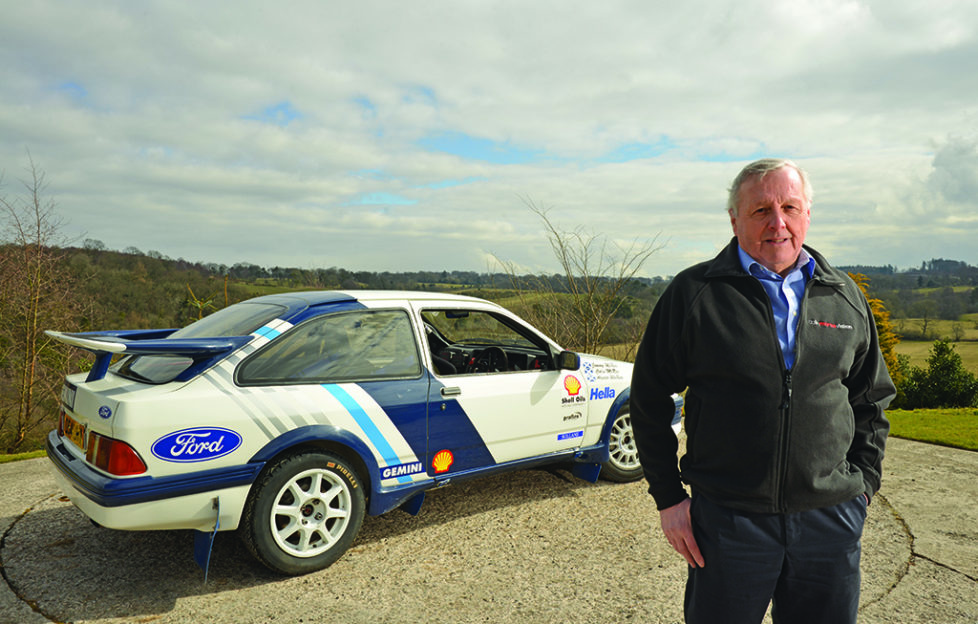 He may have spent his career charging through forests and speeding over treacherous terrain, but Jimmy McRae, five times the British Rally Champion, has always found his way back home to Lanark.
I didn't start competitive driving until I was in my thirties, but I got the bug a long time before that, driving my uncle's tractor at his farm at Blackhill, between Lanark and the village of Blackwood, in Lanarkshire.
My father was a blacksmith and his smiddy was in Blackwood, which is where I was brought up. Back then it was a small village and I really enjoyed my life there. I went to Blackwood junior secondary. I didn't like school much; I learnt far more after I left. All I wanted was for the bell to ring so I could get back home and help my father in the smiddy, or see if they were working on the farm with the tractors.
I spent most of my holidays at the farm, more in the hope of driving tractors than anything else. I must have been about eleven when I first drove my uncle's tractor, an old grey Massey Ferguson. We were out turning the hay one day when I suggested that I should drive it. I mentioned that my cousin Jim had let me drive his tractor, which was a wee bit of a lie – he'd let me drive the tractor while sitting on his knee.
My uncle was a lot more comfortable with horses than vehicles, so he said, 'All right, on you go.' The clutch was on one side of the gearbox and the brake was on the other, so I couldn't press both at the same time because I was too small, but we went on and turned a good ten acres of hay that day. I suppose you could say that was the start of my driving career.
Blackwood is about seven miles from Lanark, which was our main town – I was born there, at the William Smellie Memorial Hospital, so I'm as much a Lanarkian as I could be. Margaret and I moved there after we were married in 1974.
It's a typical Scottish town, with good shopping and plenty of cafes, restaurants and pubs. There are also large livestock and agricultural machinery markets in Lanark.
There are some lovely walks down the banks of the Clyde and up Tinto Hill, and a favourite place of mine is Lanark Loch, where there's a new sculpture commemorating the first air show in Scotland. I still do a bit of cycling and the roads in and around Lanark are great for that. The off-roading is good too.
Lanimer Day is one of the highlights of the year in Lanark. It is held every June and arose from the duty of the people of Lanark to examine the boundary of the town every year. These days it has turned into a brilliant weeklong family festival. The Lanark Races also used to be a great day out; it's a real pity we've lost that meeting.
Lanark also has lots of great places to eat and drink. There are some decent pubs, like The Crown, and there are plenty of good restaurants here as well, such as La Vigna, Prego and the Inn on the Loch where, on a good day, you can soak up wonderful views of the loch from the balcony while enjoying a pie and a pint. There are also several good Chinese and Indian restaurants in Lanark.
When I left school I got an apprenticeship with a local heating and plumbing firm. After a course in surveying, I became chief surveyor for a firm in Glasgow. But I'd always fancied being my own boss, so in 1974 I bought a small plumbing and heating business in Lanark. By the late 1980s I was spending more and more time rallying, so I hired a manager to run the business.
As well as driving tractors, I'd always mucked about with motorbikes in the field behind my father's smiddy. When I was about 16 I started Motocross, or scrambling as we called it in those days. Then, when I was 30, a couple of guys I knew started rallying and they persuaded me to have a go. I went along to a couple of events and thought it looked pretty good fun.
My first rally was in 1974 – the Arbroath Stages Rally in Aberdeen. I drove a four-door 1200 Cortina with a Lotus engine and came eleventh. Later that same year I came sixth in the Borders County Rally and I realised I was actually pretty good. I sold the Cortina for a big profit and bought an Escort.
At that time everyone was using an Escort, though, and I had a feeling I would be noticed more if I drove something different. So I struck up a relationship with SMT, a big Vauxhall dealership with garages throughout Scotland and northern England. I bought a Group 1 Vauxhall Magnum from them. All the lads driving in the Scottish Championship wondered why I was driving a Vauxhall, but only two years after taking up rallying I was driving a works car and getting my expenses paid, so it proved to be the right move.
From 1979 I began getting a small fee for driving. By then I was driving a Group 4 Vauxhall Chevette, with which I won a few rallies in '79 and '80, plus my first international event, the Circuit of Ireland. At that point I changed from driving Vauxhalls to driving for Dealer Opel Team (DOT); I was driving an Opel Escona 400 when I won my first British Championship.
It's difficult to say which is the best car I've ever driven. I enjoyed the Chevette but the Opel era – the Escona and later the Manta – was probably my favourite. But 1986 was also a great year; I drove a Group B Metro 6R4, 100-horsepower four-wheel drive, and just missed out on the Championship with mechanical problems.
I stopped rallying after Colin and then Alister reached world-championship level. Colin started rallying in 1985, when he turned 17, and had his first go at the Scottish Championship the following year. Alister didn't get into rallying until later; he figured that Colin and I would be a hard act to follow.
Rallying really gets my competitive spirit going. It's not like driving on a racetrack; you're on your own against the clock and I get a real buzz from that. So when Colin and Alister came out of rallying I got involved in the Historic rallies. My first was in 2001 in a Porsche – I won the class and it rekindled my passion for the sport. I still enjoy it now, and I won my class in a couple of rallies last year.
I had a surprise in 2012 when I was invited to speak at the Autosport Awards. I thought I was there to discuss a new book about Colin but instead I was given a merit award for my contribution to rallying, which was a real honour for me.
Throughout my entire rallying career I never suffered any injuries – until the Historic Rally in Kielder Forest in 2008. We had just driven over a concrete bridge when the ball joint broke. I lost the steering and we went over the side of the road into some trees. I broke my wrist and my sternum; it was a bit sore but it could have been a lot worse. Two months later I did the Manx Rally in the same car and won it.
While I love rallying it's not something I do all the time now and I'm just as happy enjoying my time at home. Lanarkshire itself also has some lovely spots. The Clyde Valley is really pretty and worth exploring, and New Lanark really is a must-see for any visitor to the area. I remember we had a big party down there the year I won the British Championship and Colin won the Scottish Championship.
The whole of Lanarkshire has a lot to offer. There are loads of museums that celebrate both the area's rural and industrial past, as well as castles, stately homes and other sites of historical interest. There are also pretty towns and villages, including Biggar in South Lanarkshire, which is a lovely little place full of interest with lots of decent places to eat and drink.
I have spent much of my life all over the world, haring around the countryside at breakneck speed, but Lanarkshire will always be home for me, where the pace of life is a little bit slower and I can enjoy all it has to offer without the need for a competition seatbelt or a codriver.
This feature was originally published in 2013.