Horse power helps to turn back the clock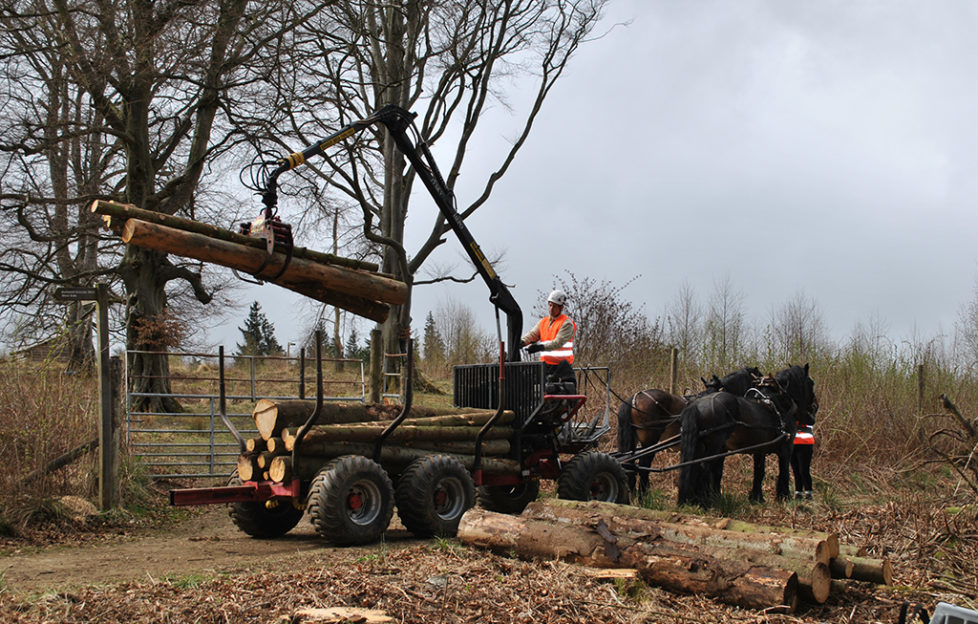 Traditional methods of looking after woodland have been used again in Scotland.
People in the historic Aberdeenshire market town of Huntly had the chance to see their favourite woodland get a new lease of life thanks to the use of horses.
Horse logging is a traditional form of woodland management which has almost died out in Scotland as large conifer forests have become the backbone of the industry.
Smaller, wildlife-rich community woodlands need a more sensitive approach and this is what the Lenihan family provide with their team of horses but modern tools, trading as ecological logging.
Within Battlehill Wood, the paths can stay open for people and the wildlife thrive as the Lenihans and their horses clear and thin spruce trees to allow native plants to return.
Horse logging demonstrations were held at the wood for local people on Monday, and schools on Tuesday, this week.
Aberdeenshire Council's Marr area committee chair Moira Ingleby said: 'The Forestry Commission Scotland grant funding has been essential in taking this project forward and will allow us to make great improvements to this wood.'
Vice chair John Latham said: 'Battlehill Wood was established by men and boys working with horses, so it's good to see a family-run business working with horses return to this wood to help secure its future use and enjoyment for Huntly folk.'
Battlehill Wood is owned and managed by Aberdeenshire Council infrastructure services. Forestry Commission Scotland and Aberdeenshire Council have worked together in partnership through the Woodlands In and Around Towns Initiative to improve accessibility and community engagement in urban woodlands to unlock a range of community benefits such as improved health and well-being.
The Huntly Woods project involves Aberdeenshire Council engaging with the people of Huntly to manage the town's woods for a range of wildlife, educational, recreational and health related benefits.