First Gleneagles Great Adventure Race winners crowned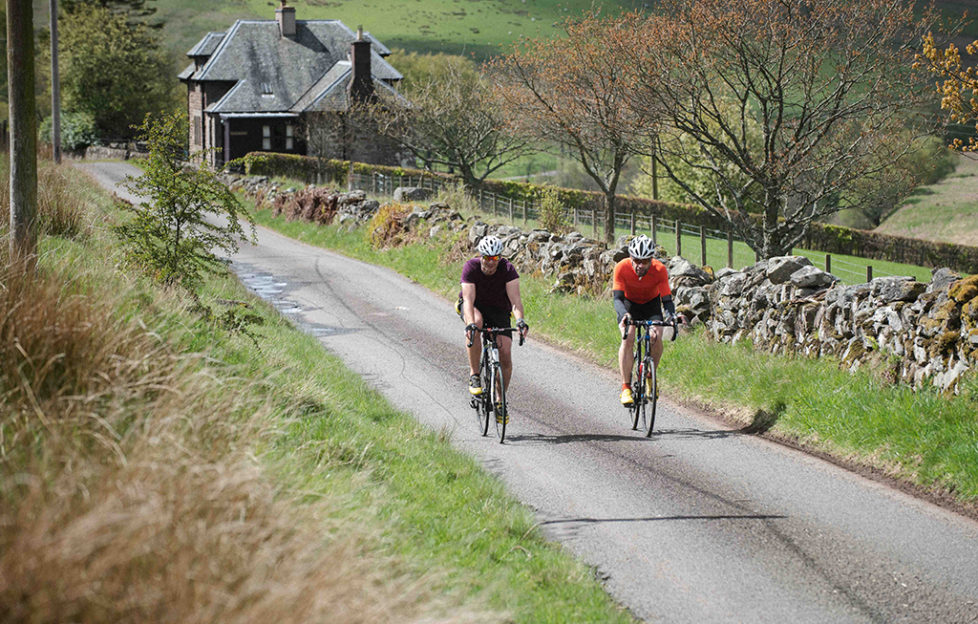 Gleneagles has crowned the winners of its inaugural endurance competition, The Great Adventure Race, in a trail that brought together grit, glory and glamour in equal measure.
Participants dug deep and felt the burn across 55km of Perthshire countryside – encompassing a 4km canoe trail across Loch Earn, a 16km run over the snow caps of Ben Vorlich, and a 35km cycle back to the hotel through the local country roads – before crossing the finish line to the celebratory sound of bagpipes, the welcome sight of Champagne presented on silver platters, and specially-designed 'race recovery canapes' served from the back of a special Gleneagles-branded Land Rover Defender.
The celebrations continued long into the evening, with a Champagne reception, decadent dinner and glamorous prize giving in the hotel's new private celebrations wing, Ochil House, including a feast created by executive chef, Simon Attridge.
Winners, Donnie Campbell and Matt Green, who battled the elements together as Team Salomon celebrated finishing the race in just three hours 53 minutes, while runners-up, Mark Beaumont and his team-mate, former Melrose Rugby Club player, Pete Eccles, came close behind with a finish time of four hours 24 minutes. In third place, Team FINDRA – the first mixed team to pass the finish line – completed the race in four hours 28 minutes.
The newest event on the Scottish sporting calendar, two-day Great Adventure Race experience began the evening before with a carefully curated pre-race banquet and carb-loading dinner.
Participants were given a pre-race pep-talk by fellow participant, ultra-endurance cyclist Mark Beaumont, as well as top tips from Marion Shoote and Tom Hill – endurance athletes and brand ambassadors for luxury Scottish outdoor clothing brand, FINDRA.
As much a luxurious getaway as it was a gruelling test of endurance, the event was a showcase of both the breath-taking Perthshire landscape and the warm Scottish hospitality for which Gleneagles is famed.
Mark Beaumont said: 'Never have I been prouder of Perthshire than being a part of the inaugural Great Adventure Race. I have always loved Perthshire; it's where I grew up and it has been the perfect training ground for expeditions and documentaries that have taken me the world over.
'This is new genre of adventure race, where you can explore the best that Perthshire has to offer, amidst a luxury weekend of fine food, new friends and, best of all, family.'
Joint managing director of Gleneagles, Conor O'Leary, said: 'We were thrilled to launch this exciting new event which saw us welcome participants from around the world for a two-day celebration of the very best that Scotland has to offer – from our beautiful scenery to our world-renowned hospitality.
'It's the perfect opportunity to escape the city, challenge yourself and get closer to nature, before dressing to the nines for an evening of glamour.'
The annual Great Adventure Race at The Gleneagles Hotel has been confirmed next year for 15–16 May 2020.
For more information and to book a place, visit www.gleneagles.com
Since opening its doors in June 1924, Gleneagles has been one of Scotland's most prestigious hotels and sporting estates. Set beneath the Ochil Hills, in the heart of Perthshire, it has been the iconic destination for travellers for nearly a century. Beginning its life in the glamorous age of travel when guests arrived in great style at Gleneagles' very own train station, the 850-acre estate epitomises the natural beauty for which Scotland is famed. With its glorious playground of country pursuits and activities, the hotel is taking centre stage as Scotland's destination venue.