Shooting ladies hit clays and record numbers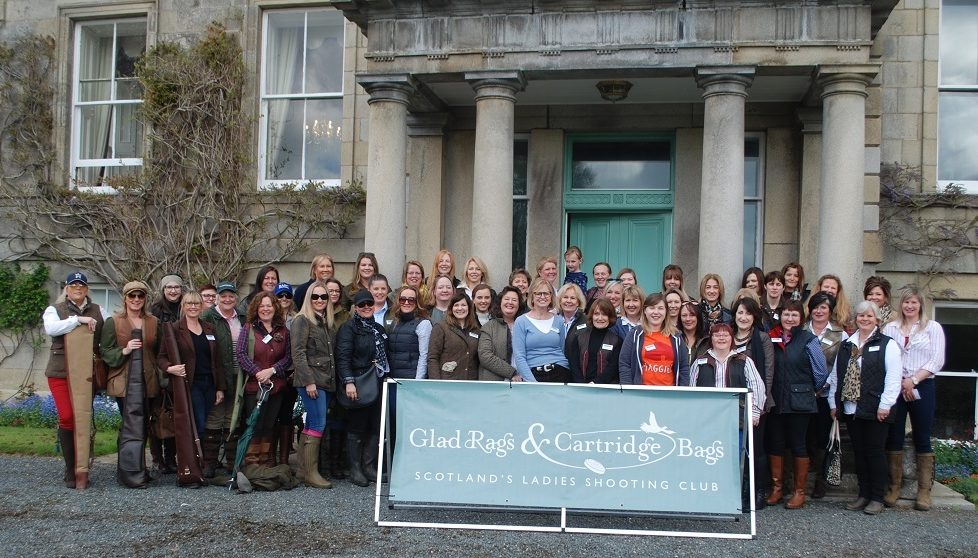 Scotland's premier all female shooting club is going from strength to strength with record numbers attending their latest shoot.
Glad Rags and Cartridge Bags held their shoot on Sunday at the superlative Netherdale House in Turriff.
Glad Rags is unique in that they hold their monthly events at private exclusive venues not at traditional shooting grounds, with the exception being their August event which is at Gleneagles Hotel.
Mhairi Morriss, owner of Jomm Events and founder of Glad Rags and Cartridge Bags, explained: 'I met Louise and Faye the owners of Netherdale House when they came to shoot with Glad Rags. They have done such an amazing job transforming their Georgian B Listed mansion and its grounds into a spectacular luxury bed and breakfast and exclusive events venue.
'It was without a shadow of a doubt the most perfect venue for a Glad Rags event.'
The ladies were greeted in the Deveron Bar before being escorted upstairs to the drawing room for a welcome drink and bacon roll.
In front of the sprawling lawn was where the clay shooting took place, 53 ladies grouped according to their ability enjoyed a morning of clay shooting under instruction. This is a record number for Glad Rags.
Whoops of joy as the clays were smashed could be heard echoing around the gardens and quite a few 'whoopee' dances could be seen as ladies felt the adrenaline rush of hitting their first clay.
Glad Rags is sponsored by Country Ways Aberdeen, ladies if they wish can enter the Country Ways Challenge.
Throughout the year their four best scores from the events they attend go forward, with the final being held at Raemoir House at the club's fifth birthday shoot in November.
As the clouds parted and the warm sun shone down Netherdale's fabulous sitooterie, the Doric for a place where one sits outside, was the next stop for a delicious lunch.
Lois Moyes and Fiona Mcpherson each won a beautiful BASC pendant for being the top gun in their respective groups.
Mhairi is also excited to welcome MHA Henderson Loggie Charted Accountants as sponsors to the club.
Lucy Crow, their tax manager, enthused: 'We are thrilled to be working with Glad Rags and Cartridge Bags and to be sponsoring future events. I am delighted to have been welcomed into such a fun and innovative group and I'm looking forward to getting involved with the club and meeting all the members.'
Glad Rags welcome ladies of all abilities, there is no joining fee and ladies dip in and out of the events as they wish.
Ladies who have not been before are allocated a buddy. If a complete beginner to the sport of shooting they are taught not only the importance of safety but how to shoot properly and are blasting clays in no time.
For the more experienced guns the targets are more difficult. Under the umbrella of Glad Rags ladies can enjoy, clay events, simulated driven days where clays are used instead of live birds and full driven days.
Mhairi is quietly very proud of the club she has created.
She said: 'Who would have thought five years on this is where we are – it's the fantastic ladies who come that make Glad Rags what it is.
'So far 455 individual ladies have shot with us and over 1500 places taken at the 60 events we have held. It's such a pleasure to be part of something so very very special.'
The ladies' next event is Douneside House Hotel on 26th May. For more information and to book www.gladragsandcartridgebags.com or email mhairi@jommevents.com.