Gamekeepers take a shot to help community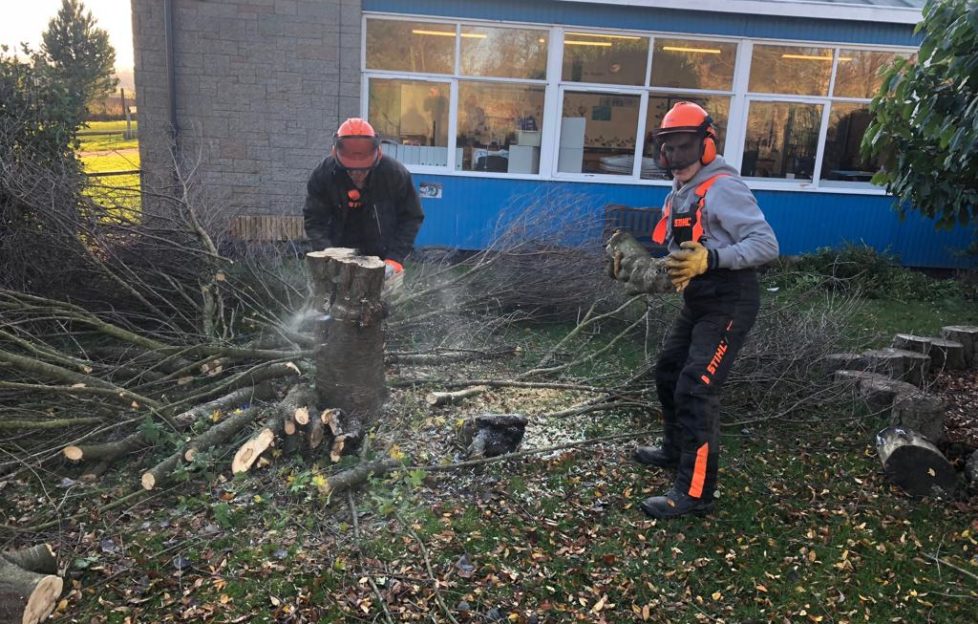 A group of Scots gamekeepers have come together to help save a community playgroup a four figure sum for the encouragement of outdoor learning.
For some time, officials at Edzell Playgroup in Angus have been costing out a revamp of the gardens used by the kids for outdoor play.
However, the quotes they received were too large for the not-for-profit charity to foot alone.
Now, thanks to the elbow grease and willingness from some local gamekeepers, the garden has been given a make-over, with the labour estimated to be worth around £3000.
One of the gamekeepers' kids attends the nursery, with more due to start next year, and it was through this connection the local estate workers learned of the playgroup's need.
Around 20 gamekeepers from Angus Glens Moorland Group (AGMG), devoted a day of their time in the snow to move sheds, lay new bark, paint fences and lay a path.
Local firm Rosehill Timber kindly donated the bark for the flooring.
Fay Vincent, from the Playgroup, said: 'The Edzell Playgroup garden project has been in the pipeline for some time across numerous committees and, unfortunately, the quoted costs has meant that we have struggled to raise enough funds to start the work.
'Thanks to generous help from AGMG, who kindly donated many man hours and materials in challenging weather, we were finally able to take some huge strides towards completing the work.
'The outdoor area is a huge asset, not only to the playgroup but also the church and wider community and it will be exciting to see the children enjoying the space in the coming months.
'We cannot thank everyone enough.'
Gamekeeper Ali Brown, whose son Jamie attends the playgroup, said the helpers were happy to take an afternoon away from the moors for a good cause.
He explained: 'It's important for the little ones to be able to get outside in the fresh air and have a good, safe area to play in. The lads were only too happy to get involved. They appreciate the role local playgroups, nurseries and schools play in keeping communities going.'
Last year, four AGMG members helped tidy up the gardens at Tannadice Nursery School which had become overgrown after council maintenance budgets were cut.
The gamekeepers spent several hours getting to work on trees and bushes with saws and leaf blowers.
The group also helped bring a 'lost' garden at a care facility in Brechin back to use.
Staff connected to The Dalhousie Centre contacted Angus Glens Moorland Group requesting assistance to overhaul a garden which had been overgrown for years.
Twelve gamekeepers from local estates devoted a day to overhauling the outside areas.
Five loads of garden waste and cuttings were removed, with the keepers using chainsaws, strimmers, leaf blowers, tractors and trailers, eventually revealing a garden built on several levels.