Finding the positives in a poor grouse season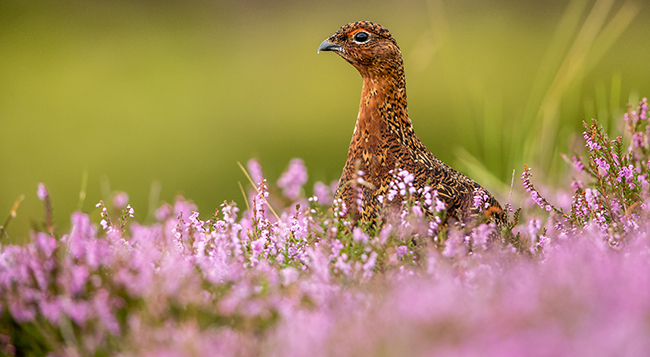 Scotland's grouse sector has taken a hit this year due to the poor weather – but that has not dampened enthusiasm for private investment in vital conservation work.
The financial impact of the poor season, ending today, 10 December, is very significant – due to widespread cancellations of shooting programmes and reduced trade with local businesses.
However, according to the Gift of Grouse campaign, the news comes at a time when conservation efforts are paying dividends, thanks to the employment of gamekeepers funded by estate owners and private investment in conservation.
Ongoing conservation work on moorland across Scotland, including peatland restoration programmes, predator control and habitat management, is producing positive results for rare upland species despite the fall in this year's estate income.
Tim Baynes, director of the Scottish Moorland Group, said: 'Estate owners have taken two major steps which are now having a noticeable effect on our biodiversity.
'Over the long term they have invested considerable sums to manage habitats of benefit to ground-nesting birds and other wildlife. We have seen the success of this investment in places like Strathbraan, where black grouse numbers have rebounded from single figures to 50 this year.
'Secondly, there is increasing collaboration between estates, NGOs and public sector organisations. Initiatives like Wildlife Estates Scotland, Working for Waders, the East Cairngorms Moorland Partnership and Heads up for Hen Harriers, where 27 estates are involved with PAW Scotland partners in looking after Harrier nests, are the way forward.'
Robert Rattray, head of Galbraith Sporting Lets, Scotland's leading sporting agency, said: 'Scottish estates have had to cope with a poor grouse season whilst simultaneously facing a major government review into driven grouse shooting, which is due to report next spring.
'Despite these concerns, most estate owners are feeling optimistic because they have already moved to a model of robust self-regulation with conservation a leading priority. They have taken measures to address the issues that were previously seen to weigh against driven grouse shooting. This puts them in a strong position going forward.'
Scientists from Game Conservancy Germany recorded 103 different bird species at Glenogil Estate in May 2018. The habitat management undertaken by the estate was seen as the key reason for this abundant biodiversity. Other estates have recorded similar level of biodiversity and are involved in conservation work which includes woodland planting, grazing reduction, rotational heather burning, predator and bracken control.
Peatland restoration programmes have been undertaken on grouse moors for the last few years, helping to conserve ideal conditions for rare birds, mammals and plants. This has been done with Government funding and invaluable help from the Cairngorms National Park. Peatland restoration helps to mitigate climate change by locking up more carbon.
Restoration projects this year covered 3,700 acres of land in the Monadhliaths and 1,200 acres in the Cairngorms National Park. The nine estates involved have committed to continuing the work no matter how many years it takes.
As well as 'rewetting' by blocking old drains, the restoration work includes using coir mats, made from coconut husk, which are placed over the bare peat followed by healthy heather, mosses and seed, which allows the peat to regenerate. The projects will require annual progress reports and careful management of grazing on the estates.
Lydia Nibbs of Tomatin Moorland Group, which represents many of the estates undertaking the work in the Monadhliaths, said: 'These crucial projects will help to restore and conserve these uplands so that future generations can enjoy our amazing peatland and blanket bogs. Estates around Tomatin have adopted an innovative, collaborative approach to conservation, at landscape-scale, to achieve significant benefits.
'A significant part of our work, year on year, is to create the right habitat for grouse, other ground-nesting bird species and the mammals, plants and other birds which thrive on our iconic Scottish moorland.'