Boots and Beards celebrating the great outdoors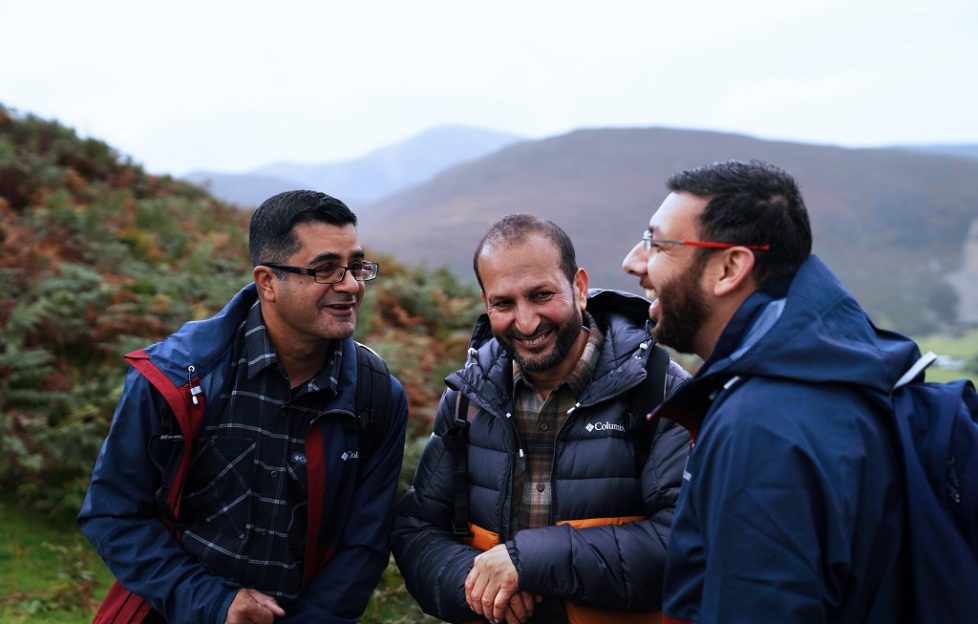 At the heart of Scotland's biggest and busiest city an inspiring movement has been building among Glasgow's ethnic communities.
Meet Boots and Beards. Boots and Beards is a Glasgow-based organisation which focuses on bringing together people from ethnic communities to have fun in the outdoors.
Regulars at Loch Lomond and The Trossachs National Park, the group works with its local residents to improve their health, widen access to the natural environment and help create a better life for present and future generations.
The group was founded by Kash Butt and his brother as a family project aiming to bring his relatives together more often beyond Eid, birthdays and other family get togethers.
'Asian people don't go outside,' said Javed Akhtar, a 60-something printer cartridge salesman from Glasgow.
Javed is a member of Boots and Beards, bringing together people from the city's Asian population.
The group has partnered with Columbia Sportswear as part of its campaign with the UK National Parks to celebrate the diversity of the great outdoors in the UK.
He speaks with an endearing Glasgow patter and has a warmth that typifies the stereotype that Glaswegians are some of the friendliest folk in the UK.
Javed , who is one of Glasgow's 50,000 South Asians, believes that not enough of Scotland's Asian population spend enough time in the outdoors. Some of the barriers he recognises are time and a relationship with work.
He continued: 'They're spending too much time working and not realising the importance of setting time aside for themselves.
'When you're an immigrant you want to climb the ladder, you spend more hours on the job. The first generation that came to Scotland had to make a home for their children and had to work many hours.
'The new generation is different – they're better educated, more professional and work more traditional hours. This gives them more freedom to get outdoors.'
One man who falls under this new generation is Kash Butt, a second generation son of Pakistani migrants and co-founder of Boots and Beards.
Kash founded the community group in 2015 alongside his brother. Set up as an initial family project, its aim was to help bring his relatives together more often beyond Eid, birthdays and other family get togethers. Its early success in galvanising his friends and family prompted Butt to quickly appreciate the opportunity that the initiative had to make a positive, lasting impact on the wider community.
The group now works with its 700 members to deliver its mission of improving their health, widening access to the natural environment and helping create a better life for present and future generations.
Kash is aware of some of the health issues rooted in Scotland. Glasgow has the lowest life expectancy of any UK city at 73 years and 65% of Scottish adults are overweight.
Kash said: 'Our end game is for people to start being more concerned about their physical health and wellbeing. We find these days that people are stuck indoors more – we have so much entertainment at our fingertips. But there's another world out there – one that can benefit health and their wellbeing too.'
The inspiring work of the group has been recognised with numerous national awards and its success has given rise to a sister group, Bonnie Boots, a female-based community promoting the same messages for women.
Columbia launched the new campaign in partnership with the UK National Parks that celebrates and promotes diversity and inclusivity in the great outdoors.
With the belief that the outdoors are for everyone irrespective of race, class, creed or ability, Columbia is supporting a number of community groups and charities across the UK to shine a light on the inspiring work they undertake to bring the outdoors to a broader audience.
The campaign showcases the power the outdoors possesses in unifying communities, improving health and wellbeing and connecting us with nature.
Columbia has partnered with a number of diverse not-for-profit initiatives to celebrate and share they fantastic work they do as well as providing them with their latest seasonal apparel whilst on shoot to help keep them in the outdoors for longer.
Since its inception in 2015, Boots and Beards has evolved into a sprawling community that touches the lives of its many members. From its outdoors programme to fitness bootcamps, the group has been fulfilling its mission to make a lasting positive impact on its community.
Eoin Treacy, UK Marketing Manager at Columbia said: 'We've been inspired by the groups we are supporting who are helping increase access to some of the country's most beautiful spots. Their work is bringing the many benefits of the great outdoors to new audiences – encouraging more people to get outside.
'We're proud to be able to share their stories on how they're work is galvanising their communities to leave a lasting positive impact."
Naomi Conway, partnerships director at the UK National Parks said: 'It doesn't matter who you are, we know that getting out into nature makes you feel better about yourself and more connected to the people you share that experience with.
'With Columbia, we want to inspire as many people as possible to experience that great feeling for themselves. National Parks are the best places to do that – especially if it's new to you or you are trying things for the first time.'
Find out more about Boots and Beards HERE.
The campaign extends Columbia's ongoing partnership with the UK National Parks who are the official outfitter of National Parks Rangers and staff. For more information visit https://www.columbiasportswear.co.uk