Amber gets the green light to collect award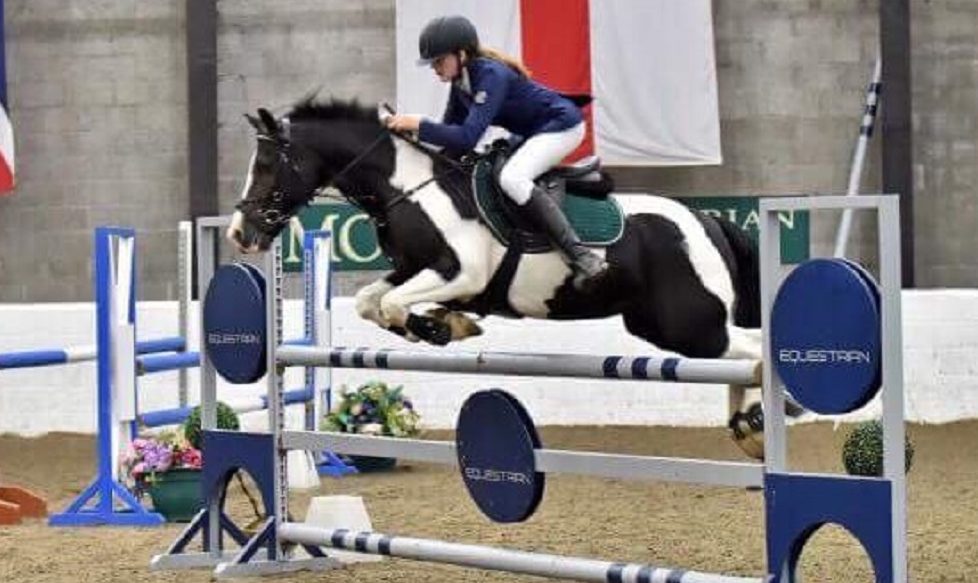 Dunfermline's Amber McCullough becomes the NAF Shining Star for July, for her outstanding showjumping.
The 15-year-old Amber McCullough received the honour from British Showjumping through sheer hard work, dedication and ambition.
Amber was nominated for the award by Aileen Craig, Lead Coach for the Central Scotland Academy.
Aileen, who submitted the nomination alongside Training Co-Ordinator Lorraine Kennedy and Level 2 Coach Kelly Connor, said: 'Amber joined the Central Scotland Academy in March 2015 having jumped up to 70cm with her field-kept pony Quantro III without the benefit of formal lessons.
'She has worked extremely hard to step up to Foxhunter/1.10m level with him and this year decided to focus this year on her ultimate ambition which was to qualify for the JC Championship Final at the Royal Highland Show.
'Attending every qualifier – frustratingly without success – made her all the more determined and at the very last chance at the Ian Stark Equestrian Centre, she secured her place in the coveted final and will have everlasting memories of a great round at the prestigious Royal Highland Show.
'Now too tall for Quantro, Amber is making the difficult but necessary decision to find a fabulous home for her "pony of a million" and will move on to horses next year.
'She has shown commitment, dedication, she always attends lessons with a smile on her face and is a role model for our younger riders, we wish her well in her future in senior British Showjumping.'
After finding out that she had won this month's NAF Shining Star, Amber said: 'I am over the moon to have been given this award! Quantro is my first pony and as he is 14hh, I have had to work hard with him so that we can compete in the 148cm classes.
'My main aim this year was to qualify for the Royal Highland Show and I was thrilled to have done it. I love going to all of the training and academy shows and I really enjoy the Showjumping circuit.'
Branwen Griffin from award sponsor NAF added: 'Amber has come so far is such a short space of time. Her hard work, perseverance and dedication to both her pony Quantro and the Central Scotland Academy are true qualities of a deserving Shining Star.
'We are delighted Amber has been chosen as this month's Shining Star, what a fitting end to a wonderful partnership and great successes with Quantro. We are really looking forward to following Amber's Senior career. Congratulations Amber!'
Amber will receive some NAF equine products to use alongside the NAF Superflex that she is already using.
The NAF Shining Star Award was introduced when NAF became a British Showjumping Business Partner. The award is for members of a Junior Academy who have shown a great deal of commitment, progression and outstanding behaviour along with their riding ability and much more. Riders are nominated by their lead coach, and then judged and awarded by NAF to one person each month.