Mountain biking competitors will find Perth is the wheel deal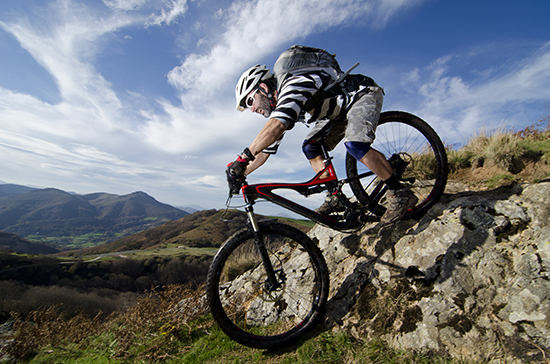 Mountain biking enthusiasts will descend on Perth later this year for the only Enduro World Series Qualifier will take place in Scotland.
Muckmedden Events, organisers of Muckin' Good mountain bike events, has announced that their Fair City Enduro mountain bike race will be an Enduro World Series (EWS) qualifier event in 2018.
There are 50 official EWS Qualifiers spread across 25 countries and four continents in 2018 and Fair City Enduro will be the only event staged in Scotland.
The sixth annual fancy-dress mountain bike race, which will be held in the Fair City of Perth, on 27 October, and is now widely regarded as one of the top mountain bike Enduros in the UK, thanks to a mix of world class mountain biking and some truly outlandish outfits.
Aaron Gray, organiser at Muckmedden Events was delighted to receive the news: 'I'm ecstatic that Fair City Enduro has been selected as Scotland's only EWS qualifier this year.
'This is a great opportunity to not only showcase the quality of mountain biking we have to offer in Perthshire to a wider audience, but to promote Tayside and Fife as a mountain bike destination in its own right.
'It's no secret that Scotland boasts some truly world class mountain bike trails and I'm delighted that this part of the country is now being recognised internationally.'
Enduro is the fastest growing discipline in mountain bike racing, currently attracting big budget factory racing teams and high-profile riders and generating a huge amount of media attention globally.
It is testament to the growing reputation of Perthshire-based Muckmedden Events that Fair City Enduro was selected as one of an exclusive group of Qualifier Events for the 2019 Enduro World Series.
Chris Ball, director of The Enduro World Series, said: 'We are always looking for exciting new events and venues to enhance the Enduro World Series and felt that Fair City Enduro fitted the bill very well.
'Being hosted in Perth, one of Scotland's most vibrant small cities, the event has an excellent reputation within mountain biking circles and has a city centre base that will be easily accessible for both national and international visitors.
'I'm very pleased to welcome Muckmedden Events into the EWS family and look forward to working with their team in 2018.'
Muckmedden have also revealed a sensational events line-up for 2018, including two family-friendly weekender festivals – Cream O' The Croft (Comrie Croft, Perthshire, 15-17 June) and The Eliminator MTB Festival (Newburgh, Fife, 31 August-02 September).
Arron added: Cream o' the Croft and The Eliminator festivals are perfect for everyone who loves the outdoors.
'They are especially good for families with young kids as admission to under-6s is completely free, and apart from food and drink all activities and entertainment is included in the entry fee for anyone over six.
'This means parents aren't constantly reaching for money whenever the kids want to do anything. Camping is on-site too so adults can have a few drinks and watch some bands while the kids enjoy acres of traffic-free countryside and a bunch of fun activities.'