Celebrate Burns' Night 2017 with Aberlour A'Bunadh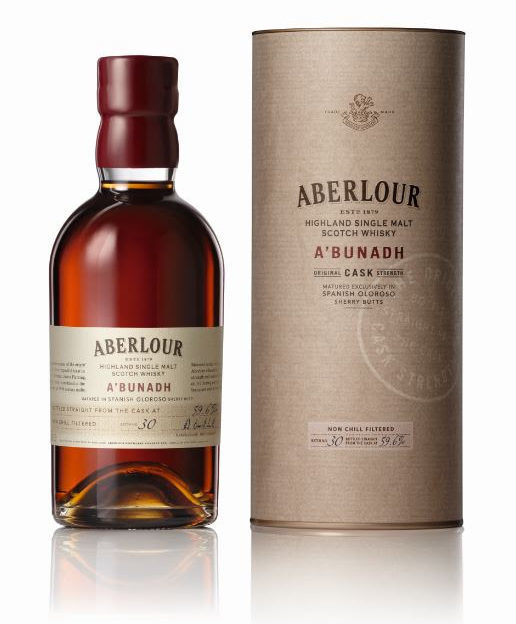 Celebrate the birthday of Scotland's most famous poet as he would have wanted you to, with a wee dram of exceptional single malt. On the 25 January raise a glass of Aberlour A'bunadh – the cult favourite expression from the world renowned Aberlour distillery.
Robert Burns once said that 'freedom and whisky gang thegither', a phrase ever so quintessentially Scottish, capturing the land's history for strength and courage. Notorious for his love of a good single malt, the spirit features in a selection of Burns' most legendary works. Year after year, people of Scotland and beyond come together for one night to celebrate the poet's birth with a supper of haggis, neeps and tatties. So, if you're planning on your own gathering, you'll need a bottle that's fit for a true Scottish feast.
A'bunadh, Gaelic for 'of the origin', is as intriguing as its tale. In 1975, during the installation of two new stills, workmen discovered a time capsule within the distillery's exterior walls that contained a bottle of Aberlour with a newspaper from 1898 wrapped around it. A lost single malt reborn, A'bunadh is an endeavour to re-create the original style of Aberlour whisky from that period.
Honouring the original vision of its pioneering founder James Fleming, Aberlour A'bunadh pays tribute to the time-honoured methods honed over 130 years of traditional whisky production, uses a skilful selection of Spanish Oloroso sherry butts to enhance the whisky's distinctive rich and complex tasting notes.
This 2016 IWSC award-winning cask strength Scotch whisky is produced without the use of modern chill-filtering methods, resulting in a dark, luxurious and rich whisky. This delicious malt encompasses aromas of praline harmonising with spiced oranges and notes of black cherries, ginger and flickers of dark chocolate. The robust and intense finish makes this a deliciously indulgent dram, memorably flavoursome with an intense raisin character.
Made by hand and released in small batches, Aberlour A'bunadh has achieved cult status among whisky enthusiasts. Its reputation gives this exceptional liquid the authority to respectfully toast to Scotland's favourite son's, the bard himself, Robert Burns and Aberlour's founder James Fleming.
This amber nectar is made in the heart of Scotland in the village of Aberlour, surrounded by the dramatic highland scenery of Ben Rinnes. The distillery lies upon the banks of the River Spey at the point where it meets the Lour burn. This unique positioning allows the distillery's craftsmen to draw exceptionally pure, soft spring water from nearby springs, used to make Aberlour whisky. Cascading down over mossy waterfalls and through wooded glens, its constant chatter can be heard as it flows past the distillery to join the Spey at Aberlour.