Campaigners bid to protect Aberdeenshire countryside from road development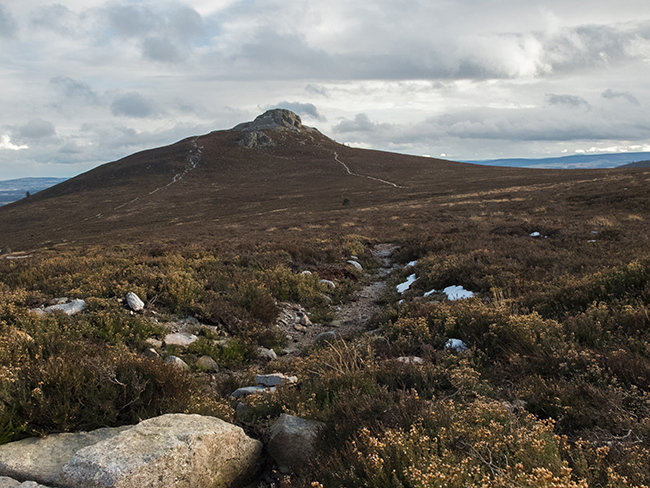 A campaign to protect Aberdeenshire's famous Bennachie hills from development during the expansion of the A96 is gathering pace.
The Scottish Government plans that the A96 Inverness-Aberdeen road will be upgraded/re-routed to dual carriageway status by 2030, but two of the route options under consideration around Inverurie will impact Bennachie and its surrounding areas.
Design consultants Amey Arup were appointed in July this year for a two-year, £33 million contract covering the design and delivery of the Eastern Section-Huntly-Aberdeen.
Amey Arup will come up with their preferred route options within two years of the contract award. The final decision on the actual route will be made by the Cabinet Secretary for Economy, Jobs and Fair Work, and the Minister for Transport.
Amey Arup have held their first public consultations in Inverurie, Huntly and Blackburn, which were well attended.
They will now consult stakeholders such as community councils, Aberdeenshire Council and national organisations.
As well as being a sight of natural beauty, an Iron Age fort can be found at the summit of the Mither Tap, the most outstanding peak which offers incredible views of the surrounding Aberdeenshire countryside.
A strictly non-political group has been established to protect Bennachie and its surrounding area from the development.
More than 1000 individual members have joined forces with local and national organisations including the Bailies of Bennachie, Oyne Community Association, Kemnay, Kintore , Cluny, Midmar and Monymusk Community Councils, Mountaineering Scotland, North East Mountain Trust, Cosmic Hillbashers, Cairngorm Club, Ramblers Scotland, Woodland Trust, Inverurie Business Association, and Aberdeenshire Environmental Forum.
The campaign also has cross-party support as north east MSPs, Bill Bowman, Alexander Burnett, Peter Chapman, Liam Kerr, Lewis Macdonald, Jenny Marra, Gillian Martin, Tom Mason and Mike Rumbles, the MP for Gordon, Colin Clark, Andrew Bowie the MP for West Aberdeenshire, and Lord Bruce of Bennachie all came together to publish a joint statement, saying that: 'it would be completely inappropriate and unacceptable to site the new dual carriageway anywhere likely to impact adversely on the integrity of Bennachie and its surrounding area.'
The Save Bennachie Facebook page has has over 2500 followers and the group's website has had nearly 33,000 page views since launching.
Around 150,000 visitors come to Bennachie annually for recreational purposes. With recently awarded Special Landscape Area status, an unspoiled Bennachie is a valuable and massively used resource in terms of physical and mental health, education and tourism. As the oil and gas industry declines, so the importance of tourism to the area will increase, bringing many economic benefits to the local economy.
The group say it is therefore increasingly important to protect and preserve Bennachie.
Routes crossing the foothills of Bennachie would be at a high level, with safety and winter resilience issues.
The group say these routes would be at a distance from centres of industry and population, so would have a negative impact on economic growth, and offer no opportunity for promoting an integrated transport network and the use of public transport.
The Save Bennachie Campaign firmly believes that siting the dual carriageway to the east of Inverurie would create significant opportunities for the whole area.
A spokesman said: 'We are calling on the Minister for Transport and Cabinet Secretary for the Economy, Jobs and Fair Work to rule out the route options which would impact Bennachie at the earliest opportunity.
The coming months will be critical for the future of Bennachie as we have come to know it.'
Full details of the campaign can be found HERE.