New scheme gives pupils skills for land-based sector careers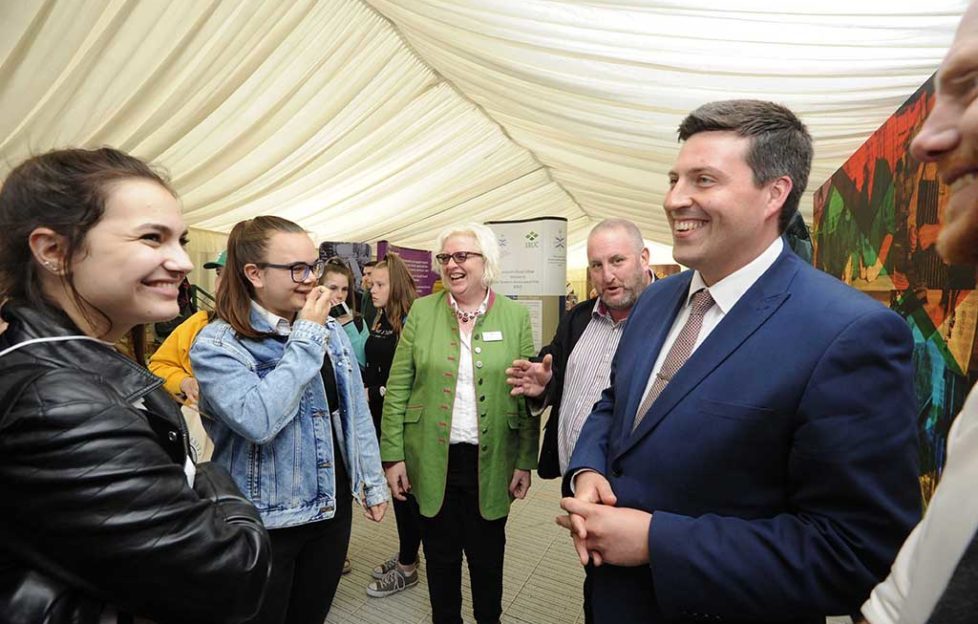 A new partnership between Scotland's Rural College and East Lothian Council will give secondary school pupils the skills to work in the land-based sector.
Pupils will have the chance to work in SRUC's laboratories and the college's Rural Skills outreach programme will see lecturers deliver classes in East Lothian two days a week.
During a visit to the SRUC stand at the Royal Highland Show, Jamie Hepburn, Scotland's Employability and Skills Minister, praised the scheme.
He said: 'This is a fantastic initiative, which will enable secondary school pupils from across East Lothian the opportunity to work towards a Scottish Vocational Qualification by gaining valuable lab-based work experience in partnership with Scotland's Rural College.
'Opportunities such as these are to be welcomed as a first step in encouraging pupils to explore the variety of careers available in the land-based sector.'
Thanks to support from Skills Development Scotland, five pupils from Dunbar Grammar School and another from Haddington's Knox Academy will undertake a Foundation Apprenticeship in Scientific Technologies.
Over the next two years, the pupils will work towards a Scottish Vocational Qualification (SVQ) by doing a variety of lab-based work, where they will assist some of SRUC's world-leading scientists.
Professor Jamie Newbold, academic director at SRUC, said: 'The Royal Highland Show was the perfect setting to introduce these East Lothian pupils to the enormous range of careers that might be available to them.
'Getting to experience at first hand the kind of work that goes on in the industry is invaluable. With the Foundation Apprenticeship, we want to dispel this myth that laboratory work is all about wearing white coats and filling pipettes, while our rural skills programme will provide pupils with a solid stepping stone towards further study and an eventual career in the land-based sector.'
The Rural Skills programme will see a group of 14 to 16-year-old pupils from Musselburgh Grammar, Knox Academy, Preston Lodge (Prestonpans) and Ross High (Tranent) work towards a National Progression Award (NPA) aimed at those who wish to consider a career in the land-based sector.
Shamin Akhtar, East Lothian Council's cabinet spokesperson for Education and Children's Services, said: 'We are committed to providing our young people with the best possible education, supporting and encouraging them to achieve their very best. We aspire to furnish pupils with the skills that they require to flourish in jobs of the future, many of which do not yet exist.
'Our partnership with SRUC, both in land-based industries and through the Scientific Technologies Foundation Apprenticeship, is central to our strategic plan to develop the foundations of our regional agricultural workforce.'
To find out more about studying at SRUC, visit www.sruc.ac.uk