A helping hand with human side of engineering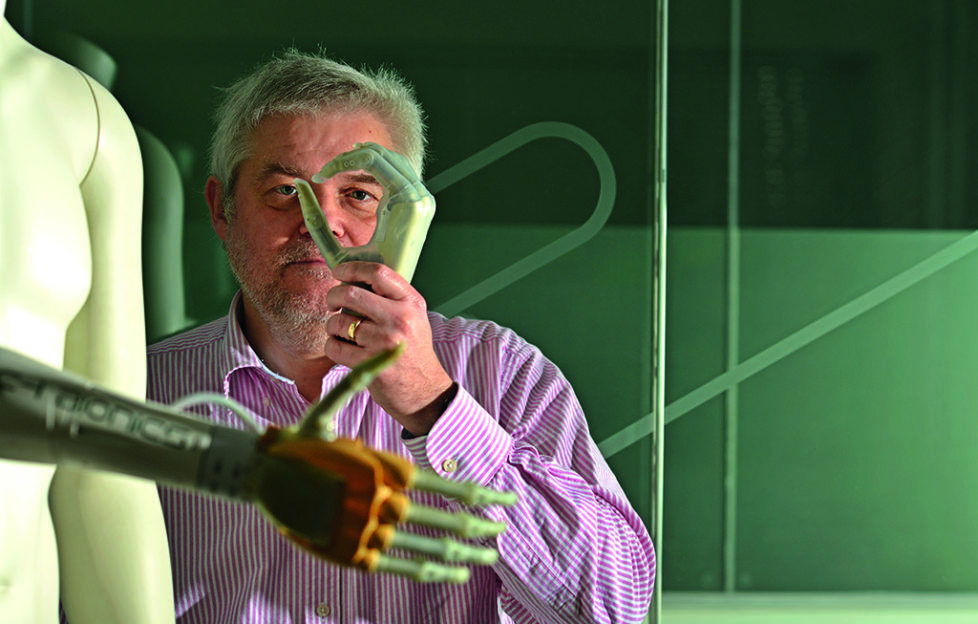 David Gow's invention of a bionic hand has dramatically improved the lives of thousands of patients.
The Livingston man tells Scottish Field about the human side of engineering.
What inspired you to work with artificial hands?
I remember watching an episode of the television series Tomorrow's World in which children in Sweden had been fitted with electric hands. I was attracted to those kinds of off-beat uses of engineering skills. Those kids brought it home to me that there were ways of applying engineering that I'd never even thought about. I think I'd always harboured a wish to do something outside of main stream industry.
What were the first steps you took with your work?
I went from doing research at the University of Edinburgh to working with the NHS in 1984. We were trying to develop control systems for existing artificial hands. We didn't set out to build a new artificial hand but that came as we realised the limitations of the ones we were trying to control. If you work in a university you can build something that's just a research toy. But when you start working with patients in the NHS, you realise you need to make something that is reliable and safe.
Did you have a eureka moment?
At the time, most of the ideas in the field were around designing something for adults and then shrinking it down for children. But I took the opposite view – start small and then grow bigger. We were designing electric arms and hands at the same time. But we couldn't get the hands down from the size for nine-year-olds to sizes for pre-school children. It was a real stumbling block.
The breakthrough moment came when I was watching my wife's exercise bike in action – part of it had come loose and should have been static but was moving. It was rotating through the arc of a circle and was cylindrical and looked like a finger. It was a worm and wheel, a fairly standard engineering concept – it can't drive backwards so it locks when you take the power off. I went away and got miniature gears from model railways shops, and made the fi rst fingers. We eventually scaled up that system for arms too.
How many of your bionic hands have been fitted?
More than 4,000. The market is small – there are not hundreds of millions of people who need artificial limbs, maybe just two or three million worldwide. That's why a lot of the market will always be in the USA and Europe. The hands cost upwards of £10,000 each.
How does it feel to have changed so many people's lives?
I feel very humble. People think it's false modesty but I genuinely believe this is a really simple idea. It's a mechanical engineer's solution to a complex problem. It's a worm and wheel, an idea that's as old as the hills – Leonardo da Vinci drew worms and wheels. What I'm most proud of is that it was simple enough for us to build it and that we persevered over a period of ten to 15 years to get it to market. I was determined not to leave it as just another research idea.
You set up Touch Bionics in 2003 to make the hands, and you left in 2009 to focus on your work with the NHS. What are you working on at the moment?
Some military veterans have already been fitted with the hand at the Defence Medical Rehabilitation Unit at Headley Court in Surrey. Last year the NHS announced it would set up a veterans' service in Edinburgh and Glasgow, which I'm involved with. The hand will be available to those eligible, both civilian and military, from 1 April this year.
How did it feel to see one of your hands in the video for 'Scream & Shout' by will.i.am and Britney Spears?
Fortunately, I did know who will.i.am and Britney Spears were! I thought it was quite cool and I got a lot of street cred with my nieces and their school pals. The technology is sexy. People say it's like getting their fingers back. It's so new and different and looks like a robot and so that's what people want for music videos. I wouldn't pretend to know what the song was about but it was good to see the hand in the video!
This feature was originally published in 2014.