Whisky celebration for a decade of the Bruadairs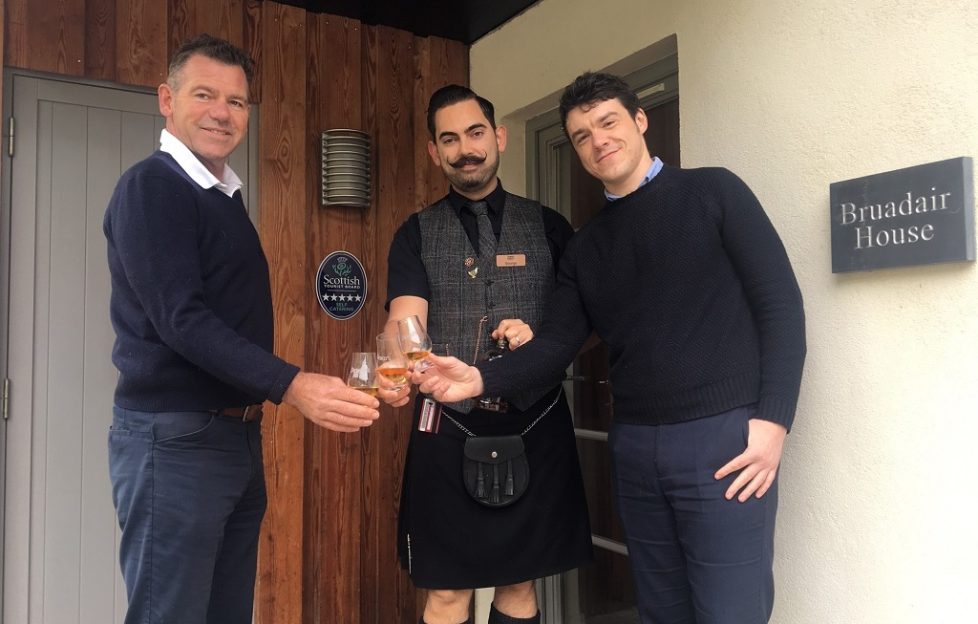 The tenth anniversary of popular houses on the country estate have been toasted by their whisky partner.
George Dark, one of the kilted whisky guides from Dewar's Aberfeldy Distillery, has raised a dram to the ever-popular Bruadair Houses on the Mains of Taymouth 5 star Country Estate & Golf Course at nearby Kenmore, along with estate owner Robin Menzies.
The award winning self-catering estate is currently celebrating the fact that it's ten years since the three contemporary new build houses, which each sleep between eight and ten people, joined its lettings portfolio.
They have proved themselves extremely popular with guests from all over the world, who are often those welcomed by Dewar's when visiting its nearby distillery in Aberfeldy.
Dewar's has become Mains of Taymouth's largest business customer, with the estate being asked to provide accommodation for groups from all over the world, including Spain, Lebanon, Dubai, and the USA.
The Bruadairs – Easter Bruadair, Wester Bruadair, and Bruadair House – were designed by local architects McKenzie Strickland, and constructed by esteemed builders, Blairish Restorations, just like all the other new build properties on the Mains of Taymouth Estate, which now range from one and two bedroom Maxwells villas, to two bedroom Gallops apartments, to the modern mews houses of Castle Gardens sleeping up to eight guests.
The Bruadair Houses have private owners, who receive a good return on their investment through Mains of Taymouth's vibrant lettings scene.
Robin Menzies said: 'Our thanks go to George from Dewar's Aberfeldy Distillery for coming along today, together with Simon Robinson, who is the brand home sales, marketing and events manager for Dewar's too.
'We are very grateful for all the custom we get from Dewar's – we are a good fit for their overseas colleagues coming from afar, who can enjoy the very best of what luxury Scotland has to offer here in this area, and be not too far from the distillery itself.'
Brand home ambassador Matthew Cordiner from Dewar's said: 'I would like to congratulate Mains of Taymouth on the 10 year anniversary of the Bruadair properties.
'They provide the perfect setting to complement our efforts in inspiring our visitors about Dewar's blended Scotch and Aberfeldy single malt whisky.
'The team are always really helpful and welcoming – it's a real home from home.'