Ruined Wardhouse is a dream home waiting to happen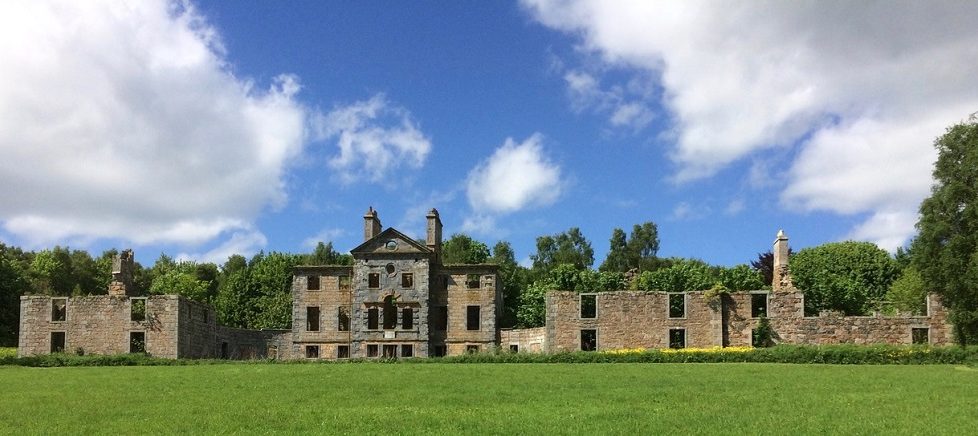 A ruined grand palladian mansion is for sale in Aberdeenshire.
Wardhouse, near Insch, has been left to the elements for 65 years, but the time is right for it to be revived and restored.
Designed by John Adam in 1757, Wardhouse was the childhood haunt of Napoleonic Admiral Sir James Alexander Gordon, on whose life CS Forester based his fictional character Horatio Hornblower.
After James Gordon built Wardhouse in 1757 it has passed to a number of family owners.
Occupied until after the war, sadly in the early 20th century the family, who by now were known as 'Spanish Gordons', sold the estate in 1952, and shortly afterwards the roof and interior were removed.
Since then, it has been left to the elements.
Retired architect Douglas Forrest said: 'I first saw Wardhouse in 1985 with my first major conservation and regeneration project client for a huge project at Grade A listed Cullen House in Cullen, Moray, which was successfully completed in 1987.
'We went out "appraising" a number of other historic building opportunities in the north east for future projects together and that took us to Wardhouse along with others
'We approached down the long Weets road from the East passing through Wardhouse Home Farm by renowned Architect Archibald Simpson, c1835.
'We met a farmer, and as we were uninvited and unannounced, we were not surprised that the farmer had few words but consented to us in continuing on to have a look at Wardhouse, which was a part of his farm.
'Nothing had prepared me for what we discovered as we continued for several 100 metres to arrive at Wardhouse.
'I was immediately struck by the spectacular architectural style and siting of the Wardhouse Mansion with views out over farmland and hills beyond including Bennachie, The Buck, Tap O Noth, Dunnydeer and the Coreen Hills.
'The mansion was obviously an impressive Palladian Mansion with an enormous first floor Palladian window looking South over "designed landscape" to hills beyond.
'In his excellent Illustrated Architectural Guide To Gordon District (now part of Aberdeenshire ) the late Ian Shepherd, in 1994, wondered if Wardhouse was built by James Gordon in 1757 to rival Haddo House by Architect William Adam.
'He concluded that Wardhouse, by William Adam's son John Adam, "readily surpasses it" – these are the most evocative names in 17th and 18th century Scottish architecture, William Adam and his sons Robert John and James who worked throughout Scotland.'
Douglas admitted that the Wardhouse structure is a sleeping architectural giant.
He said: 'Almost 20 years after after my fumbling and awkward first unannounced visit to Wardhouse in 1985 I had a meeting with Angela, an excellent conservation architect, in my architectural practice in Huntly and I suggested, why don't we get a Wardhouse project underway?
'We prepared a "masterplan" for the land which could make a project work and ensure that Wardhouse will own the curtilage of land around it which it has had since it was built 1757.
'We approached the farmers who owned the land and we made an "offer" for the land and various redundant structures including Wardhouse.
'We lodged a detailed planning application/listed building consent application for the whole project which was approved.'
The regeneration of Wardhouse has approval for seven domestic dwellings created with virtually no external alteration and also a new garage court.
Each of the 'component' parts of the Wardhouse Palladian Mansion can can easily be recognised from the external photos.
A well has been formed which gives ample water for all the sites on Wardhouse Estate.
Douglas added: 'In 2003 Wardhouse Estate Was formed and the project masterplan was commenced with great success and eight awards for conservation, new design, and regeneration
'I am now retired from architectural practice and in view of that and the MS which I live with, it is time for a new owner to finish this magnificent project.'
The property has a guide price of £500,000.
For more details, contact Theresa at Peterkins on 01466 792101 or email TC@peterkins.com, or call Douglas T Forrest on 0777 909 5003, or email him at douglastforrest@gmail.com.