Developer is all set to launch a trio of new showhomes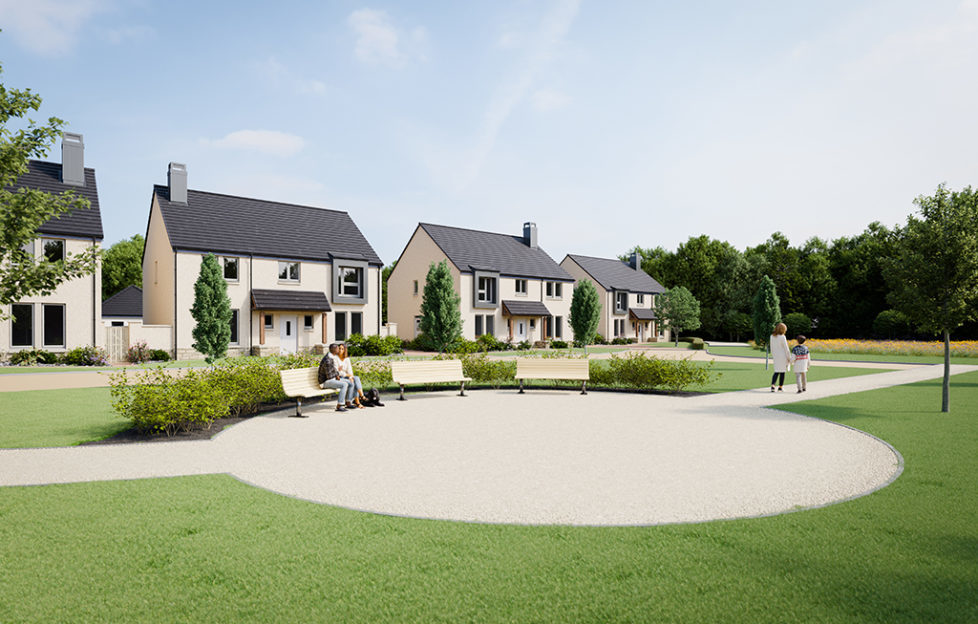 Two idyllic developments offering the 'best of both worlds' are set to launch their new showhomes in East Lothian later this month.
CALA Homes (East) will be presenting two new showhomes at Letham Views in Haddington next Saturday, 25 August. The Gullane development, Fentoun Green, will also welcome its new showhome on the same day.
Set in the backdrop of the Lammermuir Hills and situated on the western edge of the market town of Haddington, Letham Views' four and five bedroom homes are suited to both commuters and families alike, offering all the space and convenience modern families desire in the tranquillity of a rural town while maintaining transport links into the capital.
The development's two new five bedroom showhomes – The Lowther and The Moncrief – have been stylishly designed by Blocc interiors.
Suzanne Thomas, creative sales director at Blocc who oversaw the project from start to finish, said: 'The two showhomes at Letham Views – The Moncrief and The Lowther – will allow buyers to envisage their dream home in this picturesque setting.
'The Moncrief is fresh, young and vibrant, with stylish geometric print feature wallpaper and funky modern light fittings.
'It has been designed to be more playful with colour, particularly in the details like scatter cushions and artwork, with pops of pink, blue, coral and pale mint – but by using tonal white and greys to pull it all together, we've created a soft and modern Nordic feel.
'The Lowther is suited to a more mature taste, with an elegant classic modern style. We started this home just after we came back from the Maison and Objet interior design show in Paris – which is the largest of its kind in Europe – so that had a huge influence on the design.
'We've used a lot of sophisticated mulberry reds, navy, dusty pink and gold tones for a really sumptuous finish.
'Teamed with straight lined black and dark wood furniture, gold artwork and light fittings, The Lowther will tick all of the boxes for both style and practicality.'
Moving out towards the scenic coastline, Fentoun Green in Gullane will also welcome its new showhome later this month. The development offers potential buyers all the benefits of its idyllic coastal village location and a selection of spacious three, four and five bedroom semi-detached and detached family homes.
With well-connected picturesque walkways nearby such as the John Muir Way, award-winning beaches including Gullane Bents beach and world renowned championship links golf courses dotted along the 'Golf Coast Road', Fentoun Green is perfectly position for those looking to take advantage of all the lifestyle perks that East Lothian has to offer.
Eileen Kesson, lead designer at Envision, said: 'As Fentoun Green is based in a beautiful coastal location, we were keen to use the subtle organic tones of the beach and coastline.
'When designing The Thompson, we were keen to showcase the light and airy layout of the house which exudes a sense of calm.
'The palette used reflects on-trend chalky pinks with pale stone and some charcoal. Although the combinations are soft, they are also stylish.
'"Furniture used throughout the main areas are chunky woven rattan and vintage washed wood to create an elegant but comfortable "lived in" feel.
'Meanwhile, the ground floor of the house has a fantastic circularity of layout, with finishes and materials designed to create a harmonious flow from room to room.
'Our aim was to create a tranquil and welcoming atmosphere at Fentoun Green without losing the stylish showhome feel expected of a CALA development.'
The showhomes at Letham Views and Fentoun Green will both launch on Saturday 25 August. With only a 16-minute drive between the two, savvy house hunters will easily be able to view both developments, taking in a glimpse of life in the rolling countryside and by the sea.
Philip Hogg, sales and marketing director with CALA Homes (East), said: 'With developments in two of the region's most sought-after locations, those looking to trade up to mores space locally or move to the tranquillity of East Lothian will be spoilt for choice.
'Both Letham Views and Fentoun Green offer buyers the best of both worlds – spacious homes in idyllic picturesque locations, yet only 20 miles away from the centre of the busy capital.
'We're delighted to welcome buyers to both developments and see the fantastic interiors that both Blocc and Envision have created for our showhomes.'
Prices for homes at Fentoun Green are from £469,000 to £735,000, while homes at Letham Views are from £525,000 to £625,000.
Click HERE to find out more about CALA Homes' developments around East Lothian.