The sky's the limit for interior designer Margot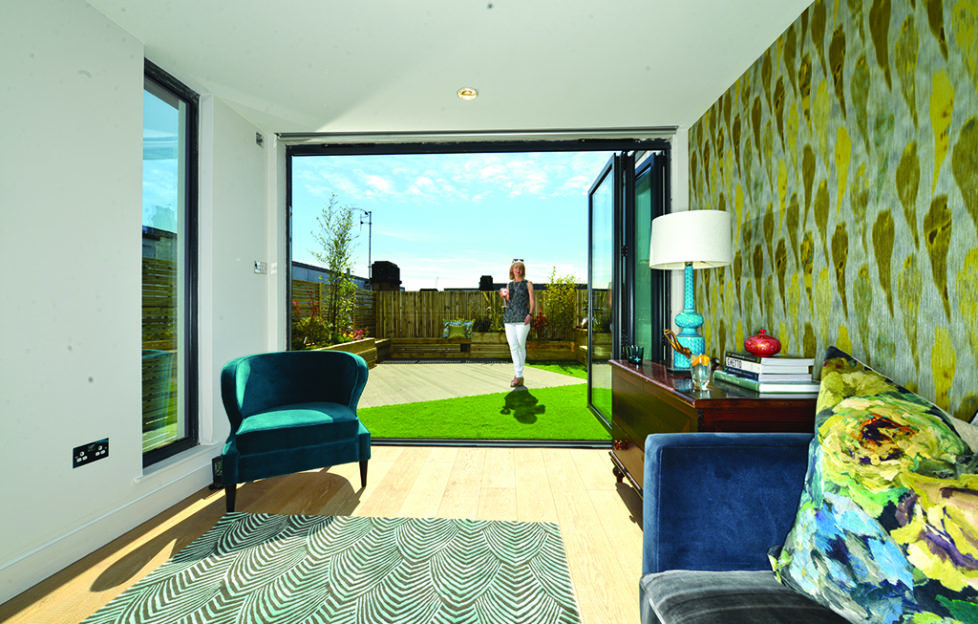 Margot Paton's home definitely doesn't look like a work in progress, but if it wasn't she wouldn't still be there.
As the owner of Glasgow interior design company Chelsea McLaine, Margot is a serial mover and renovator. Interiors are not just her passion and her work, they are also her hobby.
Her current home, in the west end of the city, however, is one that very nearly didn't happen.
'I needed a three-bedroom house, but I wanted something a bit quirky. This place was not what I was looking for. But my son, who works in property development, and my PA told me to come and see this.'
The property in question was part of a development in a former telephone exchange.
'I came in thinking, "This really isn't for me," but it was a Friday evening in July and the way the light came in from all the different angles was gorgeous and I soon changed my mind – everything about it was right,' Margot recalls.
'It feels more like a house than an apartment because it's on several different levels and it's certainly not a rectangular footprint. We moved in less than three weeks later.'
The previous owners hadn't altered the developer's original scheme, which appealed to Margot as it meant she had plenty of scope to put her own stamp on the place.
'We bought it ten years ago – it's the longest I've ever lived in the same house before,' she says. 'However, there's just been so much to do – and we're still making changes.
'The developer hadn't made use of all the space and there were quite a lot of areas that were closed off, such as the mezzanine. Our ceilings are almost 15 feet high, so we opened up these spaces to make dressing rooms for two of the bedrooms. The bathrooms are under the mezzanine and the dressing rooms are on top, so we gained a lot. We're about to do the same in the utility room.'
Margot also reconfigured the bathrooms. Initially there was an en-suite and a master bathroom, but now all three bedrooms are en-suite, and there's a powder room for guests.
'The master bedroom did have a dressing room, but we moved it upstairs and stole a bit of the existing bathroom to create an en-suite for the second bedroom. We've used a lot of pocket doors as they really maximise the space.'
The other major structural change was to the windowless internal kitchen. 'We entertain a lot and I like to cook, and I didn't want to be stuck in what felt like a cupboard,' says Margot.
'So we took down the wall to link it to the living space, changed the cabinetry and gave it a moodier feel to tie in with the living room.'
The latest part of the project to be completed is the garden room. While there was always a garden on the roof, it was accessed by a space
that wasn't much more than a landing.
'My partner, David, would say that he was the impetus behind the garden room. He wanted to develop the space to house his handcrafted chair – a beautiful piece made by people involved in a mental-health project at the nearby Gartnavel Hospital.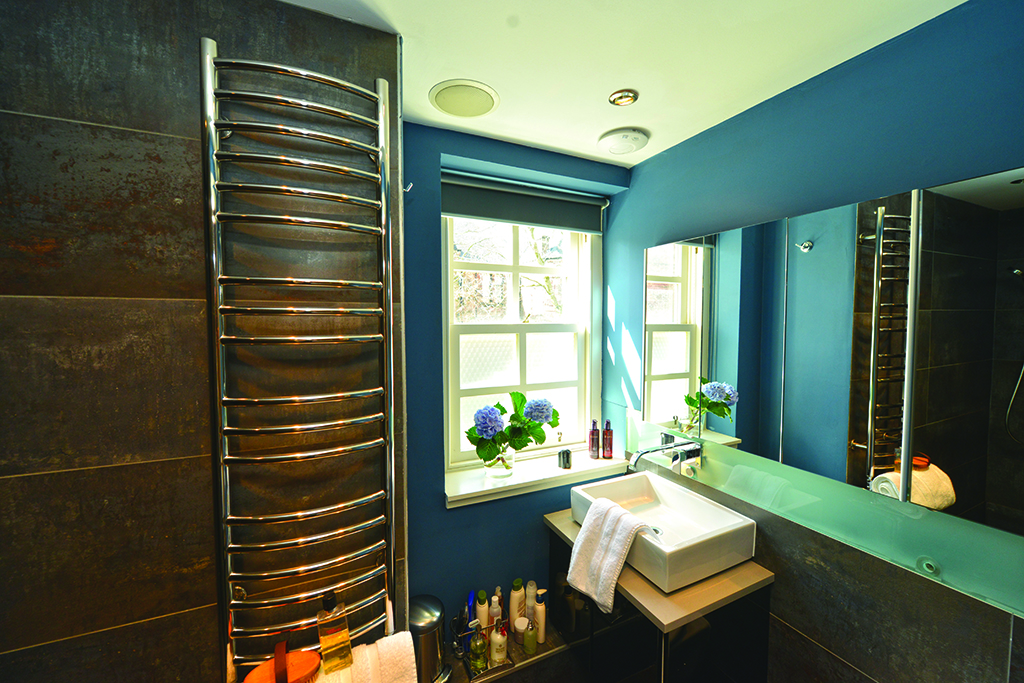 'The chair aside, we extended the internal space, installed bi-fold doors and landscaped the exterior. Alan Park, a friend of David's, was the architect for the interior space, while local company Earth Angels designed and installed the garden area. We just love this space – we have greenery all year round with very little maintenance, and sitting up here at night among the rooftops and sparkling lights, you can almost imagine you're in Rio!'
It is also, she says, the one room in the house where she could really go for colour. 'The wallpaper is from Arte, a Belgian company, and it's actually vinyl, if you can believe it.
'We also commissioned the hand-dyed velvet sofa. We chose the design of the sofa and the fabric came from a French company called Métaphores. It's been specially treated to make it incredibly durable – I poured a double espresso on it to check, and it just ran off!'
The final splash of colour comes courtesy of a painting commissioned from local artist Garry Brander. 'We like to support Scottish art,' says Margot. 'This painting shows a barn in Portland, Oregon, that was owned by the last surviving member of David's dad's bomber crew from the Second World War, so it's quite special to us. I just love the vibrant colours in Garry's work too.'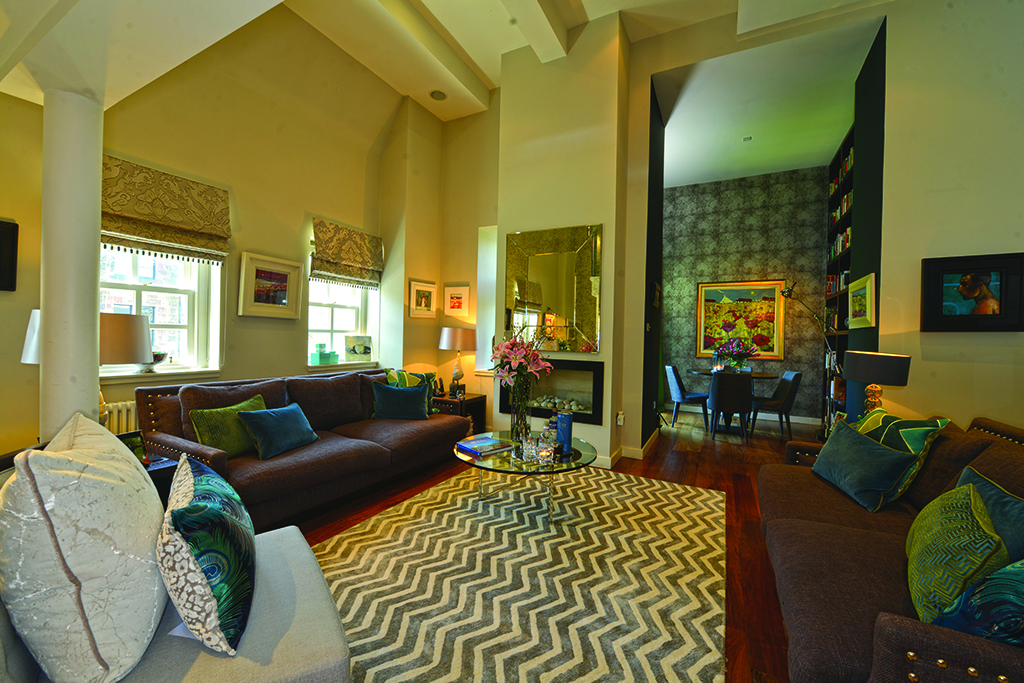 This is clearly a great house for entertaining, and Margot and David often have friends, family and even clients to stay. 'The split-level layout works really well because we have more than one living space. I can have a group of girls in and David can have the boys over to watch the football, and you don't even realise the other party is going on.'
It doesn't look as if there is much more to be done in this stunning apartment, but Margot still has a number of big plans up her sleeve.
'Our next project is the stair. We're going to make it wider and add some double doors in the sitting room by taking away the cupboard. For a modern house, the storage is great, so losing a cupboard isn't deadly. We're also relocating the laundry room and creating a cinema room. And we're about to extend the kitchen into the dining area and put in an island. I'm looking forward to extending the kitchen – it's the only thing we maybe should have done earlier.
'However, we entertained more when my sons were younger and the house has evolved. In general, it works really well.'
For the time being, Margot has plenty to keep her occupied – but what happens if that comes to an end? 'I need to be able to re-imagine the space often because it's my work, but it's also my hobby. I don't think I'll ever complete this house, but if I do, I'll have to move.'
This feature was originally published in September 2016.