Beautiful Gamefield offers the great escape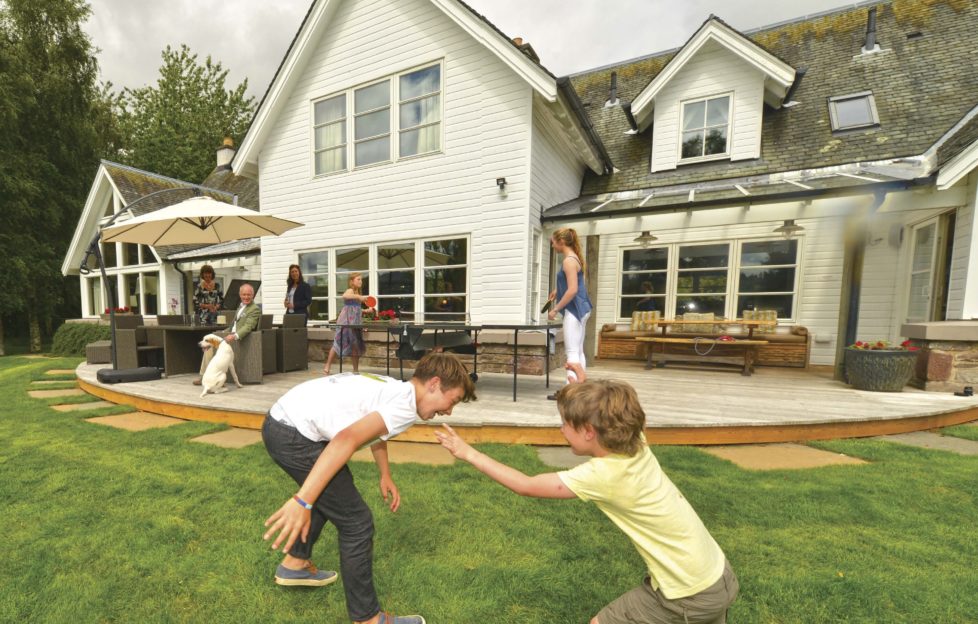 Buying and selling houses is what William Frame does best – so why has he hung on to his family's holiday retreat in Crieff for so long? Gamefield, as a visit there proves, seems just too good to let go.
William Frame readily admits that he rarely forms an attachment to the houses he lives in, but Gamefield near Crieff might just have stolen his heart, for a little while anyway.
Nicknamed the Boy Scout in his early property career, William moves pretty much every couple of years. The properties he buys are looked at very much as 'works in progress', to be either developed and added to his rental portfolio, or renovated and sold on.
So Gamefield, on the Ochtertyre Estate near Crieff, is a bit of a departure for him. He bought the house in 1998 as a holiday home, but he and his family – wife Wendy, daughters Amber and India, and sons Archie and Sam – are still using and enjoying it.
'I'm not usually very attached to where I live,' William explains. 'It's always about the project and the learning curve – I enjoy the process of renovating and building. Even our family home at the moment is one we're looking at renovating, we're just waiting for the plans to come through.'
Gamefield, though, has been a longer-term project. 'It was a 1960s monstrosity when I bought it 18 years ago,' he recalls. 'It took a couple of years to get planning permission – I wanted to knock it down and build anew, and this is a conservation area in the countryside. I worked on the plans with an architect, Jamie Denholm of the Denholm Partnership, and together we designed a house for the site, one that would maximise the views, the light and, when it appears, the sunshine.'
The build started in January 2001 and was complete by April 2002, and nothing was spared when it came to the details.
Inspired by his travels to New Zealand, Canada and Australia, William wanted to create a house that embraced outdoor living. 'I'd seen lots of new-builds in New Zealand, and I was very aware that architects there really take the site into account when they're designing a house.' On hilly terrain, he noticed, they would build into the hillside to maximise the view, while they would pay keen attention to where the light and the sun would be.
'Their climate is quite similar to Scotland's and they have very changeable weather but they still create great outdoor spaces that can be used all year round and in any weather, and that's what I've tried to do with Gamefield,' he adds. 'We maximised the light from morning until night, and all year round too.'
Denholm suggested subtle architectural features such as the low window sills as well as the dramatic double-height glazing, and these help to bring in more light and add to the character. 'The outdoor seating area is semicovered too, so you can sit out on a rainy day if it's warm or a December morning if it's sunny because the winter sun is low.'
Adding a wood-burning stove in the summer-house, a drinks fridge, loungers, a barbecue and a hot tub also ensures that fun can be had all year round.
If the siting of the house was all aboutmaximising the natural light, the interior has been focused on creating a flexible and welcoming space. Interior designers Adams & Adams and Fiona Rodger were brought in to furnish the rooms and have contributed a mix of bespoke and modern statement pieces from design houses such as Julian Chichester, Clock House and Porta Romana. On the fabric front, Mulberry throws and curtains by Designers Guild add texture and warmth.
The muted walls are adorned with eclectic works by contemporary Scottish artists and ANTA tweed covers the classic, serpentine staircase. The kitchen was built and handpainted by local company Monzie Joinery, while roaring log fires and the obligatory Aga allow for entertaining on a grand scale, especially during the winter. Even the dogs have been thought of: there are outdoor kennels and they're allowed in the house too.
'Gamefield was built to suit the rental market,' says William, 'though with four children, you can't go wrong with five spacious bedrooms and five bathrooms, four of them en-suite. The house is quite simply designed for entertaining. The dining table seats 12, there's a separate family room, a formal dining room and an open-plan kitchen-dining space. So there's plenty of room for everyone to co-exist happily indoors and out. The kids can be watching TV in one room, and Wendy and I can be reading in another. We also have the Indie House – a separate two-bedroom cottage in the grounds – if we need more space.
'In the end it was Wendy who suggested we should keep Gamefield for ourselves and let it out when we're not using it, which has worked really well for us. We've even started hosting intimate bespoke weddings and the occasional day event here.'
So, after 18 years, has the Boy Scout reformed? It sounds suspiciously like William has become attached to a property.
(This feature was originally published in 2016)