Start now to add colour to your spring garden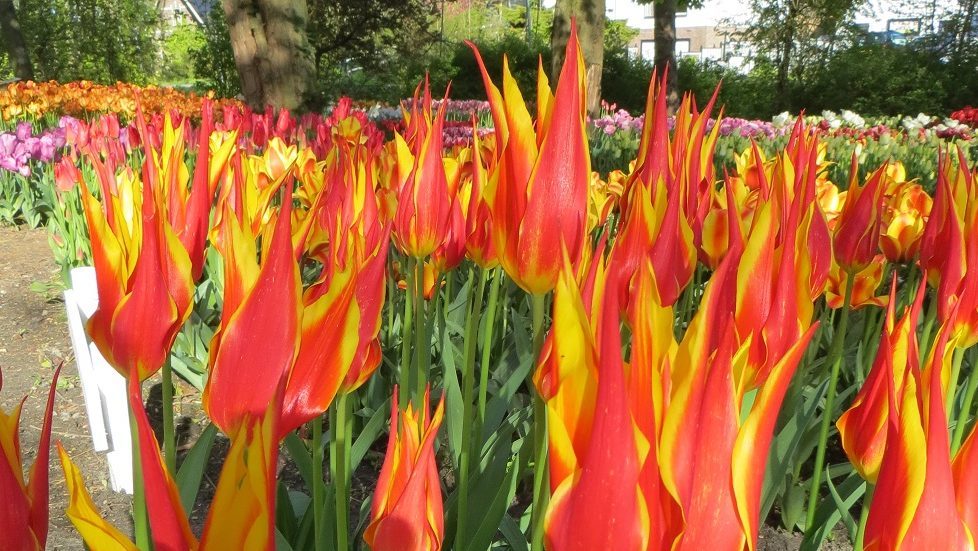 The autumn nights may be drawing in, but now is the ideal time to get outside and sow the seeds of success for a vibrant garden next spring.
The traditional sight of daffodils certainly brings some sunshine cheer, but why not mix up the go-to spring flower with these beautiful bloom ideas from Dobbies Garden Centres?
Available both in-store and online at Dobbies.com, resident gardening expert and senior plant buyer at Dobbies, Louise Golden, shares her advice to get your garden looking ship-shape for a colourful season ahead.
The mild weather is the perfect time to get your gardening gloves on and start planting, just before
the cold of winter sets in.
Tulip Fly Away – These flowers are a striking colour and take the most unusual shape, with beautiful red and yellow flame-like flowers. Mass planting of these bulbs creates the impression of dancing flames flying into the air when they bloom in April/May. Growing to about 55cm/22", this eye-catching variety also works well in pots or containers. £3.99 each or 3 for £10.
Tulip the First – This is a very early flowering variety of tulip, producing attractive striped red and white flowers which sit above dark green foliage in March. These are shorter Tulips, around 20cm/8", so are perfect for pots, containers or at the front of your favourite flower beds. £3.99 each or 3 for £10.
Crocus Orange Monarch – This is the first orange crocus to be available and reflects the colours of the Monarch Butterfly beautifully. Flowering in the early spring, it will produce blooms with lovely citrus orange petals, marked on the outside with purple-black feathering and veining, making the clusters of flowers very appealing. Perfect for creating impact by planting in swathes, on slopes or banks, in rockeries, beds or borders for a stunning display in the garden or simply grown in pots on the patio. They will naturalise well and will guarantee a colourful spring garden for years. You will also find that your garden becomes a hive of activity as Crocus Orange Monarch attracts bees and other pollinators. They have the official seal of approval, carrying The RHS Plants for Pollinators mark which is only given to plants that support pollinating insects in gardens. £3.99 each of 3 for £10.
Allium Schubertii – Creates a beautiful spectacle in any garden. Each stunning bloom has two levels of deep rose-coloured flowers, one half which remains close to the stem and the other half will shoot out on longer stalks, making the head look even more like an exploding firework than other alliums. This variety carries the RHS Plant for Pollinators logo and will make your garden a hive of activity with bees and other pollinators buzzing about. These bulbs will burst into flower in late spring to early summer, enjoying full sun and ready to catch everyone's eye. They can also be used for floral arrangements or dried for use as decoration. £3.99 each of 3 for £10.
Anemone Bordeaux – With deeply rich coloured blooms, this is a stunning early season flower. Once established, this charming garden plant will bloom annually, with buds emerging in mid-late spring from a clump of parsley-like leaves. The blooms are on single stems about 30cm high and are cup shaped, with rich burgundy petals surrounding a puff of black stamens. They thrive in a sheltered spot in the garden that gets full sun and the soil is baked in the summer. Try at the front of a bed or border, or in a pot on the patio for gorgeous early colour and cut a few to bring indoors. £3.99 each or 3 for £10.
Erythronium White Beauty – An unusual and eye-catching 'Dog's Tooth Violet', the Erythronium White Beauty has striking curved petals that look as though they have been peeled back from the bloom. Flowering in April, they reach about 20cms on leafless stems with touches of bronze and yellow at the base of the petals. These flowers love the shade and grow well in clumps near trees or walls, or in a container to brighten up an otherwise dull corner. £3.99 each of 3 for £10.