There's more to his paintings than meets the eye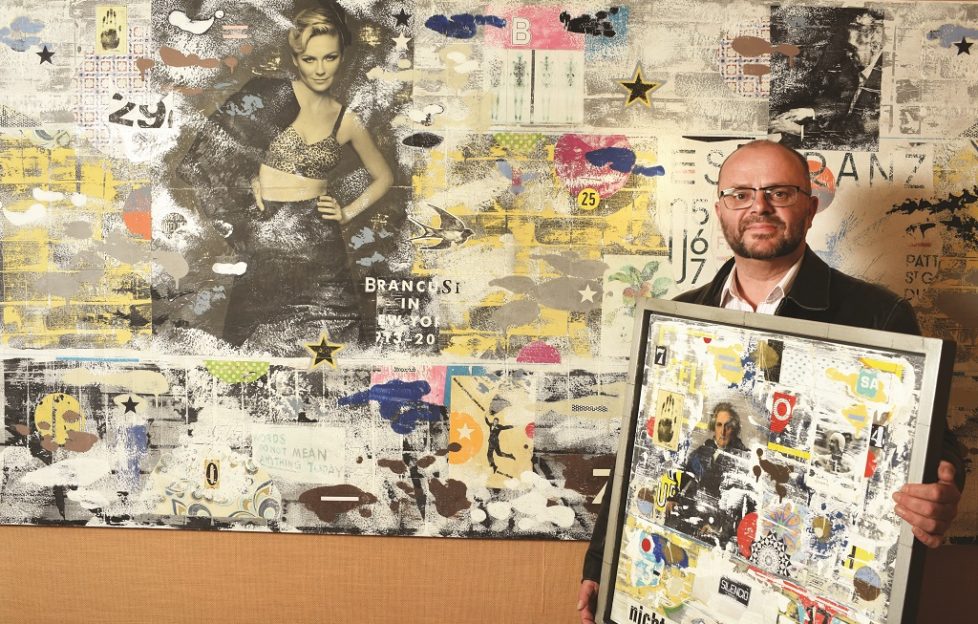 What do Liverpool football player Mohamed Salah, a dog with flowers on its head and singer-songwriter Ray LaMontagne have in common?
To the untrained eye: nothing.
But to Stonehaven-based artist Colin Brown, putting these images together on a canvas makes perfect sense: 'It's about putting a piece together, balancing structure and composition. The placement of each piece is crucial. I choose it with great patience, really looking at it and deciding where things go. Everything has to go in exactly the right spot; it has to relate.'
Colin's collage paintings are inspired by 'all types of contemporary culture', with a strong influence from Germany, and Berlin in particular. Uneven surfaces, splodges of unmixed paint – ranging from regular household paints to the highest quality oils – and posters torn from Berlin walls give his work a sense of urban decay.
'If you tear something off a wall, often what it leaves behind is interesting as well,' says Colin. 'It's layers, human histories. A band could play in Berlin and there's a poster, then the next month it could be a theatre production so that goes on top of the band's posters.
'The posters are often thick on the wall. It's human history, evolution and change – that's what the work is to me.'
Colin normally starts by painting the background before applying large pieces of collage followed by smaller details, which are revisited time and time again to ensure they are in the right place.
Despite some key themes emanating throughout his work, Colin's paintings are mostly abstract and his focus is on creating well-structured pieces rather than provoking a specific response.
'I think people have got to invest something of themselves in these. I'm not spoon-feeding anyone; I'm just making a painting that excites me and that's part of my history and culture and what I've learned from being an artist all these years.'
As well as his abstract works, Colin creates football collages using old tickets, programme covers, football cards and pictures of past and contemporary players.
The series started out with commissions for friends then Colin did some pieces inspired by his favourite team, Hibs, and the club later bought one of these. 'They're good fun and I like to do things that do have a reference too rather than purely abstract,' he explains.
A more recent development is a series of collaged records. 'I did one for my son who was 21 this year. He's a huge house music fan so I went to the charity shop and bought some old records and did paintings. I also did one on Talking Heads – my favourite band.'
For more information on Colin Brown's work go to www.colinbrown.eu.