New art exhibition goes back to Scottish shipyards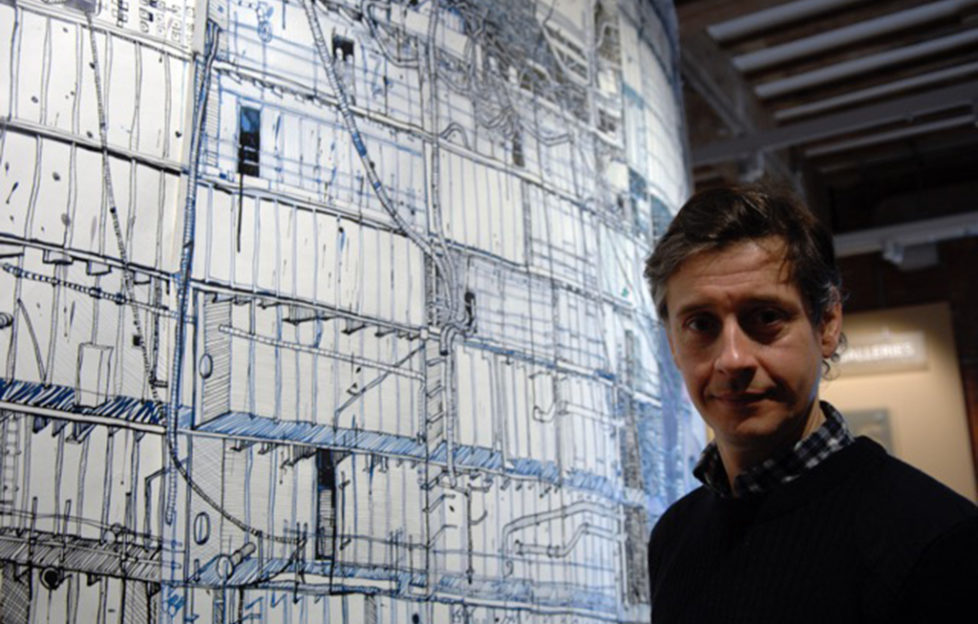 Shipyard, a solo exhibition exploring contemporary shipbuilding by Lachlan Goudie, is now open.
The Glasgow Art Club is presenting the exhibition, running until 7 June, at 185 Bath Street, Glasgow.
Shipyard is a remarkable exhibition capturing the work, vibrancy and renewed optimism at shipyards on the Clyde and Forth, created by renowned Scottish artist, and broadcaster, Lachlan Goudie.
An unprecedented artistic exploration of contemporary Scottish shipbuilding across a range of different mediums, Shipyard draws on hundreds of images Goudie created at Scotstoun, Govan and Rosyth over a seven year study between 2009 and 2016.
Around 70 artworks document the construction of the next generation of Britain's naval vessels – the world leading Type 45 Destroyers and the monolithic Queen Elizabeth class aircraft carriers. Bringing to life both modern construction and the thousands of skilled shipyard workers creating these giant vessels, they range up to 3m x 2m in size and from oil and gouache paintings, pen and ink drawings to sketches, sculptures, wood cuts and large charcoal portraits.
Goudie first developed a fascination with shipbuilding whilst growing up on the Clyde. As a child, it was the past glory days of 'Clydebuilt' ships that captured his imagination, not the stark reality of industrial decline that he witnessed. Hence when construction on the Royal Navy's newest and biggest aircraft carrier commenced, he was determined to document the monumental engineering project and record modern shipbuilding.
He said: 'Shipyards are awe-inspiring places… the sublime sense of scale and energy, the furious and relentless pace of component panels being assembled into towering monuments of steel.
'There is noise, there is chaos and fire, there's a visceral sense that you're part of a vast, industrial organism that will spit you out of the way, unless you watch your step.
'As an artist, you hardly want to blink for fear that you'll miss a bizarre, unworldly juxtaposition of shapes, colours, pipes and scaffolding.
'Yet, it was also important to me to capture the shipyard workers. Walking in I might have expected machismo and aggression but instead I foundwelders, gaffers, sparks and chippies intense and sensitive people intrigued by what I was creating.
'It has been a great privilege to document the extraordinary work of the Scottish shipyards and the character, openness and identity of the people that make everything happen.'
Lachlan, born in 1976, is following in his father's footsteps as a painter himself as well as writing and presenting the BBC television series The Story of Scottish Art (2015) and presenting a BBC documentary celebrating the 150th anniversary of the birth of CR Mackintosh (2018). Lachlan is currently a judge on the popular BBC television series, The Big Painting Challenge.
Lachlan's father, the figurative painter Alexander Goudie was an active member of the Club.
Lachlan is delighted to be showing his work with the GAC: 'The Glasgow Art Club featured prominently in my childhood. My father was a member during the 70s and 80s, a period when the membership included some of the most celebrated, rumbustious and opinionated artists in Scotland.
'I loved nothing more than sneaking in with my dad and watching him play snooker with his friends or settling myself into the leather armchairs and listening to him chat raucously over a whisky and through a cloud of cigar smoke.
'I remember the club as an exciting and boisterous place, an establishment that reverberated with the memory of all those great painters, sculptors and architects who helped create its unique atmosphere. The club is a cradle of artistic tradition but also, inevitably, of creative exuberance, experiment and unconventional characters.
'I am proud to be exhibiting in a gallery that was decorated in part by Charles Rennie Mackintosh and where my father himself exhibited on many occasions, alongside his distinguished contemporaries.'
Entry to the exhibition is free. Public access Mon – Sat, 11am – 5pm.
Simply ring the doorbell for access.
Visit www.glasgowartclub.co.uk for more details.