Finding colour and light to bring her art to life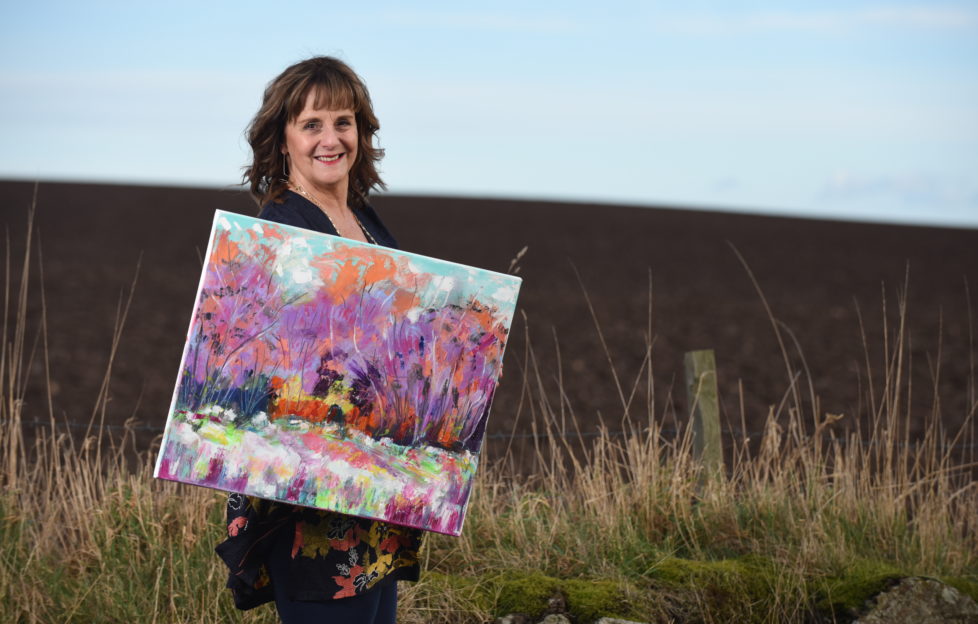 The north east of Scotland has it all – dazzling sunsets, dusty beaches, mountainous landscapes and beautiful wildlife.
While many of us marvel at these remarkable scenes, perhaps snapping a photo for Instagram, Aberdeenshire artist Jane Birrell sees an entirely different beauty in the landscape.
'Capturing a moment in time', Jane explains how her masterpieces celebrate the essence of Scotland, but her novel style and colourful palette are a unique and beautiful interpretation of the environment.
Globetrotter Jane is originally from Lanarkshire but made Aberdeen her adopted home when she was 17. After graduating from Gray's School of Art she pursued a career as an art teacher, dedicating her working life to the trade. From an early stage in her artistic
career, Jane chose to use her maiden name as her artist name as tribute to her late father – a keen artist himself, he was a great inspiration to Jane.
'As a child I loved art and I had an inspirational art teacher at school,' said Jane, reflecting on her childhood. 'She gave me advice on which art schools to apply to. I got into Gray's and at that point I thought, 'this is just meant to be, I'll just go for it'. So I did!'
Going on to become a secondary school teacher at Oldmachar Academy, Jane was able to practice her metier day in day out for six years.
In 1988 Jane relocated to the Middle East. Her new surroundings proved to be great stimuli for her work – with popular silver jewellery and Arabian architecture as influences, she delved into Arabian artistic trends, using gold paint and gold leaf foil to create many of her pieces.
When talking of her style, Jane freely admits it has evolved over the years – a trait she believes is crucial for any artist.
'I would say I'm a colourist, expressive and slightly impressionistic. A lot of artists churn out the same thing again and again, but that's not me. I want to be exploring and changing all the time.'
Energised by her environment, Jane constantly looks to explore her media and look at the surrounding environment with fresh eyes. In Scotland, for instance, Jane is largely influenced by the coast, wildlife and the vivid colours she sees in the landscape. In the Emirates, though, a completely different piece of art will evolve, often inspired by palm trees or exotic plants.
Teaching in schools in America and the Emirates, her artistic experience grew even more. She also worked as a university lecturer in oil painting, fashion and textiles, was part of the British School of Muscat, and passed on her knowledge to youngsters at Dubai College in the art and technical departments.
Despite her busy schedule abroad, Jane also found time to teach children on Saturday mornings and gave ladies watercolour classes in the evening.
Returning to her beloved Aberdeen in 2000, Jane was offered a position at her former employment at Oldmachar Academy – a school with a dynamic art and design department – and began her journey with the art festival North East Open Studios. At this point in her career, she began work on some of her most popular pieces – the Highland cows – which helped establish her name in the Aberdeenshire art scene.
'With the cows especially, I always felt if it brought a wee smile to people's faces, then I've done my job. That's what I'm aiming for in most of my work these days – some sort of reaction and joy. There's enough sadness and horror in the world and I want to celebrate the natural world which is so precious, making people feel uplifted.'
Commenting on her use of radiant colour, Jane explained, 'When I first began painting the cows, they were still quite brown, but I began looking for other colours within their coats and started enhancing and pulling up the other colours I could see. I tend to look at things and completely change the colours to be imaginative.'
Working with mixed media, no two pieces of Jane's are the same. From oils to cold wax, she showcases her ability to create different textures.
Constantly developing, Jane is perhaps best known for her animal paintings. Paying close attention to detail, she carefully studies the structure of their bodies to create an accurate depiction of the beast.
She is in no way limited to animals though – she has also produced some stunning landscapes, drawing from her surroundings with every brushstroke.
Jane's sprightly artwork makes for an eye-catching change to the norm – not only does she find colour in the greyest of days in Aberdeenshire, she is able to transform it into a vibrant sanctuary for all to enjoy.