Artist Katie's work explores the Blue Planet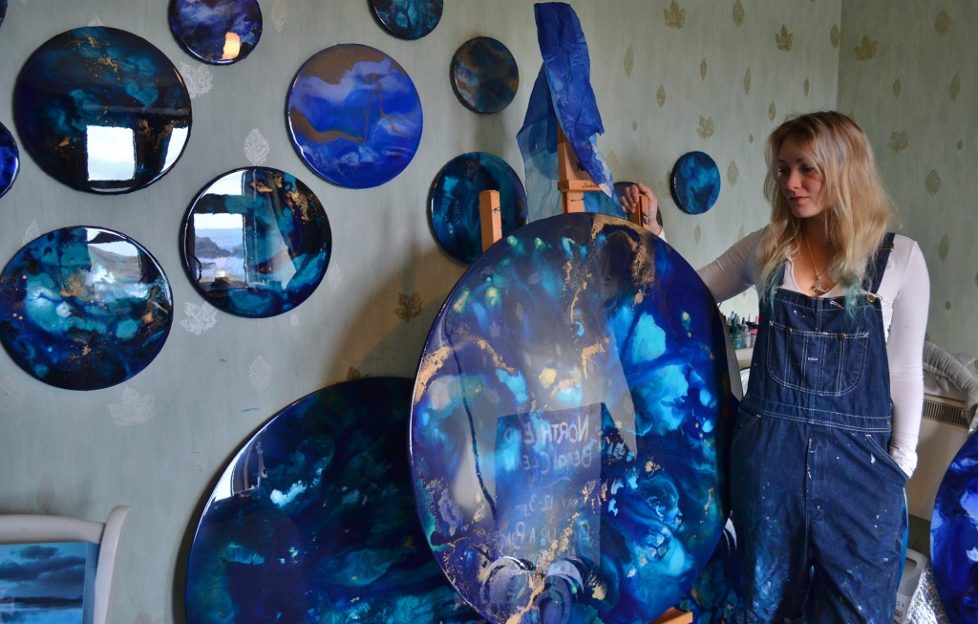 Skye-based artist Katie Tunn is returning to Skyeworks Gallery in Portree with an exhibition of her Blue Planets paintings from 5 to 30 December.
Inspired by the ocean and island life, this new body of work reflects Katie's passion for marine conservation.
The paintings are distinctive in both the colours Katie uses and the shape. Round like our planet, round like the currents in the seas, round like the pools of our minds. Some have an additional layer: a drawing of a marine animal or coastline. The gold reflects the preciousness.
She said: 'Like seeing the turquoise water of Harris or the blue of the deepest of the Fairy Pools, I love plunging headfirst (well, hands-first) into blue paints and ink.'
For those who know Katie as a portrait artist, particularly her acclaimed military and polo portraits, the Blue Planets may seem is quite a departure, but it 's part of Katie's journey from London artist turned island lass turned eco-warrior.
Katie explained: 'I'm far less cautious than when I moved to Skye, in terms of spending time outdoors and in my art. A lot of it comes from the year spent living in the woods on the Ardnamurchan Peninsula for the Eden series, which was the most surreal, awful and brilliant experience I've had.
'Even more of it comes from the people of Skye and the Hebrides, marine conservation volunteering, and other artists. I've become more connected with the ocean, and through it to my creativity, culmanating in my Blue Planets series of paintings.
'Liza, Barry and the Skyeworks team were my first friends when I moved to Skye. Working in the gallery gave me a chance to meet lots of local folk and learn about the variety of makers and artisans on the island. I am delighted to be returning to the gallery for this exhibition.'
Skyeworks Gallery is open from 10.30am-4pm during December, Tuesday through Saturday.
Blue Planet paintings range in size from 20cm to 1m diameter, prices from £130.
A percentage of Katie's sales goes to ocean charities such as SAS (Surfers Against Sewage) and BDMLR (British Divers Marine Life Rescue).
Click HERE for more details.