Winner crowned in the battle of the bagels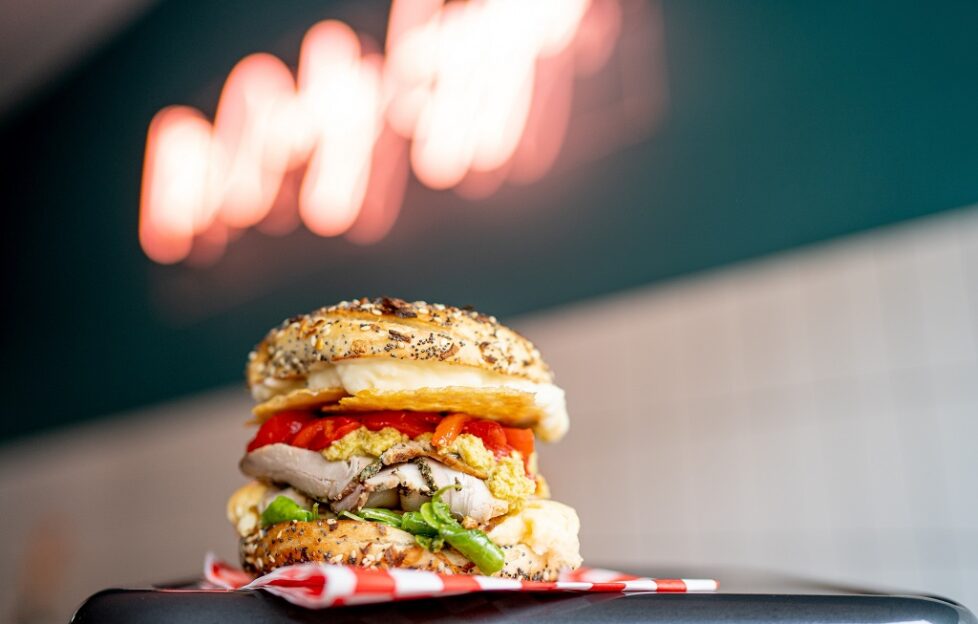 A final battle of the bagels took place in Glasgow at the weekend.
After a month-long championship of bagel making alchemy that saw four Glasgow food favourites battle it out in a test of fillings, flavour, flair and fans, Dennistoun's Scran Glasgow was officially crowned the winner of the Bagel Games 2021 at a carb-fuelled closing ceremony.
All four contenders – which included Scran Glasgow, Box Hub Glasgow, Baby Grand and Thundercat Pub & Diner – joined the judges, alongside Glasgow's fooderati who came together at Box Hub, Glasgow's rooftop bar .
Scran Glasgow beat off hot bagel-making competition to secure the bagel crown, and as a result, their winning entry – the 'Molto Bene Bagel' will feature on the Bross Bagels menu for a whole year.
The award-winner features an everything Bross Bagel with eight-hour Porchetta stuffed with garlic, rosemary and parmesan, folded egg, candied pine nuts, Perello Gordal olive tapenade, whipped goat's cheese, Parmesan crisp, rocket in basil oil and charred il peperone.
At the beginning of August, Edinburgh entrepreneur Larah Bross teamed up with a collective of Glasgow's food favourites to launch the ultimate battle of the bagels, officially introducing the 2021 Bagel Games in Glasgow.
The competing formidable foursome put their hearts and holes into creating a compilation of show-stopping, hunger-staving bagels that all impressed the judges, as well as Glasgow locals across the city. The five key judging criteria included; taste, presentation, popularity, creativity and social awareness.
Following the popularity among Glasgow foodies, Box Hub Glasgow will continue to offer Bross Bagels on their menu, with plans for the authentic, Montreal bagels to become a fixture on the other contenders' menus soon.
Larah explained: 'Throughout this competition I have witnessed the sweat, the tears, the passion, the true imagination, the tastings and the tantrums (but that was just the judges), and I've been absolutely blown away by the bagel brilliance of this talented bunch.
'Everyone was a winner in my eyes, but there had to be only one golden hole, and Scran Glasgow just had that edge. We're looking forward to introducing their Molto Bene Bagel to our Bross shop menus for Edinburgh food lovers to enjoy. I couldn't be happier that Glaswegians can now also get their hole daily at Box Hub Glasgow, and hopefully many more venues across the city soon too.'
All four of the contenders' bagels received high praise from the judges;
Box Hub Glasgow kicked things off, introducing their Box Hub Bagel Special – a vegan Bross bagel that brought a smile to those plant-loving locals, served with Kimchi marinated tofu, baby spinach, pickled carrots, crispy onions and ginger soy dressing.
The following week, leading Glasgow café, Scran Glasgow presented their Molto Bene Bagel.
Next up was Baby Grand, who served up the Big Baby Grand Bagel – a sesame Bross bagel with smoked salmon, homemade egg mayo, asparagus, a soft hen's egg and salmon caviar, which was enjoyed by many with a glass of bubbles while relishing the city destination's enviable views.
The final weekend, saw city centre pub and diner, Thundercat, bring the competition to a roaring close with their Thundercat Salt Beef Bagel – 7-day cured salt beef brisket, pickled cabbage, spiced Thundercat butter, American mustard and dill pickles served on a Bross pretzel bagel.
For more information visit www.brossbagels.com