Get your hands on an exclusive bottle of whisky and help rugby legend Doddie Weir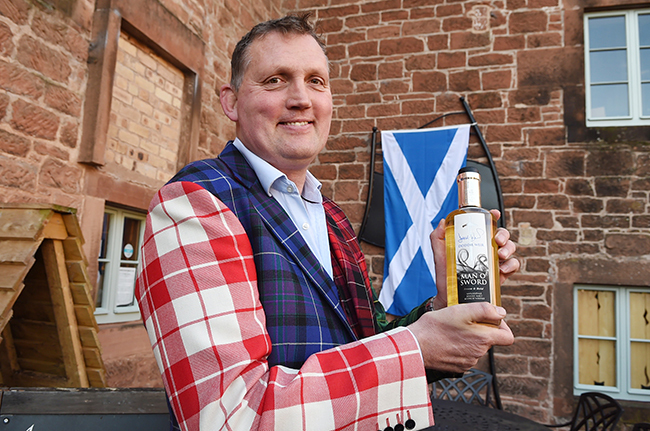 An exclusive bottle of whisky could be yours for just £1 – in a raffle to help a Scottish sporting legend.
Anyone who supports Doddie Weir's My Name'5 Foundation is in with a chance to win an exclusive limited edition First Production bottle of Annandale Doddie Weir Man o'Sword Single Malt Scotch Whisky.
Scottish and British & Irish Lions rugby legend Doddie Weir ceremonially filled Annandale Distillery's first ever cask of peated whisky in 2014, and three years later, returned to broach that same cask from which a limited number of 99 bottles were filled.
In the intervening period, he was diagnosed with Motor Neurone Disease – at present, an incurable condition.
Doddie valiantly set up the My Name'5 Doddie Foundation to raise funds to aid research into the causes of Motor Neurone Disease, investigate potential cures, and to make grants to individuals suffering from MND, to enable them to live as fulfilled a life as possible.
Annandale Distillery has already raised £3500 through the auction of bottles #2 – #5, and now continues to fundraise, with the kind support of SCRUM Magazine for My Name'5 Doddie Foundation with an online raffle for Bottle #97.
Why #97? With the Six Nations tournament underway, thoughts turn to the big tours of the past. It was '97 when Doddie was called up to the British Lions team, a memorable tour where he suffered a devastating knee injury, ending his tour. His response? 'Ah well, it's been a good old time, hasn't it?'
Entries will close at 5pm GMT on Friday, 23 February, with the winner drawn ahead of the Scotland v England Calcutta Cup clash on Saturday 24th February 2018 and notified by phone or email.
All proceeds from the online raffle will go to the My Name'5 Doddie Foundation, with the lucky winner taking home the highly valuable limited edition Bottle #97 of Annandale Distillery's First Production Single Malt Scotch Whisky – Doddie Weir Man o'Sword.
Click HERE to enter the raffle.