Final releases from Tomatin's fantastic five series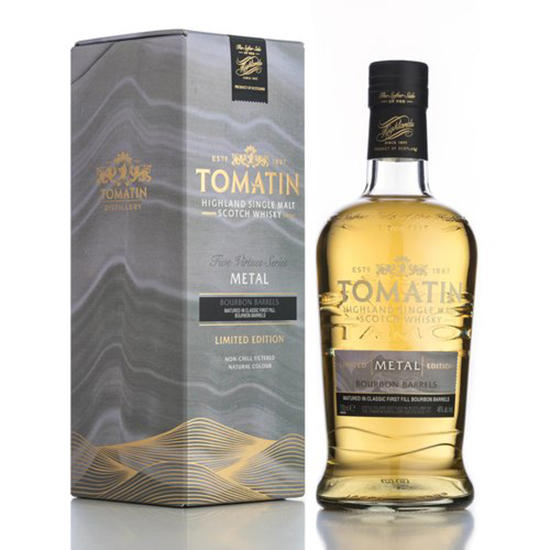 Scottish whisky distillery Tomatin has this week announced the release of the final two expressions in its limited edition Five Virtues series.
The series draws inspiration from the elements of nature – Wood, Fire, Earth, Metal and Water – with each single malt expression enjoying a limited run of 6,000 bottles and a focus on the effects of different cask maturations.
The Metal edition has a distinct character expressed by the distillery's 12 beautiful copper stills. Every drop of Tomatin whisky flows through the uniquely shaped and sized stills, giving the whisky its own distinctive characteristics. Metal is matched with classic first fill Bourbon barrels, demonstrating the definitive Tomatin style.
The Metal expression is typically soft, sweet and light with flavours of soft creamy vanilla laced with sweet treats such as milk chocolate, marshmallows and ice cream. Citrus notes also emerge with equally sweet spices.
Completing the series is Water, inspired by the water from the Alt-na-Frith burn; Tomatin's private water source. The soft and pure water is drawn year round but this particular edition employs a winter-distilled spirit and Sherry butts to enrich the final flavour.
Water is delightfully mature, expressing fruity flavours, with hints of chocolate honeycomb and smooth toffee, which are complemented by rich blood orange marmalade. This warming whisky has a long and oily finish.
Jennifer Masson, Tomatin marketing manager, said: 'After the tremendous success we experienced when we released our first three expressions in the Five Virtues series last year, we are incredibly excited to see how the public receive the final two elements in the collection: Metal and Water.
'The Five Virtues series was inspired by global concepts and the growth we've experienced as a brand, so it is incredible to have the series so well received by customers that know us or who are only just hearing about Tomatin.'
Graham Eunson, distillery general manager, said: 'During the cold winter months at Tomatin, the spirit vapours have less contact with the condensers during the distillation process and are therefore turned back into liquid form far quicker. In the Water expression, a winter distilled spirit, this results in a slightly heavier and fuller spirit, which when combined with its sherry cask maturation, gives a great, full-bodied whisky.
'The Metal expression meanwhile uses bourbon barrels, which really accentuate Tomatin's house style; light, sweet and fruity.'
Each of the Five Virtues malts comes with its own distinct complexity and character:
Wood has been aged in French, American and Hungarian oak casks.
Fire is matured in heavily charred oak, simulating fresh vanilla flavours.
Earth exhibits rich and intense peaty flavours as a consequence of maturing in peat-dried malted barley casks.
Metal is expressed by the distillery's 12 copper stills.
Water is distinguished by the naturally pure soft water from the Alt-na-Frith burn.
The first expressions released early last year, Wood and Fire sold out within six months. Earth, a rare peated release from the distillery, was released in September 2017 and sold out in January 2018.
READ MORE WHISKY NEWS FROM SCOTTISH FIELD BY CLICKING HERE.