Whisky boost for Glasgow School of Art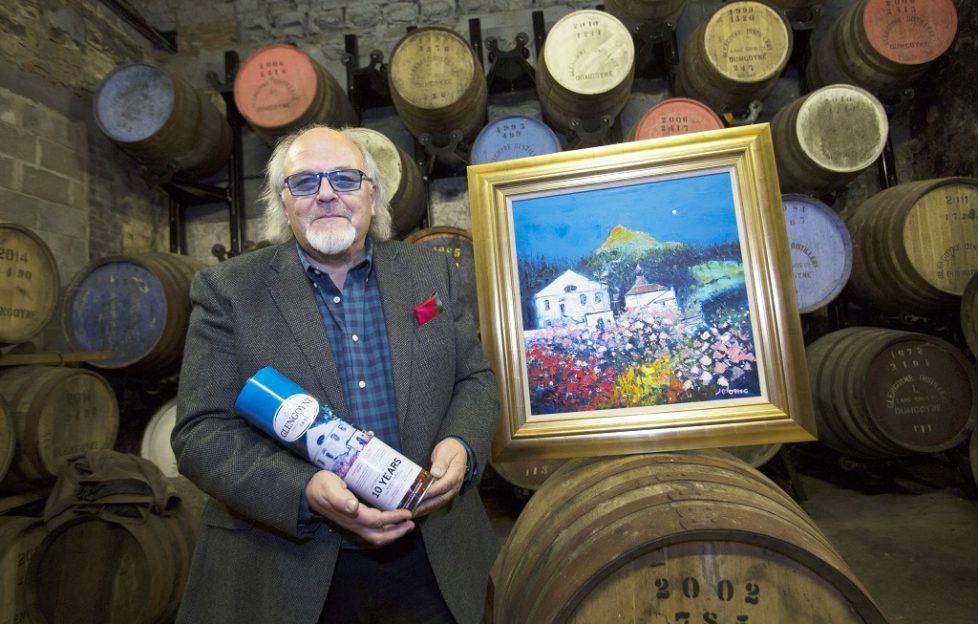 Glengoyne Highland Single Malt has announced its latest collaboration with one of Scotland's best-loved contemporary artists in association with The Glasgow School of Art.
The single malt has again teamed up with Glasgow School of Art graduate, John Lowrie Morrison OBE (Jolomo), to reveal the third in a series of specially commissioned seasonal paintings inspired by the distillery.
Spring Blossoms at Glengoyne will be printed on limited edition Glengoyne 10 Year Old gift tins in time for Christmas, with Glengoyne making a donation to The Glasgow School of Art.
It's much-needed, as the School of Art recovers from a second devastating blaze.
Alan Horn, director of development for The Glasgow School of Art said: 'We're delighted that Glengoyne and Jolomo are continuing their association with The Glasgow School of Art through this inspiring collaborative project.
'We're grateful that Glengoyne has chosen to continue this relationship with Jolomo and the School and we look forward to working with them both again this year, to build on the success of the previous gift tins.
'The last few months have been particularly challenging, and we would like to thank Glengoyne and Jolomo for their continued kind thoughts and support.'
Katy Macanna, band manager for Glengoyne, added: 'As one of Glasgow's local whisky distilleries, we take great pride in contributing to the recovery of one of the city's most iconic cultural landmarks, helping to secure its legacy and support future creative talent.
'The latest artwork that Jolomo has created is truly stunning, and captures the essence of Glengoyne perfectly, so if you're looking to start your Christmas shopping, the Glengoyne 10 Year Old Spring Blossoms at Glengoyne Limited Edition tin is the perfect present for art and whisky lovers alike.'
The limited edition tins, each containing a bottle of the classic 10 Year Old from Glengoyne and a print of Spring Blossoms at Glengoyne Distillery, will be available to buy online now for £35.49 per bottle from glengoyne.com, the Glengoyne Distillery shop and specialist and independent retailers.
Nestled at the foot of Dumgoyne Hill with the hills of Loch Lomond in the distance, Glengoyne is widely considered one of Scotland's most beautiful distilleries. Just 14 miles north of Glasgow, Glengoyne sits on the border between Highland and Lowland whisky regions.